Music streaming service Spotify is making headway in getting more paid users globally.
The company saw an almost 5% growth in paid subscribers to its service quarter-over-quarter, from July's 83 million to 87 million as of now, its most recent earnings results reveal. And it expects to further grow the figure to between 93 and 96 million by year-end.
The great feat, according to a Forbes story, is largely due to solid growth in regions such as Europe (36% qoq increase), North America (31%) and Latin America (22%), while rest of the world, including Australia, Africa, and Asia, only contributed a meagre combined 11%, which means that Spotify's market share in Asia is even smaller.
Apparently, Asia is not an easy market to conquer even for a global streaming giant like Spotify. While Spotify (and Apple Music) dominates the music streaming market in the West, competition in the East is even tighter given a crowded market with several strong players and their first-mover advantages as well as localization knowhow.
Joox by Tencent is considered the market leader in Asia. According to market researcher Ipsos's March 2018 report "Targeting Millenials Using Music Streaming Apps", Joox is now the most downloaded music streaming app across iOS App Store and Google Play in Hong Kong, Indonesia, Malaysia and Thailand.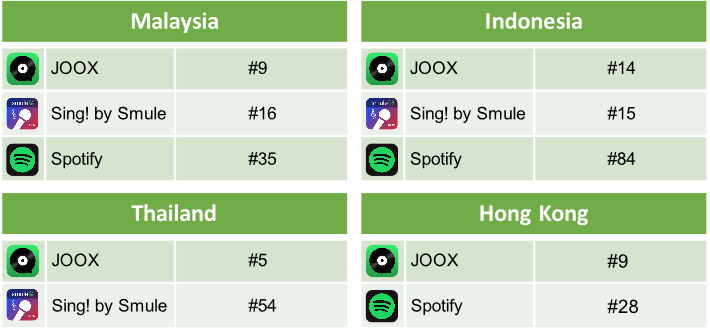 Joox positions itself as a multimedia entertainment app and provides a highly localized user interface to enhance user engagement. It dedicates a team of local experts to monitoring trends and broadcast content in the form of curated playlists and live broadcasts. This explains why Joox leads other music apps in terms of awareness, usage, etc. in Asia, per the Ipsos report.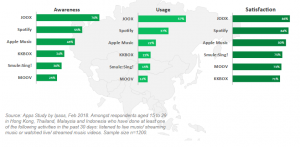 Though Asia could be considered Spotify's weak spot, the company still has its own bright spot on the continent.
Comparing to Joox and all other music apps, Spotify is more popular among iOS users, who are usually more receptive to subscriptions services. Take Indonesia for instance, Spotify is more popular among iOS users rather than Android users in the country.
Besides Spotify and Joox, Apple Music is also quite popular in Indonesia, although the number of installs is below these two platforms. Other big players in Asia are Taiwan-based KKBox, American Smule Sing!, and Guvera from Australia.
Asia is not just a tough nut to crack, it's also a tasty one.
Ipsos Report claims in its March report that Asia Pacific is the most promising market for music streaming. With 3.6 hours being spent on mobile per day on average (which is 28% higher than the global average), the region's avid mobile users are getting used to the idea of streaming on and subscribing to music platforms.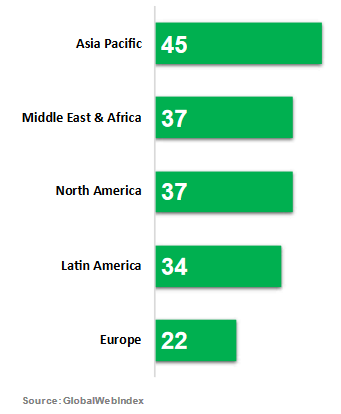 According to the Global Music Report 2018 by IFPI (International Federation of the Phonographic Industry), streaming revenue grew by 38.2% in APAC, with India, the Philippines, and China saw a growth of 60.8%, 24.3% and 26.5% growth respectively.
As local players like Joox have progressed fairly well with their well-executed localization strategy, while global players including the likes of Spotify and Apple Music are still exploring to make inroads into the region. The competition is expected to further grow Asia's streaming market, which is already on its way to becoming a lucrative market and failing to appeal to local listeners might incur a big loss for any streamers with a global ambition.
Editor: Ben Jiang