In good times, most startups are already living on the edge, constantly having to worry about how much of their runway is left and how to secure the next fundraising round. In times of crisis, startups face a huge stress test. Now, it's literally "make it or break it."
Sequoia's Coronavirus: The Black Swan of 2020 really struck a chord with the entire startup and tech community. Southeast Asia is not an exception. There have been many optimistic views about the region over the past few years, as investors considered it to be the next growth market besides India and China.
Southeast Asia's internet economy is poised to hit USD 300 billion by 2025, but this prediction was made before the COVID-19 pandemic hit the region. Data from CB Insights show that the drop in private market funding has been dramatic in Asia, with an expected decline of 35% in the first quarter of this year compared to the fourth quarter of 2019.
It will take some time for Southeast Asian startups to see the real impact. For this week's "Venture Voices," KrASIA spoke with Southeast Asian investors about what founders should do now to steer their ships in the right direction.
Acknowledge this pivotal moment 
It's easy to advise startups to preserve cash, but the reality is much more challenging. Yinglan Tan, founding managing partner at Insignia Ventures Partners, said founders need to reocgnize that this is not just a cash shock, but also a psychological and culture shock.
We have seen a wave of startups which are dependent on heavy capital expenditure or subsidies—they will have to rethink their business model and the company culture. This has also affected how startups operate and grow their teams. As markets undergo a dry spell, early fundraising and cash conversion are strategies that will affect not just the balance sheet, but the company culture as well.

Startups that have already been operating with tightened belts—given the nature of their industry—will be better prepared to adjust. Startups that have grown accustomed to spending heavily on marketing and hiring in the last year will feel the weight of the shock more than others.
This crisis also adds to the fear of a "fundraising winter" for startups, following last year's WeWork fiasco. Jeffrey Seah, a partner at Quest Ventures, stresses that only the strongest will survive the cull.
Darwinian thinking underwrites every form of commerce, and in these times the going concern of every startup. As the VC market operating mindset matures with more domain experts and adopts more mainstream business metrics, this Covid market is more than just an academic Black Swan event.

It will become the defining period of bootstrapping, scrum, and hockey-stick-growth for startups that have built their fundamentals well, and conversely the retrograde period for those overvalued yet under-built. They will remember this period as a seminal pivoting moment.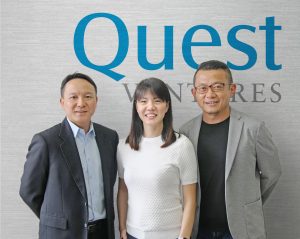 Adapt fundraising strategies 
Tan from Insignia, which last year closed a second fund of USD 200 million for Southeast Asia, advises founders to focus on strategic fundraising rather than "panic-raising," or taking anyone's cash.
While there is pressure among startups to secure a warm supply of cash before the winter deepens, startups should still be strategic when it comes to investors. Founders should still align themselves with investors who can provide commensurate long-term value, and for the larger pockets, perhaps even participate in rounds down the road.

Convertible notes in particular can be a beneficial choice early on, if the business can safely expect a subsequent round or accumulate enough follow-on interest. However, as the current situation has rendered the next few months highly unpredictable, founders need to work under the assumption that it will be more difficult for investors to commit.
In this post on LinkedIn, Eddie Thai, a partner at 500 Startups in Vietnam, suggested that founders should think carefully about fundraising in this environment.
Fundraising is substantially influenced by momentum—in your numbers, your market, and your investor demand. It's highly likely that all three of these things are going to be against you. Financiers of all stripes are on edge. They'll wrap up deals that are already almost finished, but otherwise are trying to figure out what's happening and what to do, just as much as you are. Capital conservation is the name of the game for them.

Their first instinct will be to "circle the wagons" around existing portfolio company founders. If you are already one of those, then you will appreciate that. My perspective is that unless you are already close to closing a round or you are dangerously short (less than 6 months) of runway, you should take some time to get other aspects of your business together.

Investors still look out for good opportunities
As we have seen in the skyrocketing popularity of video conference startup Zoom and other online tools as well as education platforms, some business models are in high demand during this period.
According to Tan from Insignia, it's really a stress test for companies that are highly dependent on a regular supply of outside capital to scale. VCs in Southeast Asia, he said, will be more scrutinous, but that does not mean "tighter belts and slower growth" for all sectors.
If there's anything the social adjustments taking place around the globe have proven, it's that technology is critical to supporting business operations, day-to-day activities, and even supply chains straining under the stress of lockdowns and social distancing. Platforms that are able to digitalize supply chain transactions will see higher activity as people find more convenience in doing business online. For us, this is an opportunity to double down on supporting our current portfolio, as they continue to digitalize Southeast Asia's industries.
Seah from Quest Ventures also agrees that this is absolutely not the time for business-as-usual, but it also should not be a hibernation period for startups.
At Quest Ventures, we continue to evaluate our deal flows and disburse due in investments.  Now is not the time for paralysis, when the ecosystem needs the most guidance and support. As past operators, we are working in the trenches with our portfolio companies, to extract as much value from this period of business opportunity, the preservation valuation comes from quality of revenue, rather than cash hoarding.

This is a good fundraising time for direct-to-customer businesses—media, content, delivery, and SaaS services. Their business models are and will be Darwin-validated as the curfews and lockdowns continue to disrupt the society, and resultantly, marketplaces.
Yinglan Tan is the CEO and founding managing partner at Insignia Ventures Partners. Insignia Ventures Partners is an early-stage technology venture fund focusing on Southeast Asia started in 2017. 
Jeffrey Seah was appointed to the partner position at Quest Ventures in March 2019. Previously, he was the Southeast Asia CEO for Chicago-based Starcom MediaVest Group. Seah has decades of experience in advertising and media. Founded in 2011, Quest Ventures has backed more than 40 companies, with notable early investments in Carousell, Carro, 99.co and ShopBack. 
Eddie Thai is a partner at 500 Startups, focusing on investing in Vietnam-connected startups. He has led investments in more than 25 companies since 2017, some of which have gone on to raise additional capital from the likes of Sequoia, Greylock, Tencent, and others.