The parent company of the online insurance marketplace Policybazaar and lending platform Paisabazaar has filed papers for an INR 60.17 billion (USD 810 million) initial public offering with Indian market regulator SEBI.
The offer comprises of a fresh issue of equity shares worth INR 37.50 billion (USD 504 million) and an offer for sale (OFS) by existing investors for INR 22.67 billion (USD 305 million), the company said in the draft prospect, which it filed on Monday.
A report by local media Economic Times said that the company is looking at a USD 5–6 billion valuation in the IPO that will take place by December. The Gurgaon-headquartered firm has become the fifth startup after Zomato, Paytm, Mobikwik, and CarTrade to kick off the process of going public.
The 13-year-old company, which has raised over USD 760 million from investors like SoftBank, Falcon Edge, Alpha Wave Incubation, and Tencent, among others, said it may opt to sell primary equity shares worth INR 7.5 billion (USD 101 million) before the listing. If that happens, it would reduce its fresh issue size by the same number of shares.
The OFS for INR 22.67 billion of equity shares by existing backers includes SoftBank offloading a stake worth INR 18.7 billion (USD 251 million) and the company's co-founder and CEO Yashish Dahiya selling shares amounting up to INR 2.5 billion (USD 33.6 million).
Currently, SoftBank—through its two funds SVF India Holdings (Cayman) Limited and SVF Python II (Cayman) Limited—owns a total of 15.76% stake in PB Fintech, while Dahiya holds a 4.27% stake. Interestingly, Tencent, which has a 9.16% in PB Fintech, won't be selling any of its shares in the company through OFS, as per the filing. Many Chinese investment firms have been seeking to exit their Indian portfolios either through secondary share sale or IPO since the Indian government tweaked the FDI rules in April 2020. The new rules made it mandatory for Chinese companies to take permission before making any investment in India.
Future plans
Founded in 2008 by Yashish Dahiya, Alok Bansal, and Avaneesh Nirjar, Policybazaar has emerged as the leading player in the online insurance space over the last decade. As of March 31, Policybazaar had 48 million registered users, who purchased over 19 million policies from its insurer partners. According to Frost & Sullivan, in FY 2020, Policybazaar was India's largest digital insurance marketplace with a 93.4% market share based on the number of policies sold.
In 2014, the founding team of Policybazaar launched Paisabazaar as a group subsidiary to offer personal loans by aggregating lenders on one platform. By FY 2020, Paisabazaar had become the biggest digital lending marketplace with a 51.4% market share, based on disbursals.
In the filing, the company said it generated a premium of INR 27.43 billion (USD 369 million) for its insurer partners from new insurance policies in FY 2021, while Paisabazaar facilitated disbursals of INR 29.16 billion (USD 392 million) in loans, which was less than half of what it disbursed in FY 2020, owing to the COVID-19 pandemic.

PB Fintech plans to utilize the proceeds from the fresh issue of equity shares to "enhance visibility and awareness" of its brands, expand its international businesses, and establish an offline presence.
"We expect to utilize INR 15 billion (USD 201.8 million) out of the net proceeds of the fresh issue towards funding the company's future marketing initiatives over the next three fiscals," the company noted.
Meanwhile, the company intends to utilize INR 3.75 billion (USD 50.4 million) towards international expansion.
"We have operations in Dubai, and we plan to scale up our operations and brand presence in Dubai and in the broader Gulf Cooperation Council region as well as South-East Asian countries, by investing in creating a strong brand and developing technology and related infrastructure," it said.
Most importantly, the company plans to use the IPO proceeds in creating and scaling offline footprints. In June, Policybazaar received a license from the insurance market regulator IRDAI to act as a direct (life and general) insurance broker. Prior to this, Policybazaar operated only as a web aggregator for insurance products under applicable IRDAI regulations.
"As an insurance broker, we will be able to augment our business and expand our bouquet of services, offering it to a wider range of consumers while engaging with them offline as well," the company said.
Policybazaar has already set up 15 physical retail outlets and aims to take this number to 200 by the end of FY 2024. It plans to invest INR 3.75 billion (USD 50.4 million) from the net proceeds in its physical expansion initiatives.
"These outlets will serve as experience centers for consumers and…help (them) resolve any queries or service requests," the company said. "We will now also be able to provide our existing and new consumers on-ground claims support."
PB Fintech added that it will utilize another INR 6 billion (USD 80.7 million) in potential acquisitions and strategic initiatives.
Opportunities and challenges
The Indian insurance industry, which was worth INR 7.6 trillion (USD 102 billion) in terms of total premium in FY 2020, is expected to grow at a 17.8% CAGR to reach INR 39 trillion (USD 520 billion) by FY2030.
Despite the huge market, India has a highly underpenetrated insurance market, as compared to its global peers. In terms of sum assured (the total value of the insurance policies purchased) as a percentage of GDP in 2020, India was among the lowest in the world. Furthermore, the online insurance market is highly underpenetrated with 1% of total premiums sold online in FY 2020 compared to 13.3% in the US and 5.5% in China in 2020.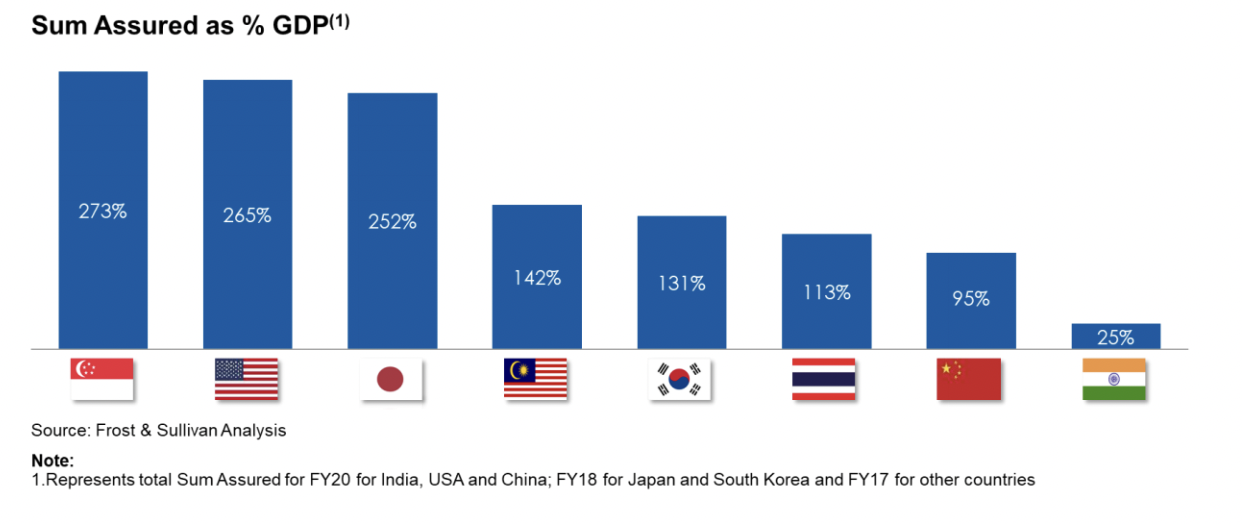 Digital insurance marketplaces held a 54.3% share in the total online insurance market in FY 2020. Policybazaar, the category leader in the segment, expects this share to increase in the coming years.
However, the company hasn't yet become profitable, although, over the past year, it has halved its losses—from INR 3.04 billion (USD 40.9 million) in FY 2020 to INR 1.5 billion (USD 20.1 million) in FY 2021.
"We expect our costs to increase over time and our losses will continue given the investments expected towards growing our business," it said in the filing. "We expect to continue to expend substantial financial and other resources on, among other things, developing a physical channel and investing behind experiments."
Moreover, the second wave of COVID-19 in India earlier this year and the subsequent lockdowns and restrictions decreased the demand for travel and other insurance products as well as lowered disbursal of loans on our platforms during the recent quarter, the company said.
"As a result of the detection of new strains and subsequent waves of COVID-19 infections in several states in India as well as throughout various parts of the world, we may be subject to further lockdowns or other restrictions, which may adversely affect our business operations," it added.