Writer: Yan Hao
YY.com, an Chinese online entertainment-focused company which saw its stock price quadruple in the past year, is dipping its toes in offline entertainment.
Self-service facilities are one of the main areas of investment for 2017. Among them is mini karaoke, which has gained particular traction with entrepreneurs and already seen the emergence of a dozen startups.
Now, a new player is set to join the fray: Kr-Asia has learned from the supplier of YY.com's self-service equipment that, after a three-month internal test, YY.com is officially rolling out its mini karaoke booths.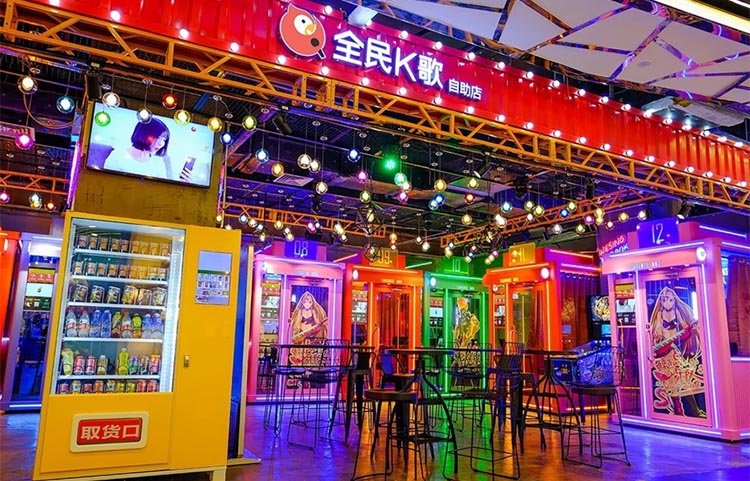 Unlike other mini karaoke operators, in addition to delivering optimal karaoke experience, YY.com has incorporated social networking features into its products. It allegedly plans to deploy 10,000 mini karaoke booths in 2018.
On top of the functions of a typical mini karaoke booth, YY.com's product supports additional features like live streaming, singing invitation, song editing and souvenir cards.
Above all, YY.com will use the booths as an offline user acquisition channel for its voice-based social networking platform "Hello".
YY.com has put a lot of energy into building the platform, which offers a wide range of services from voice chat and live streaming to teaming for online games and karaoke. But "Hello" has so far failed to stand out from the many other voice social networking platforms in the market.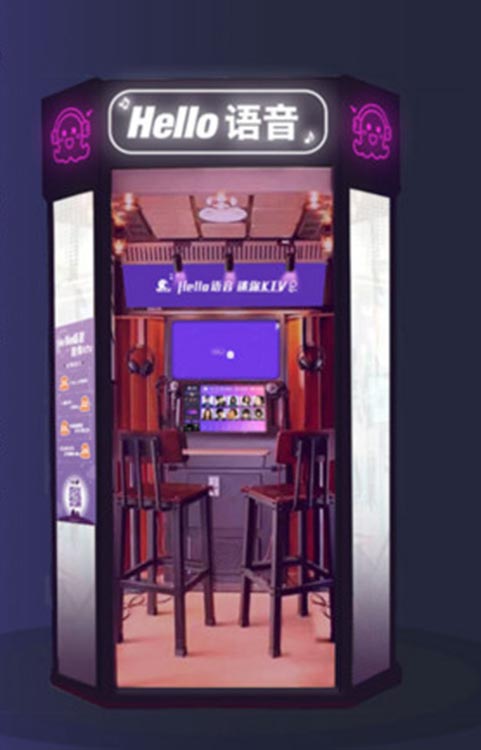 The thing is: applications of voice services are rather limited, the most common one being teaming in online games. In this sense, YY.com's entry into the mini karaoke market may be seen as part of its effort to explore for possible offline applications for its voice social networking service.
In essence, mini karaoke can be seen as an extension of YY.com's online services in that it allows users to expand their interaction from online to offline. Meanwhile, since users of the karaoke booths can choose to live stream their singing, it also serves as a source of content for YY.com's live streaming platform.
Because of such significance attached to the service, YY.com's deployment strategy is much more aggressive than its competitors.
Its booths will be sold at 20,000 yuan per unit, but it plans to offer some to distributors for free. As for revenue split, operators will collect 50% and will bear the cost of rent and utilities, while YY.com and distributors split the other half 40/60. YY.com is also mulling introducing a 600 yuan minimum monthly income in case of fluctuations in sales.
YY.com will work together with WeChat marketing platform Leyaoyao (乐摇摇) to promote its mini karaoke booths. The latter is a hardware and SaaS solution provider which built up its business by offering mobile payment services for claw crane games.
Despite its recent popularity, mini karaoke is seen by some as a market with limited potential or just a flash in the plan. YY.com's entry may change that because its massive online resources are a guarantee for offline sales and users acquired through the karaoke service can in turn be steered to its online services.

The public's attention was occupied by the many businesses that promise quick returns this year (bitcoin, for example), but some companies have built up their fortunes quietly. YY.com, for example, has seen its stock price quadruple this year and has grown into an online entertainment giant. It's only natural that it wants to expand its offline presence.
In the meantime, Quanmin Karaoke, a karaoke app developed by Tencent Music Entertainment, is also promoting its self-service karaoke booths lately.
The mini karaoke market is set to see major changes in 2018.