Singapore's Government Technology Agency (GovTech) and Ministry of Health (MOH) jointly launched a mobile app called TraceTogether on March 20 to support contact tracing efforts amid the COVID-19 pandemic.
TraceTogether uses Bluetooth signals between phones to identify other users who also have the app installed, allowing it to track encounters and timestamps whenever users come into close proximity with one another.
In the event when an individual is confirmed to have the virus, MOH may ask them to share their TraceTogether data.
Instead of replacing existing contact tracing efforts, this helps to facilitate the process by making up for gaps in people's memory.
Contact tracing is a complex process that involves interviewing patients and asking them to list every place they have been to and everyone they have met in the past 14 days.
Sometimes, interviewees may not be able to recall all their contacts or have their contact information readily available.
Individuals who are not known to be infected themselves, but have been identified as close contacts with a COVID-19 case, can also be informed earlier.
Since TraceTogether users can be identified as close contacts of COVID-19 cases more quickly, they can be informed sooner to take necessary actions such as monitoring their health for flu-like symptoms.
"Early detection could potentially help reduce the risk of the spread of the virus, and better protect our families and loved ones," said GovTech and MOH in a press release.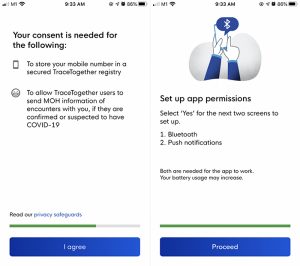 Where privacy is concerned, the app only requires users to provide their Singapore mobile number for verification. It does not collect any other personal information like the user's name or National Registration Identity Card.
It also does not track the user's location, but only keeps a log of their TraceTogether encounters stored locally on their phone.
These logs do not contain the user's phone number, using a set of "cryptographically generated temporary IDs" instead.
"The authorities, including MOH and GovTech, have no knowledge of the user's TraceTogether data," the press release said.
TraceTogether data only leaves a user's phone at the moment when they agree to send it to MOH upon request.
Speaking at the press event for TraceTogether, Health Minister Gan Kim Yong encouraged Singaporeans to download the app and proactively support contact tracing efforts.
According to the TraceTogether website, there have since been about 600,000 users on the app.
It is downloadable on the App Store for iOS and on Google Play for Android users.
This article first appeared in the Vulcan Post.