When he was 19, working at a factory in China, Jason Hu never thought he would end up leading a startup worth billions of US dollars.
With only a junior college degree that he had obtained while in technical secondary school, Hu took the national graduate entrance exams and got into a postgraduate computer science program in Peking University. After stints at Microsoft and Alibaba Group Holding, Hu joined Guangzhou-based, US-listed live broadcaster YY—now known as JOYY—in 2011.
He caught the attention of JOYY co-founder and chairman David Li Xueling, who handpicked him to be part of the founding team of new Singapore-based venture, BIGO Technology, in 2014. Now in his forties, Hu holds the title of co-founder and president.
BIGO Technology, which was started as a separate entity from YY but was acquired by the latter for USD 1.45 billion last year, now has about 4,000 employees.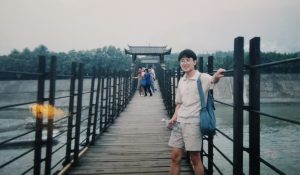 As of the last quarter of 2019, it had 350 million monthly active users for its apps, which include livestreaming app BIGO Live, social media and messaging app Imo, and short video app Likee, which is fast gaining popularity in Southeast Asia, India, and Russia.
Likee saw total monthly active users swell to 115.3 million in the fourth quarter last year, an increase of 208.3% year-on-year, according to JOYY. It was the seventh-most downloaded non-gaming app in 2019, beating YouTube and Snapchat, according to data provider Sensor Tower.
ByteDance-owned TikTok, which leads the short video app market, was the second-most downloaded non-gaming app in 2019 in the Sensor Tower ranking. Along with its mainland Chinese version Douyin, TikTok had 800 million monthly active users as of January this year, according to data provider DataReportal.
Short-form video apps have been around since early this decade in China and other markets around the world, but their popularity has exploded the past few years on the back of a growing segment of young consumers known as Generation Z.
In China, the short video market has reached more than 100 billion yuan (USD 14.1 billion) last year, up from 46 billion yuan in 2018 and 5.5 billion yuan in 2017, according to Qianzhan Industry Research Institute.
Global social media giants have also jumped on the trend. YouTube reportedly plans to launch a short form video-sharing feature called Shorts inside its mobile app by the end of 2020, while Facebook launched a short video app called Lasso in 2018.
TikTok generated about USD 184.2 million from user spending globally in 2019, according to SensorTower. Its parent company, Beijing-based ByteDance, targeted USD 16.8 billion in revenue last year.
BIGO's goals are on a smaller scale, although no less ambitious: Hu said that he aims to increase the company's revenue by more than 50% from last year to more than USD 5 billion by 2024.
Still, Hu insists that Likee is not aiming to overtake TikTok as the top short video app in the market. "It's impossible for us to compete to be the first in the market," he said in a Skype interview with the South China Morning Post. "Where can I get so much money [for expansion]? I don't have it. . . We can only focus on our own racing track."
Like TikTok, Likee allows users to create 15-second videos with music and is known for its fun video-editing tools, such as real-time filters that allow you to age your face digitally or swap faces with someone else.
Its content is also integrated with BIGO's social networking app Imo. While TikTok has more "fancy content," Likee had an edge in terms of user engagement through its community, according to Hu.
And although video effects and filters are a big draw for many users, Hu said that the basics, such as the design of the interface, are still most important. "I remember clearly we were focusing too much on developing these kinds of [highly technical] skills for a period," Hu said. "But if we don't have a good foundation, we can't make it."
Meenakshi Tiwari, an independent analyst, said many other short video apps have similar features, and it is their marketing strategy and target audience that differentiate them.
For example, Douyin, the Chinese version of TikTok, appeals more to the urban crowd in its home market. By comparison, Tencent Holdings-backed Kuaishou has a loyal user base in the country's second- and third-tier cities.
TikTok is currently facing a slowdown in its user growth rate: research firm eMarketer estimated in February that the app would see annual user growth of 21.9% and 15.2% this year and next year respectively in the US, down from its 97.5% growth last year.
However, Tiwari said it would remain hard for new players to break into the market. In any country in which TikTok operates, the app is what first comes to mind when short videos are mentioned, she said.
Although both he and BIGO co-founder Li originally hail from China, the company set up its headquarters in Singapore because of its good political and economic environment, according to Hu.
In hindsight, that decision enabled BIGO to avoid some of the issues faced by TikTok, which has come under scrutiny from US lawmakers and authorities over security and privacy issues because of its links to China. The US government opened a national security review last year of ByteDance's USD 1 billion acquisition of US social media app Musical.ly, while both the US army and navy also banned use of the app because of cybersecurity concerns.
"India and Southeast Asian countries are equally receptive of Chinese companies and American companies, but when it comes to America and Western countries, they are a little skeptical about Chinese companies," Tiwari said. "It's not about what features you're offering or how easy it is for users to navigate through your app. It's more about privacy [and security] concerns."
With BIGO's headquarters outside of China, Likee may be able to avoid similar issues, although some may still be skeptical about its Chinese ownership. "Our data is not under the control of the Chinese government," Hu said.
"Once someone from the Ministry of State Security came to ask me for some data from Imo. I said the data of Imo belongs to Imo US, it's not my data, maybe I can help to send a mail to them to see if they want to share it."
Hu, whose hometown is a village in Chongqing city in southwest China, is also strongly motivated to ensure that Likee survives and succeeds. "I often think that even if I fail, I won't work as a worker on the production line again," he said. "I won't go home to be a farmer. That's the worst situation for me and I won't fall back there. So I will try relatively boldly."
Alibaba is the parent company of the South China Morning Post.
This story was originally published in the South China Morning Post.