Recruitment can be a complex process, particularly for newly created positions. A company needs to define the role's responsibilities and the desirable traits in candidates, as well as the target remuneration. For applicants that make it past the initial screening, there may be multiple rounds of evaluation involving skill assessments, personality tests, reference checks, and face-to-face interviews.
All of this is done to ensure that people who join an organization are the right recruits, yet the time and effort that goes into these processes have hardly improved retention rates. In fact, 55% of hiring leaders interviewed by HireVue reported higher employee turnover rates in 2021 than the year before, as more workers are on the hunt for new jobs that offer better work-life balance and opportunities to develop new skills. In Singapore, nearly one-third of the workforce planned to switch jobs in the first half of 2022, according to Randstad. The Great Resignation is real.
KarmaV is a Singapore-based startup that optimizes the hiring process by helping companies identify candidates who are more likely to fit their roles and remain with their employer in the long run. Its FairKarma solution utilizes artificial intelligence and machine learning techniques to determine the compatibility between candidate and company.
FairKarma's algorithm extracts data from resumes, LinkedIn search results, and other integrable sources such as job sites to assess an average of 50 attributes per candidate. This data is mapped against the company's needs to score the candidates and determine the best fit.
The scoring process can be customized to produce a collection of grades for a candidate, evaluating different parameters defined by the recruiter. The startup claims this makes it possible to consider factors relating to diversity, equity, and inclusion (DEI), such as age, gender, and ethnicity.
As more companies include DEI metrics as part of their recruitment processes, KarmaV consults subject matter experts who are part of institutes such as Deutsches Elektronen-Synchrotron (DESY), a German research center that operates particle accelerators, to validate the efficacy of FairKarma's algorithm and to evaluate its usability across various geographies and industries.
KarmaV offers a number of complementary features, including a no-code tool for companies to build customizable pages for branding purposes. Conventional hiring tools such as an applicant tracking system are available on demand as well. Users may choose to leverage KarmaV's platform for programmatic advertising to reach candidates with specific profiles.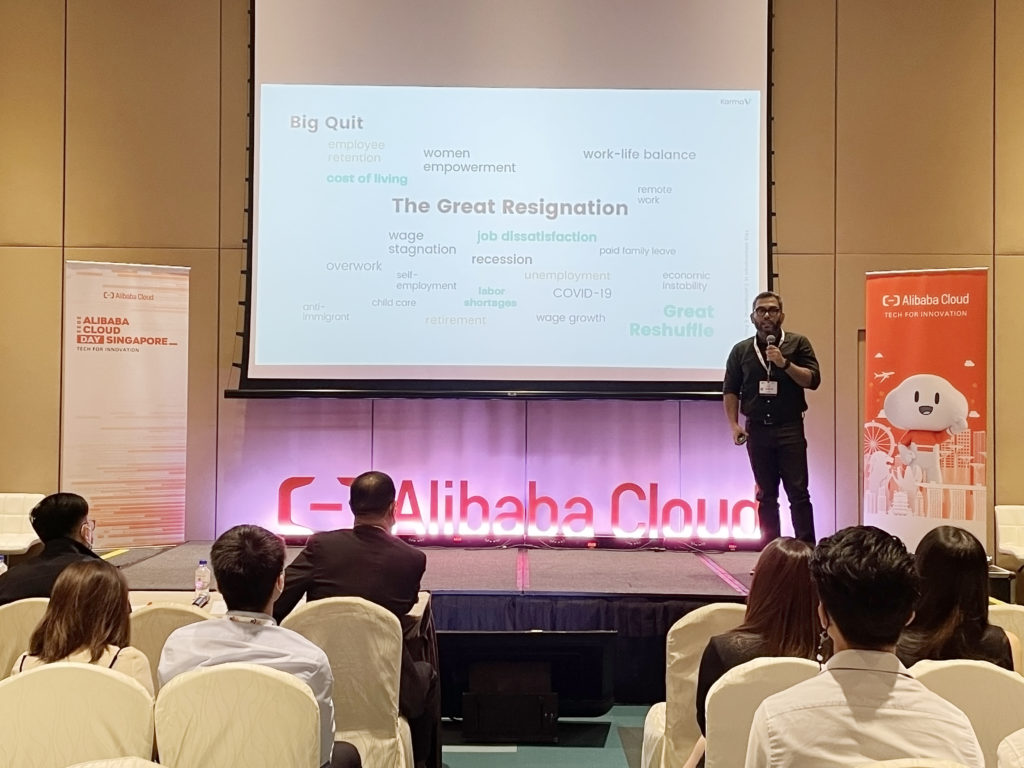 KarmaV is headquartered in Singapore and was co-founded by Ujjal De (CEO), Madhura Moulik (CMO), and Ayan Paul (CSO). The startup plans to expand into other regions over the next few years. It is currently raising a pre-seed round to support new developments, which include a candidate sourcing app in India and an analytics solution for organizations to set and track goals.
KarmaV was a finalist at the Project AsiaForward Alibaba Cloud Global Startup Accelerator Singapore Demo Day, held on June 1, 2022 at the Singapore EXPO.