Sea Group's ShopeePay has quickly become a serious contender in Indonesia's e-payment scene. A recent survey by market research firm Snapcart found that it was the most used e-wallet in the country this March.
ShopeePay has been used by 76% of the respondents, followed by GoPay (57%), Ovo (54%), Dana (49%), and LinkAja (21%), as reported by local media Bisnis Indonesia. The survey also revealed that users frequently pay offline transactions with their e-wallet. Snapcart Indonesia director Astrid Williandry said that the high usage was due to promotions and partnership with many merchants, including retailers and restaurants.
Snapcart claims that as of this month, ShopeePay has a 38% market share and is widening the gap with other players. Both Ovo and GoPay only reached half of ShopeePay's share, while Dana (10%) and LinkAja (4%) were trailing behind.

Even though the Shopee has been in Indonesia since 2015, its payment service was only officially launched in August of last year. It has taken off since then. According to an earlier survey by MarkPlus, ShopeePay captured with 26% the highest market share between June and September. A study by Ipsos in August noted that ShopeePay also had the highest penetration rate of e-wallets in Indonesia, at 48%.
Indonesia is undoubtedly Shopee's largest market. Consumers in the country placed over 430 million orders in 2020, an increase of 128% YoY, according to Sea Group's latest earnings release. Almost 45% of orders made on Shopee are paid with ShopeePay, which explains the strong performance.
"With the boom that Shopee experienced during the pandemic, the payment platform also saw an increase in transactions, because they are integrated in the ecosystem," Bhima Yudhistira Adhinegara, researcher at the Institute for Development of Economics and Finance (Indef) told KrASIA. Shopee is now the leading e-commerce portal in the country with more than 129 million monthly site visits in the final quarter of 2020, according to market research site iPrice.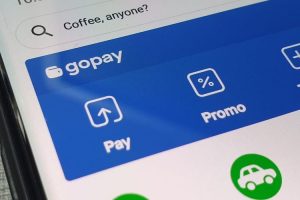 Other players, whether pure e-wallets or integrated into ride-hailing apps, suffered slowdowns, as social distancing policies and lockdowns heavily reduced offline activities and transportation demand, impacting transactions.
Even though discounts and promotions are ShopeePay's main tactic to lure customers, Adhinegara thinks that users won't necessarily abandon the platform once the special offers diminish. "They are more user-friendly compared to others and their offline expansion to merchants and street stalls in smaller cities is quite aggressive," he added.
Shopee's parent, Sea Group, is further planning to launch a digital bank in Indonesia, which will boost ShopeePay's performance even more, Adhinegara believes. Right now, the service offers less features than the likes of GoPay or Ovo—just payments and a pay-later option.
A bright future
Once it will be integrated into Sea Group's digital bank, however, it will become part of a financial ecosystem that will open up new possibilities in lending and consumer loans.
When merchants apply for loans through ShopeePay, the bank will be able to check the applicant's ratings and performance on Shopee. "This will be a game changer in Indonesia's financial industry," said Adhinegara.
He further predicts that mergers between platforms and public offerings are inevitable, if the competitors want to stay in the game. "They have to partner with other players to expand user base and features," he added.
However, an industry insider told KrASIA that the numbers should be taken with a grain of salt. "If the survey is based on people who often shop online, then of course ShopeePay will come on top," he said. The general user demography, including offline merchants and retail, would certainly offer a different picture.
Ovo, for example, claims to work with more than 700,000 small and micro businesses in Indonesia, while GoPay is accepted by more than 500,000 online and offline merchants. ShopeePay has yet to announce that number.