Shopee Indonesia is introducing a new feature, Taksi, in partnership with the country's leading taxi operator, Blue Bird. Taksi allows users to book a Blue Bird ride through the Shopee app and settle the fare with ShopeePay. The new function doesn't have a dedicated page yet, and it is available in limited areas for now. Shopee is currently offering several discounts and promotions for the service.
Shopee established a partnership with Blue Bird in August to form a logistics service called BirdKirim, where users can use Blue Bird drivers for courier deliveries. Also, customers who book rides through the MyBlueBird app can make payments using ShopeePay.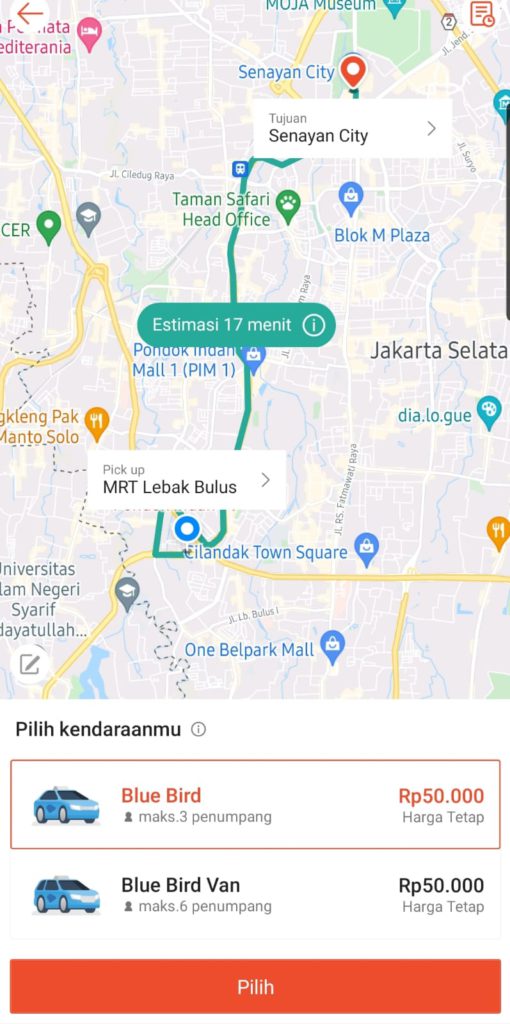 Ride-hailing is a critical component of a super app. By tapping into Blue Bird's fleet of taxis, Shopee is demonstrating its move to become the next super app in Indonesia after Gojek and Grab. Shopee has services to address almost all regular needs for urbanites, including online shopping, food delivery, grocery shopping, transportation, hotel reservations, as well as purchasing train and flight tickets.
However, compared to apps like Gojek, Grab, and Traveloka, which all have relatively clean designs for their user interfaces, Shopee's homepage looks busy, with hundreds of product displays and promotions, making it easy to miss new features that are added to the page.
For now, Shopee's marketplace will likely remain its core service. It is unclear whether Shopee will launch a motorbike-hailing service in the future. However, since the firm already has a fleet of drivers and couriers for ShopeeFood and ShopeeExpress, motorbike-hailing seems like a viable option.
The e-commerce firm has been expanding its services in recent years. It introduced a food delivery service in Indonesia in early 2021. ShopeeFood is gaining user awareness, although it still has a long way before it can catch up with GrabFood and GoFood, according to a survey by Snapcart.
Based on the online survey conducted in October, involving 500 merchants and 570 customers in ten major cities, 100% of consumers were aware of GoFood and GrabFood, while 52% were aware of ShopeeFood. Similarly, 92% and 90% of respondents indicated they have used GrabFood and GoFood, respectively, while 35% have placed orders through ShopeeFood.