Senior officials from Hubei, where the first cases of the novel coronavirus were detected, are taking part in a livestreaming campaign on Douyin, the mainland Chinese version of viral short video app TikTok, as part of a national initiative to help revive economic activity in areas of China that were hard hit by the pandemic. The Douyin campaign, which is called "Mayors Show Hubei to You," kicked off at 3:00 p.m. on Wednesday with an introduction by Wuhan government official Li Qiang as the 76-day lockdown in Wuhan city lifted.
"I'm a bit nervous," Li said, adding that it was his first livestreaming experience before proceeding to introduce hot dry noodles, a specialty of the city which was the initial epicenter of the outbreak.
"Hot dry noodles bring back my first impression of Wuhan," he said, recalling how he first went to Wuhan to study in 1979. "I missed hot dry noodles like many other Wuhan residents during the pandemic. Now the lockdown is lifted and restaurants are opening, we can go out and have a nice breakfast."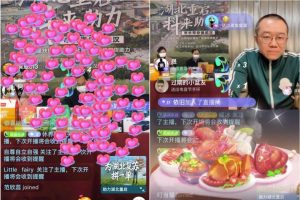 In total, mayors from 13 cities in Hubei province will participate in livestreaming sessions to promote products from the province, according to a post on its WeChat official account.
Livestreaming, already a booming industry in China, has seen a surge during the pandemic as tens of millions of people stayed home to help prevent the spread of the virus.
Over the recent Lunar New Year period, users on Douyin spent an average of 99 minutes on the app each day, compared to 67 minutes during the festive season last year, according to a QuestMobile report. Kuaishou, its closest competitor, also saw a rise in average daily usage time from 44 minutes to 71 minutes during the same period, the report said.
Chinese government agencies have been active on Douyin, primarily known for goofy lip-synch and dance videos like its international counterpart TikTok, for some time.
As of the end of 2018, more than 5,700 Chinese government agencies and Communist Party organizations were active on the platform, data from Douyin showed.
As the outbreak in China comes under control and authorities turn their focus to the recovery of the economy, more than 30 county magistrates have also taken part in livestreams on Douyin to help sell over 1 million agricultural products worth about 50 million yuan (USD 7 million) as of March 28, the short video app said in a post on its WeChat official account.
To be sure, the amount raised by government officials' livestreams is not particularly high compared to professional livestreamers like Li Jiaqi, who sold more than USD 145 million worth of products on Singles' Day last year.
A livestreamer still needs highly professional abilities to succeed, according to Zhang Dingding, an independent internet industry commentator.
"Government officials [joining livestreams] are there not purely to help sell products but to give off the signal [that the city has resumed normal operations] and improve the sentiment of citizens," said Zhang.
This article first appeared in the South China Morning Post.