Reliance Industries, India's largest oil-to-retail conglomerate, emerged as the top app publisher in the country in 2019 based on the download estimates, according to app analytics firm App Annie's annual list of top publishers, released late last month.
"In India, Reliance Industries maintained a clear lead over others. Launched in 2016, mobile carrier, Jio, is now India's leading telecom company with its own app store comprising at least 13 different apps," a statement by the San Francisco-headquartered company said.
Asia's richest man, Mukesh Ambani-led company ventured into the digital space with the launch of its mobile carrier Reliance Jio in 2016. Within three years, Jio disrupted the world's second-largest telecommunications market with dirt-cheap data plans to emerge as the market leader with 388 million subscribers. The company created a digital ecosystem by rolling out apps for browsing, communication, news, entertainment, payments, security, and cloud services, along with its own app store.
Jio leveraged its mobile communication network, broadband services, and Jio devices –feature phones and smartphones–to get users onboard and offered them various services through Jio digital ecosystem to retain them.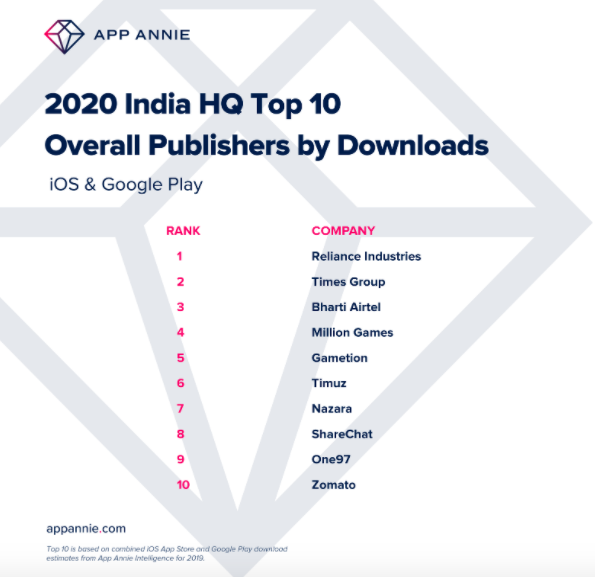 Reliance was followed by media giant Times group and country's second-largest telecom player Bharti Airtel. Other than three Indian conglomerates, App Annie's top 10 publisher list featured four gaming companies–Million Games, Gametion, Timuz, and Nazara. Shunwei-backed vernacular content sharing platform ShareChat that competes with TikTok is listed on the eighth position. The last two spots are covered by Alibaba-backed unicorn companies: One97, which runs digital payment services platform Paytm, and homegrown food delivery giant Zomato.
One97 owns eight apps such as its flagship payment app Paytm, online shopping app Paytm Mall, and wealth management platform Paytm Money, among others. Zomato operates 11 different apps on Google Play Store including Zomato Restaurant finder and food delivery app, Zomato Business, Zomato Book Lite, among others.
"Gaming and entertainment were at the core of other activities in India while Zomato food delivery service was the only anomaly in the Top 10 list," the company said in a statement.
App Annie also revealed the top education, finance, and shopping apps in India last year based on its monthly average users estimates.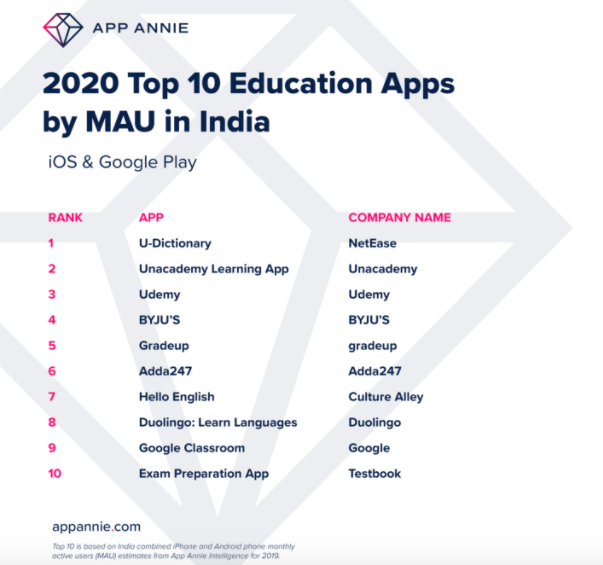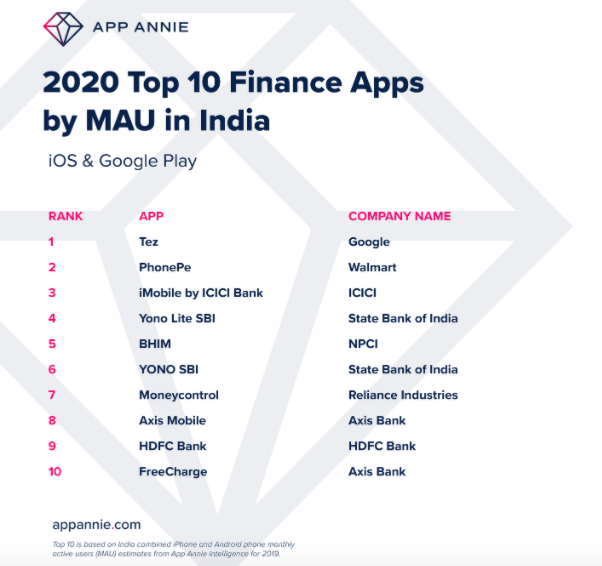 While Chinese internet giant NetEase's U-dictionary, Unacademy, and Byju's emerged as the top three apps in the edtech space, Google Pay and PhonePe dominated the financial services segment. These were followed by apps from Indian banks and digital payment tool UPI (Unified Payments Interface) based BHIM. Moneycontrol, an app by Reliance to track stock market and manage portfolio, made to the number seven on the list.
For the shopping category, US online retailer Amazon's app grabbed the top spot. Paytm, Walmart-owned Flipkart, Walmart-owned Myntra, and ClubFactory were the next four top apps. E-grocer BigBasket and Chinese smartphone firm Xiaomi's Mi Store also made it to the list.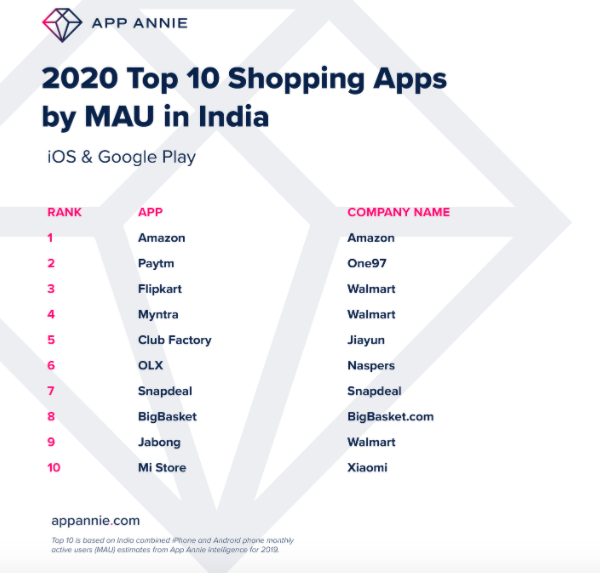 According to another recent report by App Annie, 'State of Mobile-2020', consumers worldwide downloaded 204 billion apps in 2019, up 45% in three years since 2016 and a 6% rise year-on-year. The report further said downloads were largely fueled by emerging markets including India, which saw a 190% hike in downloads last year as compared to 2016, touching about 19 billion app downloads.