In May 2013, Saumya Vardhan, who was working as a finance consultant in London, came to India to attend the funeral of her best friend's father. When she realized that many family members couldn't attend the 13-day-long post-death ritual, she decided to start an online platform to let people virtually attend such events.
She left her cushy job and invested USD 250,000 to launch Shubhpuja in December 2013. The company allows users to book online consultations with experts in astrology, numerology, and palmistry. In addition, it ropes priests to conduct online prayer ceremonies or what is locally known as pujas.
In a traditional puja where priests and family members' in-person presence is necessary, online platforms such as Shubhpuja, Online Prasad, 27 Mantraa, Kelkar Guruji, and Prabhuji Online provide the second-best alternative of allowing family members to attend ceremonies virtually.
The ungodly year
India is known for its extravagant weddings where many families and extended families gather to bless the bride and groom as they participate in elaborate wedding rituals, which can go on for hours, many a time overnight.
Due to the pandemic last year, many Indians resorted to using online platforms for prayer ceremonies required for marriages and house-warming events. As a result, tech startups offering such services have seen a jump in demand since last year. With an aim to be on top of this rising trend, VCs are keeping a keen eye on this fledgling sector and have made several bets as the industry is expected to see staggering growth in the coming years.
The spirituality market in India is approximately worth USD 44 billion in 2020 and is expected to grow with a CAGR of 10% during 2021-2026, according to an Expert Market Research report.
Ajay V, CEO of 27 Mantraa said, the demand for virtual puja has shot up by 40% since last year. Kolkata-based Prabhuji Online, which did around 2 million home deliveries of flowers and puja ingredients since 2017, made 1 million deliveries in 2020 alone, Manishpal Singh, co-founder and CEO of the company, said. It plans to connect its users with priests and expand to cities like Raipur, Delhi, and Jaipur.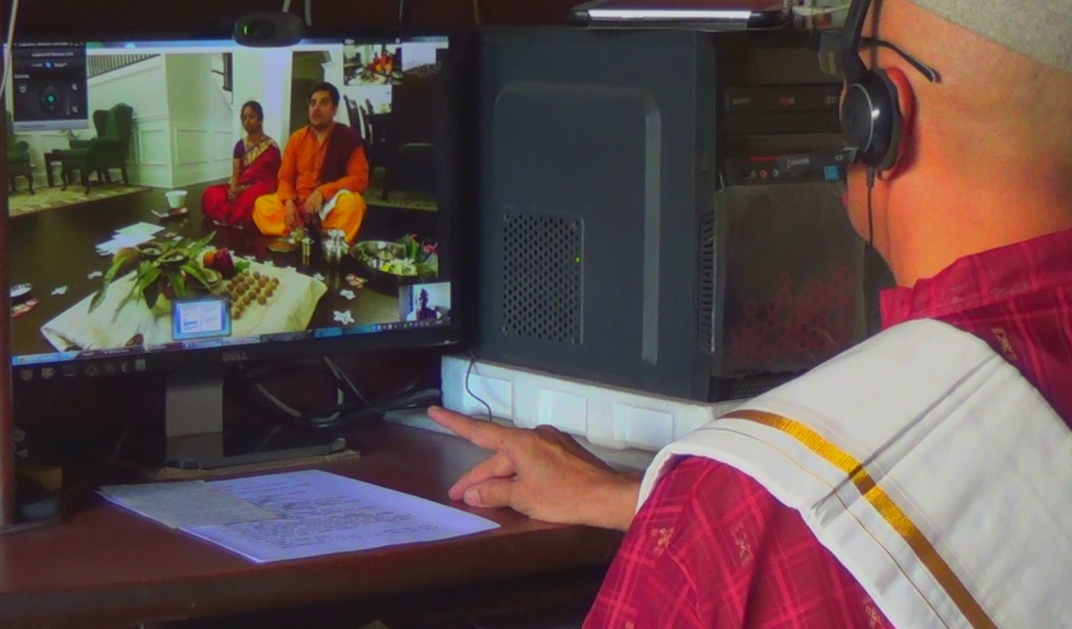 While the pandemic has given this nascent sector a fillip, startups creating products around spirituality and religion came into the limelight in 2017 when Times Internet acquired House of God. The startup provides live streams of prayers from major Indian temples. It currently offers over 100,000 minutes of spiritual content from different religions, including Hinduism, Islam, Christianity, Sikhism, and Jainism.
"There has been a notable rise in podcast streams on spirituality, and a 14% increase in devotional music playlists," Prashan Agarwal, who recently stepped down as chief executive of music streaming company Gaana, had said during the onslaught of COVID-19 last year. Local language social media app, ShareChat, saw a 43% increase in the consumption of religious content last year in April, a month dotted with religious festivals like Ramadan, Easter, and local New Year celebrated in different states.
Former senior analyst at Forrester, Satish Meena, realized that now is the right time to get into this segment. Last year, he launched Sutradhar, an audio-video storytelling platform for Indian mythology. The company creates animated versions of stories from Hindu scriptures in four Indian languages.
Sutradhar has raised USD 110,000 from Titan Capital, a VC fund started by Snapdeal's co-founders and a few other angels. Meena also has plans to merchandise the characters from Indian mythology.
Similar to Meena, founder of social commerce startup Trell, Prashant Sachan left the company in the middle of the pandemic to start AppsForBharat, a devotional content platform. Sequoia Capital India and Beenext Ventures are reportedly investing USD 4 million in the company.
A long-term solution?
Referred to as 'Uber for priests,' these startups are disrupting traditional puja ceremonies. And while priests are dabbling in it because there is no better alternative, they abhor it.
"Pujas through the internet will definitely help, initially. But the real benefit can be reaped only when we perform the devotional practices ourselves. Witnessing will give only sentimental satisfaction; it will not have a deep impact on our mind," Swami Mukthananda, a priest of Anandashram in the South Indian state of Kerala, told KrAsia.
Vardhan from Shubhpuja believes people's faith in God has increased due to the pandemic. "With online video services [getting mainstream], people have become even more comfortable getting our services virtually," said Vardhan.

Taking a step ahead, a few such startups offer their users virtual tours or visits to temples. This is even more relevant amidst the pandemic, as the government has canceled multiple yearly pilgrim tours since last year. So, instead of scaling mountains to reach a temple, people are using these online platforms to mark their attendance virtually.
One such startup, Pujashoppe, which has been selling ingredients to perform puja, has ventured into online tours of temples. It has set up WiFi at 20 major temples across the country to live stream daily prayers performed by priests. Similarly, DevDarshan works with 70 temples across 16 states for such services. "More than 500 devotees across eight countries and four continents have participated in online puja," Pranav Kapoor, co-founder of DevDarshan, told KrASIA.
Six-year-old ePuja, which has listed about 3,600 temples on its website for its users to choose from, allows its users to partake in temple rituals of their choice from home.
For devotees who take pride in going through arduous hilly terrain for days on foot to reach temples, these tech-enabled visits are no match for the real experience, but it's the best they can do currently. With 33 million gods, a million temples, and annual donations to the tune of millions of dollars to temples, Indians are bound to splurge on Gods.