Singapore-based messaging app MiChat is currently in the spotlight in Indonesia after it was found to be misused for prostitution services.
Earlier this month, Indonesian police arrested a couple in the city of Surabaya who allegedly engaged in prostitution after they had become acquainted through MiChat. Because similar cases were reported a couple of months ago, the government, through its IT Ministry, is now investigating the app.
The ministry plans to talk directly with the MiChat developers before making a decision whether or not to ban the app.
Indonesia has tough anti-pornography laws, and prostitution is illegal in the country. The IT Ministry has banned entire sites and apps as well as individual content in the past based on these laws. Banned sites include Reddit and Vimeo, because they don't have strict rules against showing nudity. Singapore's Bigo Live app was once briefly banned but later reinstated after the company decided to cooperate with the ministry and take strict measures against offensive content. In 2018, the ministry blocked 2,334 pieces of 'negative content' from eleven different live chat apps.
MiChat, in some ways, has features that invite potential misuse for prostitution services. It has functions similar to other chat apps like WhatsApp or Line. However, MiChat isn't designed for communicating with your existing contacts, it also allows you to communicate with strangers. Its standout feature is the 'Message in a bottle' which lets you approach strangers near your location. In short, MiChat features combine chat and dating app functions.
In Indonesia, dating apps like Tinder and Tantan have gained high popularity in recent years as people are more open towards the idea of expanding their network and meeting potential dates online. However, MiChat seems to cater to a more specific purpose.
Various online communities have been discussing how easy it is to find young attractive women who offer sex services on MiChat. Many of them even advertise this on their personal bio in the app.
MiChat, whose parent company was just incorporated in 2018, has been downloaded more than ten million times worldwide and is now among the top twenty apps in the Indonesian Play Store, according to App Annie. The app is ranked 14th and has overtaken TikTok that is ranked 18th for now. Tiktok's popularity has been growing globally and the platform claims to have ten million monthly active users in Indonesia alone.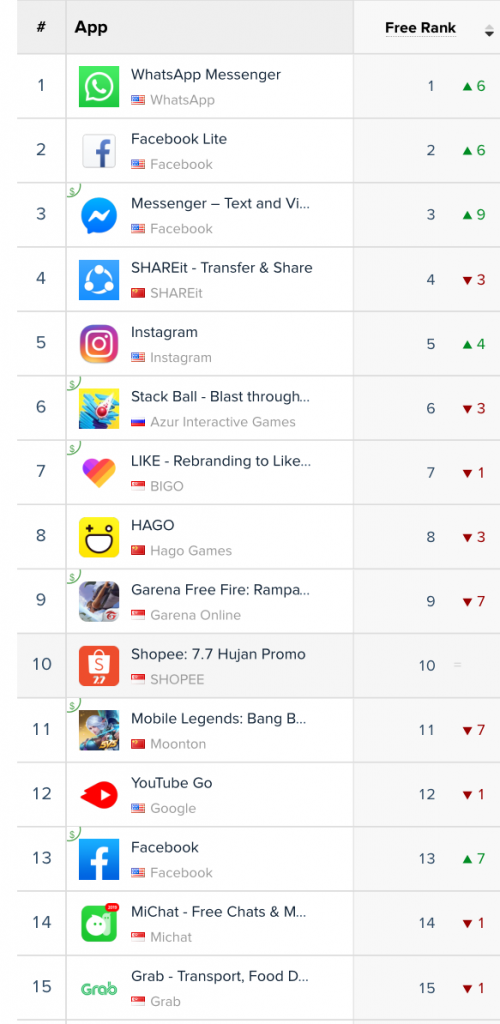 The popularity of MiChat in Indonesia is even higher than in its home country. The app only ranks 84th in Singapore, way below other messaging apps like WhatsApp, Facebook Messenger, Telegram, and WeChat.
Responding to the case, Minister Rudiantara stressed the importance of digital platforms to take responsibility for the content they present. The minister said that he would take firm action and impose sanctions against MiChat if it is proven to have negative impact on the Indonesian public.