Chinese machinery maker Sany has opened a flagship store on Pinduoduo to sell tow trucks that can be used to transport cargo, marking an unusual new product offering for the consumer-focused group-buying platform.
Users have to place a RMB 3,000 (USD 457) deposit on Pinduoduo, which will gain them a discount of about RMB 30,000 if at least two persons participate in the deal. Six models, which are priced around RMB 300,000, are available, along with accessories such as a leather coat for the steering wheel.
After paying the deposit, a customer service representative will contact the buyer to inform him or her about details of the transaction, including where to pick up the car and how to pay the remaining money to Sany.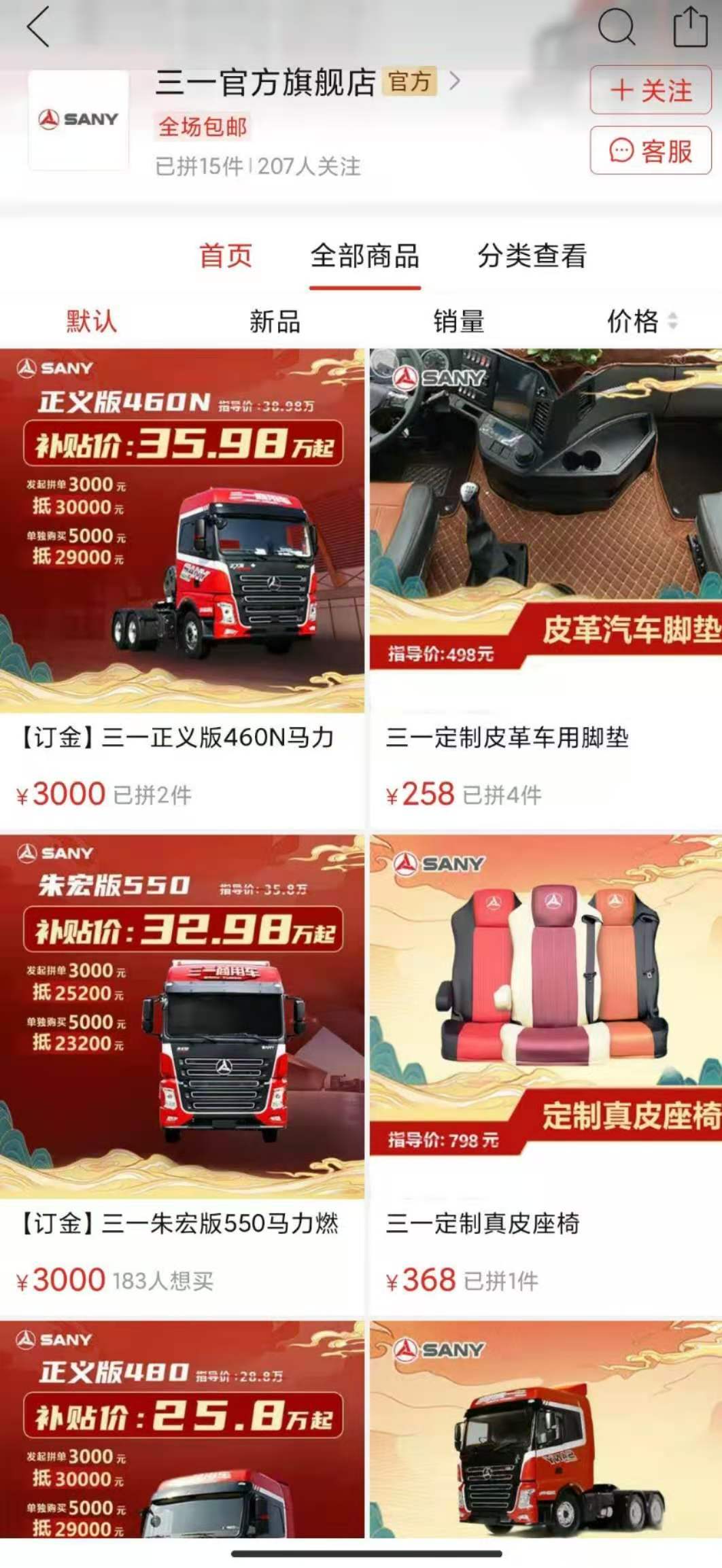 The new owner of the truck can either go to Sany's headquarter in Changsha, in Central China's Hunan province, to pick up the vehicle, or wait for it to be delivered after paying a transportation fee based on distance, a service person of Sany's online store told KrASIA on Monday.
"We are in a strategic cooperation with Pinduoduo to explore a new sales channel," said the person, adding that "there is an overlap of our truck drivers and Pinduoduo users."
Zhuang Shuai, a retail veteran and founder of Bailian Consulting, echoed the employee's judgement on the user demographics, adding that a lot of Pinduoduo's customers are based in rural areas, where most truck drivers are living. "As the number of Pinduoduo's users is peaking, one priority for the company is to enlarge the total purchasing price for each user to increase profitability," Zhuang added.
Just a marketing trick?
While the partnership between Sany and Pinduoduo seems like a perfect fit, Li Chengdong, founder of the Dolphin think tank, believes that the move is more about marketing. "Pinduoduo can only be an alternative channel to generate a relatively small amount of sales," Li predicted, when contacted by KrASIA.
The machinery maker now has a nationwide sales network, comprising its own subsidiaries and authorized third-party distributors. In Beijing, the company has 15 physical outlets to sell its products, including trucks and other machinery such as cranes.
"Sany is a very respectable Chinese manufacturing enterprise, which promotes Made-in-China products to be world-class with its own independent innovation," Pinduoduo commented on Monday. "The Pinduoduo platform will fully support the transformation and upgrading of Sany."