China's group-buy marketplace Pinduoduo (PDD) today announced its Q3 unaudited earnings results. The Nasdaq-listed giant saw its revenue surge by 697% year-on-year, posting a revenue of RMB3,372.2 million (US$481 million). Operating losses, on the other hand,  jumped by more than 5 times over the last year from RMB234.4 million (US$33.7 million) in Q3 2017 to RMB1,269.5 million (US$184.8 million).
This pattern of rapid growth amidst widening losses is a familiar narrative among tech companies in China, especially those who headed to the public markets in 2018. Meituan-Dianping could be one example.
Despite the widening losses, PDD has demonstrated its ability to efficiently manage working capital concerns. Its net cash position increased from RMB3,058 million (US$440.2 million) at the end of 2017 to RMB14,960 million (US$2.2 billion) as of end-September 2018. Furthermore, while operating losses grew year-on-year, PDD's profitability actually improved quarter-on-quarter. PDD's operating loss fell from RMB 815.7 million (US$117.4 million) to RMB 790 million (US$113.7 million).
Stellar Growth in various performance metrics
Robust revenue growth could be attributed to PDD's strong growth in monthly active user numbers (MAUs), gross merchandise value (GMVs) and annual spending per active buyer. PDD's MAU grew by 226% from 71.1 million in Q3 2017 to 231.7 million this quarter, while GMV increased by 386% during the same period from RMB70.9 billion (US$10.2 billion) to RMB344.8 billion (US$50.2 billion). As for annual spending per buyer, it increased by 99% year-on-year from RMB449.2 (US$64.7) to RMB894.4(US$130.2).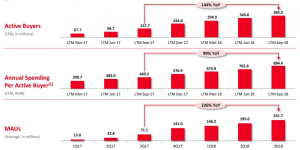 PDD's Chairman and CEO Mr Zheng Huang commented saying, "We delivered another quarter of strong and sustained growth." He also talked about plans to continue to invest in technology to achieve PDD's 'Costco meets Disneyland' vision.
It's interesting to note that, contrary to some of the negative publicity that seems to have dented consumers' trust in PDD's platform, the fast-growing numbers indicate otherwise. The momentum suggests that Pinduoduo is still one of the major e-commerce players in China to watch.
PDD's share price jumped by close to 15%, hitting US$22.76 apiece as of Tuesday afternoon, following its positive financial results.
Also Read:
1. Pinduoduo's rise: Are there lessons for Southeast Asia?
2. Pinduoduo: a Close Look at the Fastest Growing App in China
Editor: Nadine Freischlad