While recessions and crises bring turbulence, most of the investor fraternity believes it is the tough times that have given birth to some of the most notable companies in the world. They expect the same thing to happen during the ongoing pandemic.
They might not be too far off from their hypothesis, because Indian entrepreneurs are already tapping into new opportunities brought upon by the idea of the post-COVID-19 world. This is evident from the fact that more companies were incorporated in the first half (H1) of 2020 as compared to the corresponding period last year.
According to a new report by business intelligence firm Tracxn, there were 551 companies that were incorporated in H1 2020 as compared to 460 firms in the H1 of last year.
Of the total, 109 startups were founded in New Delhi, the country's capital where over 100,000 coronavirus cases have been registered so far, making it the third-largest number of cases in the country. Bengaluru, popularly known as India's Silicon Valley, and country's financial capital, Mumbai, saw 63 and 44 startups, respectively, coming into existence in the first six months of 2020, as per the Tracxn report.
Healthcare and IT saw 26 new startups in H1 2020, highest across the sectors, the report observed. There were 19 new companies in alternative lending, 18 companies each in payments and higher education tech, 11 in e-grocery, seven each in test preparation tech, food tech, and road tech transport, and three in B2B e-commerce.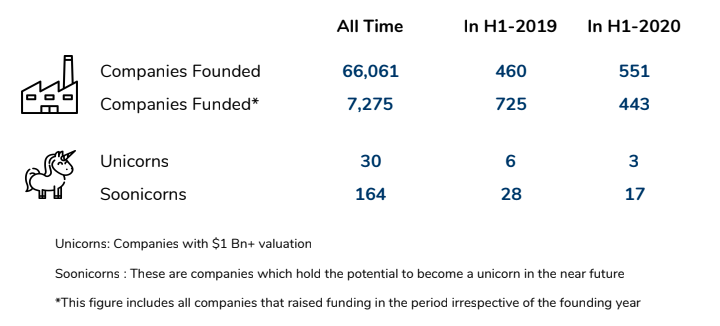 Funding into startups, however, shrunk as most VCs were busy firefighting with their portfolio companies, conserving cash and streamlining business processes to cut costs.
Equity funding in H1 2020 decreased by around 29% to USD 4.2 billion across 461 rounds, from USD 5.9 billion funding in H1 2019, the report said, adding there were 208 Series A+ rounds. Of the total funding, Bengaluru based startups raised the most money at USD 2,436 million, followed by Delhi NCR at USD 602 million, and Mumbai at USD 397 million.
Flushed with investors' money, India saw three startups becoming unicorns or USD 1 billion-plus companies, and 17 startups reaching the status of soonicorn (soon-to-be-unicorn companies).
Alternative lending and test preparation tech were the most popular business models of H1 2020, the Tracxn report noted, since they generated the most interest, as indicated by the funding that went into them. Alternative lending startups raised a total of USD 704.5 million, and test preparation tech platforms received combined funding of USD 666.2 million. These segments were followed by payments and food tech firms, which managed to get checks worth USD 347.7 million and USD 342.5 million, respectively.
The top funding deals of the first half of 2020, the report said, include Byju's USD 300 million round from Tiger Global and USD 200 million round from General Atlantic; Firstcry's USD 300 million funding from SoftBank, Zomato's USD 150 million check from Ant Financial, Info Edge, Sequoia Capital, and Temasek; Swiggy's USD 113 million round from Naspers, Meituan, Wellington Management, and Prosus; and Unacademy's USD 110 million funding from General Atlantic, Facebook, Nexus, Venture Partners, Blume Ventures, Steadview Capital, and Sequoia Capital.
According to the Tracxn report, Sequoia Capital and Accel emerged as the top VCs in India, while Steadview Capital and FMO were the top PEs in the first half this year. Turbostart and Better Capital lead the accelerators, while Tencent and Goldman Sachs were the top corporates and banks, respectively in H1 2020.