Intel's Jerusalem-based subsidiary Mobileye announced plans on Monday to launch driverless delivery services by 2023 with autonomous vehicle delivery company Udelv, with commercial operations set to begin in 2023.
The company's Mobileye Drive self-driving system, a unique turnkey solution designed to support a range of autonomous vehicle (AV) applications—robotaxis, consumer passenger cars, and commercial delivery vehicles—will power Udelv's next-generation electric, self-driving delivery vehicle, Transporter, according to the announcement.
The California-based company hopes to tackle last- and middle-mile deliveries—the most expensive aspect of the distribution workflow—with a driverless solution that it says could dramatically improve delivery services for everything from baked goods and auto parts to groceries and medical supplies.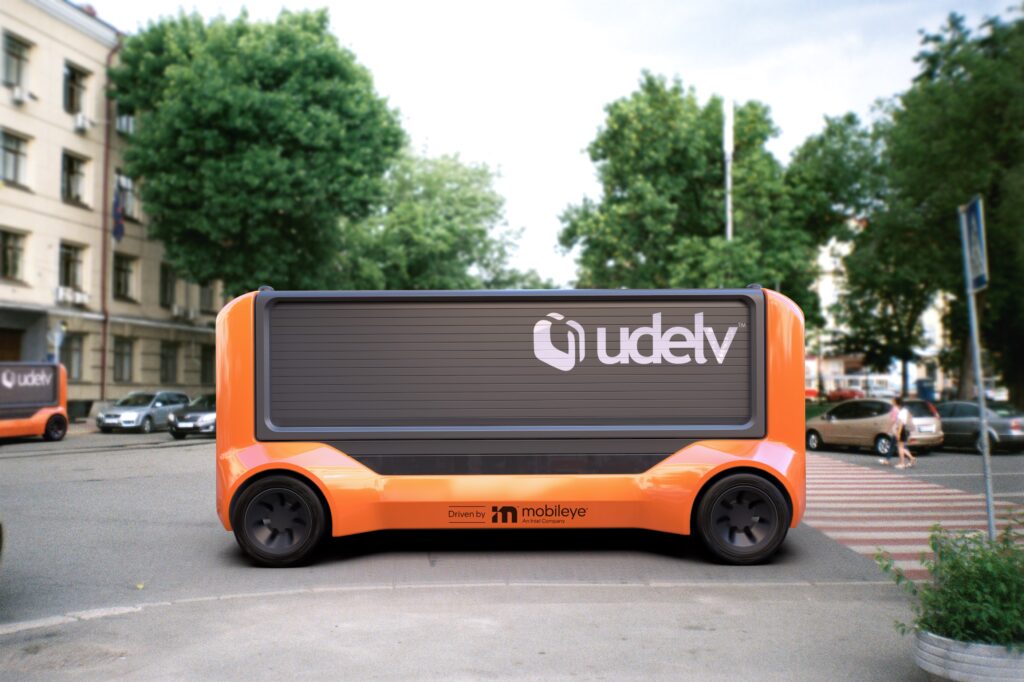 Udelv has so far been operating autonomous delivery vans with a safety driver using retrofitted cargo vehicles in geo-fenced areas called ODDs (Operating Design Domains) in various US markets, including the San Francisco Bay Area, Phoenix, and Houston.
Mobileye and Udelv plan to produce more than 35,000 Transporters by 2028, with a commercial launch beginning in 2023, the companies indicated in the announcement. The deal is believed to be the first large-scale agreement for a self-driving system.
In addition, Donlen, one of the largest commercial fleet management companies in the US, has placed its first pre-order for 1,000 Transporters, according to the announcement.
The Transporter is comprised of an electric skateboard, cargo robotics, vehicle firmware, as well as the Mobileye Drive system. It will reach speeds of up to 65 mph (104 km/h). The vehicle's dimensions and other specs like range and battery size have not yet been released.
The Mobileye-driven Transporters will be capable of L4 self-driving, and Udelv's teleoperations system will allow for the maneuvering of the vehicles in parking lots, loading zones, apartment complexes, and private roads, the companies said.
Udelv will perform the integration with its Delivery Management System, with Mobileye providing technical oversight and software support.
The Mobileye Drive solution, meanwhile, is made up of a suite of 13 cameras, three long-range LiDARs, six short-range LiDARs, six radars, the company's EyeQ system-on-chip-based L4 system, sensors and software, the proprietary Road Experience Management (REM) mapping tech that creates high-definition maps of global road infrastructure, and the Responsibility-Sensitive Safety-based autonomous driving policy for the safety of the system's decision-making.
"Our deal with Udelv is significant for its size, scope, and rapid deployment timeline, demonstrating our ability to deliver Mobileye Drive for commercial use now and in volume," said Amnon Shashua, Mobileye president and CEO.
"COVID-19 has accelerated demand for autonomous goods delivery, and we are delighted to partner with Udelv to address this demand in the near term," he added.


Udelv co-founder Daniel Laury said Mobileye was "the only company providing a full-stack self-driving system with commercial viability and scale today."
"The readiness of Mobileye Drive, along with its vast map coverage of North America, Europe, and Asia, will allow us to ramp up the production and deployment of Udelv Transporters and rapidly offer the service at scale to our expanding list of customers," said Laury.
Shashua revealed at the CES summit in January that cars using Mobileye's existing technology have already mapped nearly 1 billion kilometers globally, with more than 8 million kilometers mapped daily. Mobileye previously said that data from 25 million vehicles is expected to be collected by 2025, in cooperation with various automakers.
Tom Callahan, president of Donlen, said the company was "thrilled to be the first customer for the Udelv Transporter. The combination of Udelv's zero-emissions Transporter and automated delivery management system with Mobileye Drive will enable sweeping delivery cost reductions, make our roads safer, and lower carbon emissions across America."
Mobileye at the wheel
Mobileye, which Intel acquired for USD 15.3 billion in 2017, has been working on a number of solutions to advance autonomous transportation and mobility offerings in recent years: an ADAS (advanced driver assistance system) based on proprietary software algorithms and EyeQ chips which use cameras to interpret the visual field, a lidar system-on-chip (SoC) for Mobileye used in AVs starting in 2025, and a full-stack self-driving system for consumer AVs and robotaxi MaaS (mobility-as-a-service) together with Israeli mobility company Moovit, which was acquired by Intel last year.
At CES 2021, Shashua said the lidar SoC was "game-changing," and would give Intel "a significant advantage" in delivering "fully digital and state-of-the-art signal processing, different scanning modes, rich raw detections, and multi-frame tracking."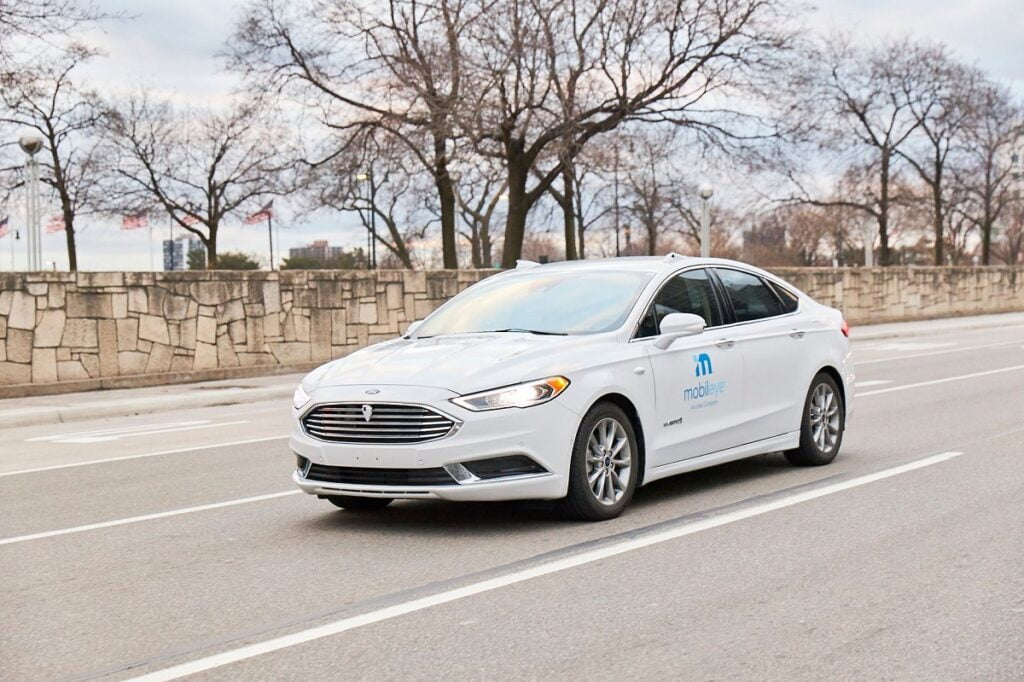 Mobileye has been focused on getting the technology down to an affordable cost to enable the global proliferation of autonomous driving, and its new systems are part of that journey. The company's solution "starts with the inexpensive camera as the primary sensor combined with a secondary, truly redundant sensing system enabling safety-critical performance that is at least three orders of magnitude safer than humans."
The company has been testing autonomous vehicles in a number of cities, including Jerusalem and Munich, and recently unveiled plans to launch autonomous vehicle testing in Detroit, Tokyo, Shanghai, and Paris. New York is also in the cards, pending regulatory approval.
Mobileye is also expected to launch testing for an autonomous taxi (robotaxi) mobility solution in Daegu, South Korea, later this year, and will target a commercial launch for robotaxis in Osaka in 2023 together with Willer, one of the largest transportation operators in Japan.
In February, Mobileye announced partnerships with two French firms to jointly develop and deploy autonomous shuttles for public transportation in Europe in 2023.
This article first appeared in NoCamels, which covers innovations from Israel for a global audience.