Jerusalem-based Mobileye, the developer of driver assistance systems acquired by Intel Corporation for USD 15.3 billion in 2017, will begin setting up the infrastructure to test autonomous vehicles in Dubai and hopes to roll out a full mobility-as-a-service (Maas) offering, including self-driving taxis and smart city solutions, by 2023.
Mobileye on Wednesday announced a strategic partnership with the UAE's Al Habtoor Group (AHG), a major conglomerate in the federation, to set the plan in motion. AHG was founded in 1970 by Khalaf Ahmad Al Habtoor and operates businesses in key sectors such as hospitality, automotive, real estate, and education.
Al Habtoor as well as Mobileye co-founder and CEO Amnon Shashua hosted a press conference in the UAE on Wednesday to announce the deal and reveal some of the details. The event was also aired via Zoom.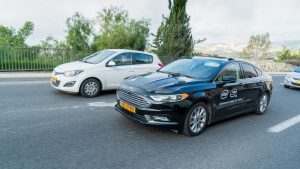 According to the agreement, vehicles equipped with Mobileye's Advanced Driver Assistance Systems (ADAS) technology will be deployed in Dubai and will harvest smart city data to help municipalities and businesses gain valuable insights while improving road safety and laying the foundation for a future driverless MaaS solution.
It will be rolled out in four stages, Shashua explained in the press conference.
First, over the next six months, Mobileye will install a collision-avoidance system in about 1,000 vehicles. Mobileye's Road Experience Management (REM) mapping technology will then begin collecting valuable insights for safer driving, autonomous vehicle mapping, and city planning. The information will offer insights into a range of issues, including road conditions, traffic monitoring, and accident-prone areas.
In the second stage, later next year, Mobileye-powered autonomous vehicles will be deployed in Dubai to begin public road testing, pending regulatory approval, Shashua said. The automated vehicle testing will leverage HD maps created and insights gained from the Al Habtoor fleets to prepare for future driverless mobility solutions.
Next, Mobileye and Al Habtoor, together with Israeli-founded mobility company Moovit, which has also been acquired by Intel, expect to start an early rider program to test its MaaS offering and prepare for a commercialized service.
In the fourth stage, the parties will launch and commercialize a Mobileye-powered driverless mobility service for UAE consumers by 2023.

"This historic collaboration between Mobileye and Al Habtoor Group presents an opportunity to transform UAE cities by accelerating smart city development and advancing transportation services with cutting-edge technology," Shashua said in a statement.
Mobileye currently runs a number of similar mapping and testing initiatives in Germany, South Korea, France, and Israel.
Shashua said during the press event that Dubai "is one of the most advanced cities in the world. For us, it's very natural that Dubai would be the next step."
"Dubai is the epicenter of the Middle East, if we succeed here, we can expand elsewhere [in the region]," said the Mobileye co-founder, who also serves as senior VP at Intel Corp. He further suggested there would be more opportunities once formal relations are established between Israel and other regional states.
The deal comes a month after Israel and the UAE announced a US-brokered normalization pact that establishes official ties between the two countries. Bahrain quickly followed suit and the peace agreements were signed last week at the White House.
Shashua said that in the framework of the deal with AHG, Mobileye will set up a presence in the UAE "as needed" in terms of having engineers on the ground.
Al Habtoor said he was "thrilled to reveal this collaboration" and bring to the UAE "the best of Israeli artificial intelligence."
The UAE, and Dubai in particular, is a "hub between east and west. It is a land of opportunity," Al Habtoor said during the event.
"I am confident of the added value of this new technology to the comfort and safety of the drivers on the road. I believe that the technology, which is today made accessible to the UAE by this MoU between Al Habtoor Group and Mobileye, will improve the quality of life for all UAE residents," he added.
This article first appeared in NoCamels, which covers innovations from Israel for a global audience.