Digital wallet platforms make up the most popular fintech category in Indonesia (82.7%), followed by digital investments (62.4%), according to Daily Social's Indonesian Fintech Report 2019.
This indicates that Indonesian customers are gradually showing interest in switching to fintech platforms for managing their finances. Other categories that have also gained popularity are PayLater features (56.6%), online multifinance (40%), insurtech (39.1%), and peer-to-peer (P2P) business lending (21.5%).
The report indicates that GoPay and OVO have maintained their standing in the first and second spots as the most used digital wallets in the country, with a percentage of 83.3% and 81.4%, respectively. Ant Financial-backed Dana took the third place (68.2%), followed by newly-launched state-owned platform LinkAja (53%).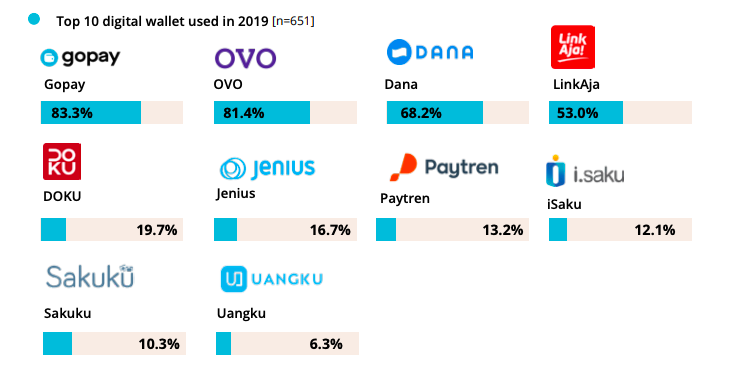 Regarding user awareness, OVO leads the list with 99.5%, slightly above GoPay with a 98.5%, and Dana with a 98% share of users.  
Meanwhile, digital investments gained popularity this year, as more customers are now aware of the importance and convenience of investing online. Bareksa is at the top of users' minds when it comes to online investment as almost 62% of respondents acknowledged it is the preferred investment platform in terms of total awareness among users. Its integration with Tokopedia, Bukalapak, and OVO, contributed to the platform's popularity this year. Nonetheless, online gold investment site E-mas acquired the majority of users with 30.7%, while Bareksa reached 25.4%, Invisee 20.9%, and Tanamduit 18.6% share of the user base.

Akulaku claimed to have the highest percentage for online multifinance usage this year. Of 330 respondents, 65.9% used Akulaku, followed by its strongest competitor Kredivo, with a 63% share of users.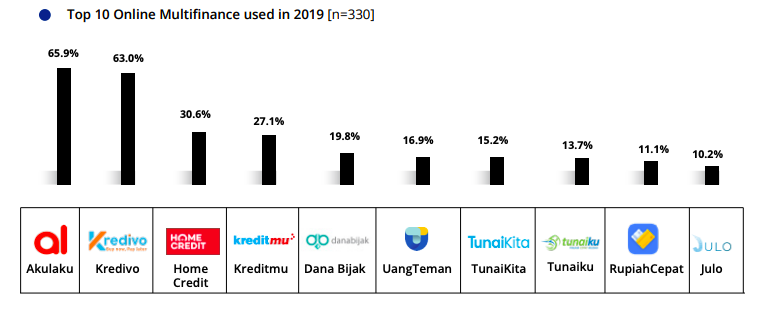 Online multifinance is a type of short-term borrowing where a lender will extend high-interest credit based on a borrower's income and credit profile. These fintech products have a simple application process. Typically, it requires identification and once approved, users can receive their loan funds right away or within 24 hours.
The P2P lending segment has grown steadily this year, with 47 new players entering the sector. According to the report, KoinWorks is currently leading the game with 29.9% of users, followed by Investree with a 22% share. Amartha is in fourth place after Modalku, with a percentage of 20.5% and 16.5%, respectively.

KoinWorks and Amartha raised new investments this year, while Investree is reportedly in talks to raise Series C funding. Meanwhile, Modalku's last funding round was in 2016, according to Crunchbase, although its parent company Funding Societies raised USD 25 million from Softbank Ventures Asia last year.
The report noted that there were 22 announced funding rounds for fintech startups with nearly USD 100 million in total disclosed amount, which is lower than last year's funding amount of USD 182 million. This year, 13 fintech lenders obtained business licenses and registered status from the Indonesian financial services authority (OJK), including Investree, Amartha, Uang Teman, and Modalku. Another 144 lending platforms have already been registered with the OJK.
Total loans disbursed by P2P lending in 2019 reached IDR 60.4 trillion (USD 4.2 billion), which almost tripled from last year's loans channeled which was IDR 22.6 trillion or USD 1.6 billion, the report said.
Meanwhile, the PayLater feature has stolen the spotlight in the past year as big platforms like Gojek, OVO (through Tokopedia), and Traveloka have been aggressively promoting this feature on their platforms. PayLater is a new payment feature that facilitates limited credit to users.It can be used for traveling, food purchases, day-to-day transportation, and other daily services.
According to the report, OVO's PayLates has the largest user base with a 51.9% share, followed by Gojek (49.9%), Shopee (34.8%), and Traveloka (31.7%).
Awareness towards insurtech also increased this year. However, it seems that users still prefer to use digital insurance products issued by insurance corporates. Based on the report, Allianz led the insurtech market with 36.9% of users, followed by Axa with a percentage of 33.7%, and RajaPremi which reached a 21.2% share. Insurtech startups like JagaDiri and PasarPolis also made the top ten list but with a smaller share of users.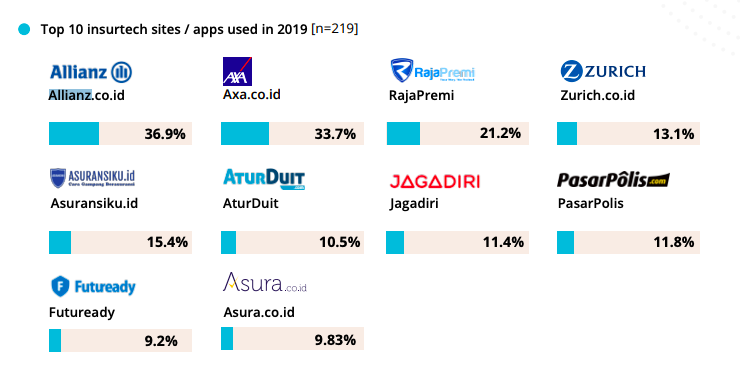 The Fintech Report 2019 is based on a nationwide survey encompassing responses from 1,500 people nationwide. Questions sought to yield perspectives of the public's usage and attitude towards fintech products, and also explore the growth and trends in the financial industry.
The report was conducted by Daily Social Research and supported by BRI & BRI Ventures. Get the full report here.
Daily Social is a partner of KrASIA.