Barely a fortnight after the end of China's 9-month new game approval freeze, China's local services platform Meituan-Dianping is now actively recruiting for gaming talent.
For Meituan, a company known better for food deliveries, this is the first attempt to dip its toes in China's remunerative gaming market, Meituan's senior vice president WANG Huiwen confirmed the move in a WeChat posting, as cited by SCMP. Wang emphasized that this move was purely experimental at this stage.
A Meituan's spokesperson declined to comment.
Meanwhile, some industry insiders (link in Chinese) are suggesting that the money-generating gaming business is a possible option for Meituan to seek other revenue streams to stem its intensifying losses.
Prior to its public debut, the lifestyle platform mammoth posted increasing losses from HK$11.39 billion (US$1.45 billion) in 2015 to HK$21.81 billion (US$2.78 billion) in 2017. The now-listed company failed to turn the tides. In September 2018, it saw its losses triple to RMB 3.45 billion (US$ 498 million) based on the same three-month period in 2017, taking a further toll on its bottom line.
It shows in Meituan's share price. After the first leap on debut day, it has been on a steep decline ever since.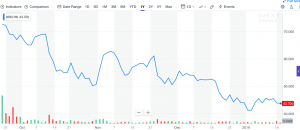 Thus, China's lucrative gaming market – the largest globally in terms of users and revenue – might be the solution for the loss-making giant. In H1 2018, the country's gaming market posted a 5% year-on-year increase in revenue up to RMB 105 billion (US$15 billion). Tencent, after all, thrived on its gaming services. The influx of gamers could serve as an additional route of traffic.
Meituan is entering the gaming market at a time when Chinese regulators have just started to approve new video game licenses again, after a 9-month standstill. The crackdown in 2018 led to a downturn in Tencent's performance and there are still many new video games in the queue waiting for approval.
Editor: Nadine Freischlad