Dutch food tech company Meatable has introduced its cultivated meat products to the world at a press tasting event held in Singapore. This tasting event showcasedpork sausages, hot dogs, and pulled pork tacos and was the first of its kind to be organized by Meatable, marking a significant step for the company following its recent fundraise of USD 35 million, bringing its total funds raised to USD 95 million.
The event was held with the approval of the Singapore Food Agency (SFA), the world's first regulatory body to grant such authorization to Meatable. This highlights Singapore's pioneering role in developing a regulatory framework for the cultivated meat industry. Meatable had previously conducted a preliminary closed-door trade tasting session in June this year to lay the groundwork for this event.
Leading up to this event, Meatable has been enhancing its production process and improving the quality and taste of its cultivated meat products. The company's commitment to producing high-quality cultivated pork meat has helped it develop products that possess the ideal attributes of traditional meat, including fiber formation, protein content, fat accumulation, and essential flavors. More importantly, Meatable's products offer the familiar bite, texture, and taste synonymous with traditional meat, making them nearly indistinguishable.
Krijn de Nood, co-founder and CEO of Meatable, was enthused at the prospect of letting the public taste the company's cultivated meat products, emphasizing its importance in product optimization and the path toward full regulatory approval for sales in Singapore. He also underscored the company's broader mission of satisfying global meat demand without causing harm to people, animals, or the environment.
Meatable's production process utilizes its patented opti-ox technology, enabling large-scale production of cultivated meat by using pluripotent stem cells. This technique involves extracting a single cell sample from an animal without causing harm and using that sample to replicate the natural growth process of cells. This process enables Meatable to "move from cell to sausage" in eight days, which is ostensibly 30 times faster than traditional pig rearing. This efficiency positions Meatable's solution as a cost-effective and scalable cultivated meat production method, all while addressing pressing environmental concerns associated with traditional meat production.
Meatable has joined forces with ESCO Aster, Singapore's sole licensed cultivated meat manufacturer, to build its first production facility outside the Netherlands. Additionally, Meatable is collaborating with Love Handle, a plant-based grocer in Asia, to develop a hybrid product line. Both companies plan to introduce products like pork sausages and dumplings in select restaurants and retailers starting next year.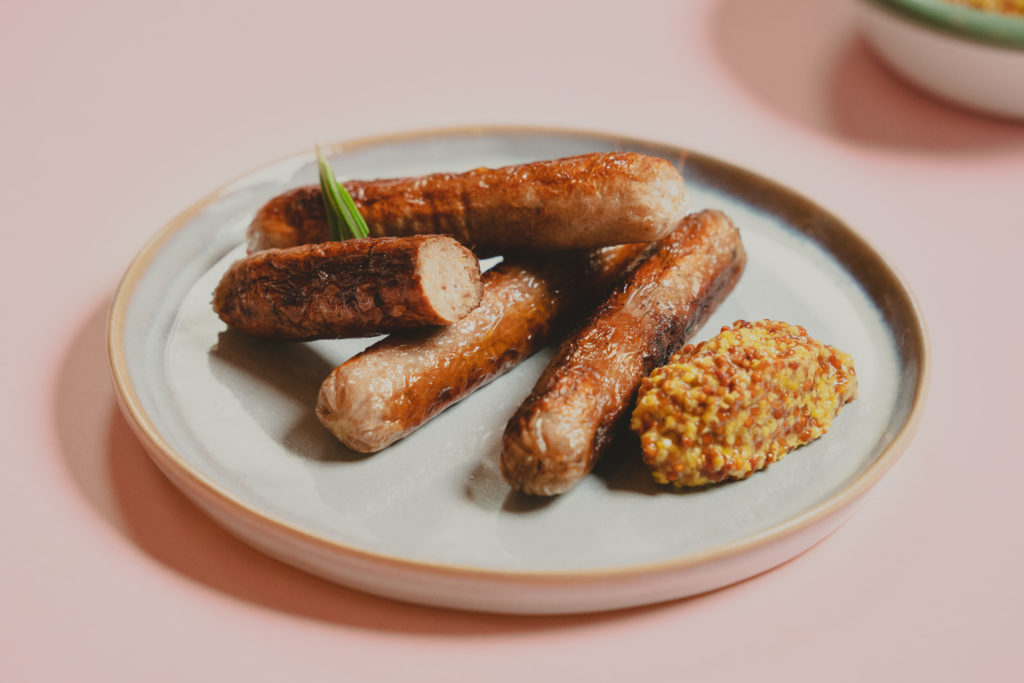 With USD 35 million secured to scale up production and advance its commercialization endeavors, both within Singapore and on a global scale, Meatable plans to debut in Singapore's consumer market next year before expanding into the US and other international markets.
Cultivated meat holds immense potential to revolutionize the food industry while addressing growing demand for meat in an environmentally sustainable manner. Independent research conducted by CE Delft indicates that cultivated meat can significantly reduce greenhouse gas emissions and land use associated with conventional beef production by up to 92% and 95% respectively. Recognizing this potential, investors have poured nearly USD 900 million into the sector, underscoring its significance within the broader alternative protein landscape, which has raised approximately USD 14 billion to date.
In the coming months, Meatable will host additional tasting sessions both in Singapore and internationally. These events will aim to educate partners and consumers while providing valuable insights to further develop and offer cultivated meat at scale.