"The delayed WeWork IPO and the COVID-19 pandemic have definitely made funding a little harder to raise than in previous rounds," Stephanie Ping, WORQ CEO and co-founder told Vulcan Post. "Investors are much more discerning in this environment, demand solid numbers and conduct heavy due diligence on our business model."
So, what does she attribute the success of WORQ's MYR 10 million (USD 2.4 million) funding round to? Ping boiled it down to 4 things: WORQ's solid financials and profitability, its sustainable business model with controlled risk, the huge market of MYR 4.4 billion (USD 1.06 billion) in Malaysia alone, and a formula for the co-working space market that finally works.
The brand has been profitable since its inception in March 2017, with its outlets taking about 3 months on average to reach full capacity. In the last 2 years since its last fundraising round, WORQ has grown its footprint sevenfold and its revenue by 560%.

The funding comes from seven follow-on investors, including the regional investment group Phillip Capital. WORQ also secured loan offers from six banks including Affin. It will use the funds to grow its space under management by 100% to meet its goal of one million square feet in 5 years, through additional locations, expansion of its current outlets, as well as acquisitions of other loss-making spaces.
"Landlords are seeing a decrease in rental yields and oversupply in the property market. We wish to work with them to help revitalize their spaces and also to introduce them to an innovation mindset," Ping said. WORQ also expanded its services to include WORQ Enterprise, a space-on-demand division that is consulting companies and customizing workspaces for them.
"With this, WORQ is able to provide extreme flexibility and end-to-end real estate solutions such as business continuity planning, a disaster relief site solution whereby a company has a space-on-standby in case of unforeseen circumstances," Ping explained.
During the Movement Control Order, WORQ saw a 15% growth in memberships. To further add value to its members, the co-working space will soon be launching its proprietary community app called SPARQ to create an online-offline experience for users.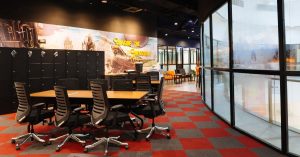 Global real estate giant Jones Lang Lasalle (JLL) has estimated that by 2030, 30% of all office spaces will be consumed flexibly. "At the moment, the take up rate in Malaysia is just at 1% while the Asian average is at 3%, which means we still have a long way to go and the market is wide open," Ping said. "Our estimate is that the Malaysian market alone will grow MYR 3 billion by then."
The important thing is to grow sustainably to ensure a long mileage in this business and be around to take advantage of the opportunities. That is why WORQ's profitability is important, which instils the much-needed confidence to investors, according to her.
"Even though some trying news has come out of this market, it is quite normal for a brand new, blue ocean industry to attract many players who will try their best to grow into the new demand," said Ping. "Along the way, some will succeed, some will fail, and in the end, the market will grow towards an equilibrium where finally a workable formula is found for the betterment of the end users."
She foresees that co-working and flexible offices as a trend will continue to grow and take up the market share of how real estate will be used, and believes that WORQ is well-positioned to take advantage of each opportunity.
This article was originally published by Vulcan Post.