Luckin founder Lu Zhengyao's latest startup venture Shejian Technology is set to open its first set of noodle restaurants under the brand Qu Xiaomian, and will adopt a more prudent expansion strategy than the 52-year-old businessman's previous coffee startup, requiring each restaurant to be profitable before opening the next location, according to a report from TechPlanet.
The new company counts Lu's old associate from his time at Ucar, Zhang Ying, as its major shareholder, while Luckin's former CEO Qian Zhiya as well as vice presidents Li Jun and Zhou Bin are also on the management team. Shejian Technology is headquartered in Beijing's Chaoyang business district in an impressive space that spans an entire floor containing about 200 workstations. Other tenants in the building including WeWork, Bilibili, and Sony.
The office space was mostly vacant when Tech Planet visited, ahead of the startups' plans to open its first restaurants in 14 of China's largest cities, including Beijing, Shanghai, Guangzhou, Shenzhen, Hangzhou, Xiamen, Jinan, Tianjin, Wuhan, and Xi'an. The restaurants will be located in areas with heavy footfalls like Wanda shopping malls and office complexes, which is reminiscent of Lu's placement of Luckin Coffee's branches.
However, this new prerequisite of profitability is a stark departure from Lu's capital-intensive expansion strategy with Luckin Coffee, where the company poured cash into subsidies to attract customers, opening over 500 stores in its first seven months of operation.
Additionally, Lu has decided to provide key management with better benefits, including stock in the company. While executives at Luckin Coffee had been promised stock, it was simply a verbal agreement and never came to fruition.
Qu Xiaomian will serve a wide variety of fare, from various noodle dishes to other hot and cold specialties, along with dessert and beverage options, according to an internal brand manual obtained by Tech Planet. Qu Xiaomian's decoration and design style is minimalist with Japanese inspiration.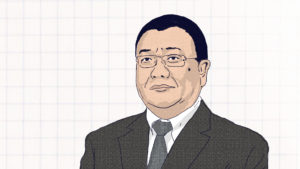 A fresh source of funds
Luckin Coffee's aggressive spread before its fraud scandal was down to its capital resources, highly duplicable product, and consumers' addictive coffee habits. The restaurant business represents a different challenge, with more competitors, difficult product standardization, and lower gross profits. Plus, the cost of opening a noodle restaurant is at least twice that of a Luckin Coffee shop.
But Lu's slower pace of expansion means that cash flow will not be as tight, and with good reason. Although Lu's personal fortune stood at USD 2.3 billion as of April 2020 according to Forbes, he has enlisted investment from South Korean private equity firm MBK Partners, which is one of Asia's largest private equity houses with around USD 23 billion in assets under management.
For Shejian Technology, its noodle chain is just a start, as the company harbors ambitions to launch products and restaurants in a variety of food-related categories. "Noodles are just the beginning. In the future, there will be multiple sub-categories such as braised pork rice," an employee of Shejian Technology told Tech Planet.
Eventually, the company wants to control the full supply chain, from R&D and manufacturing, to creating proprietary sales channels via an online app. Lu has already committed RMB 100 million to these developments. The company will host R&D centers in Beijing, Xiamen, Guangzhou, and Chengdu.
Ultimately, Lu's Shejian Technology and noodle brand Qu Xiaomin represent a shot at redemption for the disgraced Chinese executive, who seems ready to exercise caution as he seeks to repair his reputation.

KrASIA Connection features translated and adapted content published by 36Kr. This article was originally written by Wang Lin for 36Kr's Tech Planet.