E-commerce is experiencing high levels of growth in Southeast Asia, culminating in a gross merchandise volume (GMV) totaling USD 99.5 billion in 2022, according to Momentum Works. Leading this surge is the Indonesian market that accounted for a GMV of USD 51.9 billion in 2022, approximately 52% of the region's total. This represents an over sixfold increase in a span of four years, with the GMV estimated at USD 8 billion in 2018.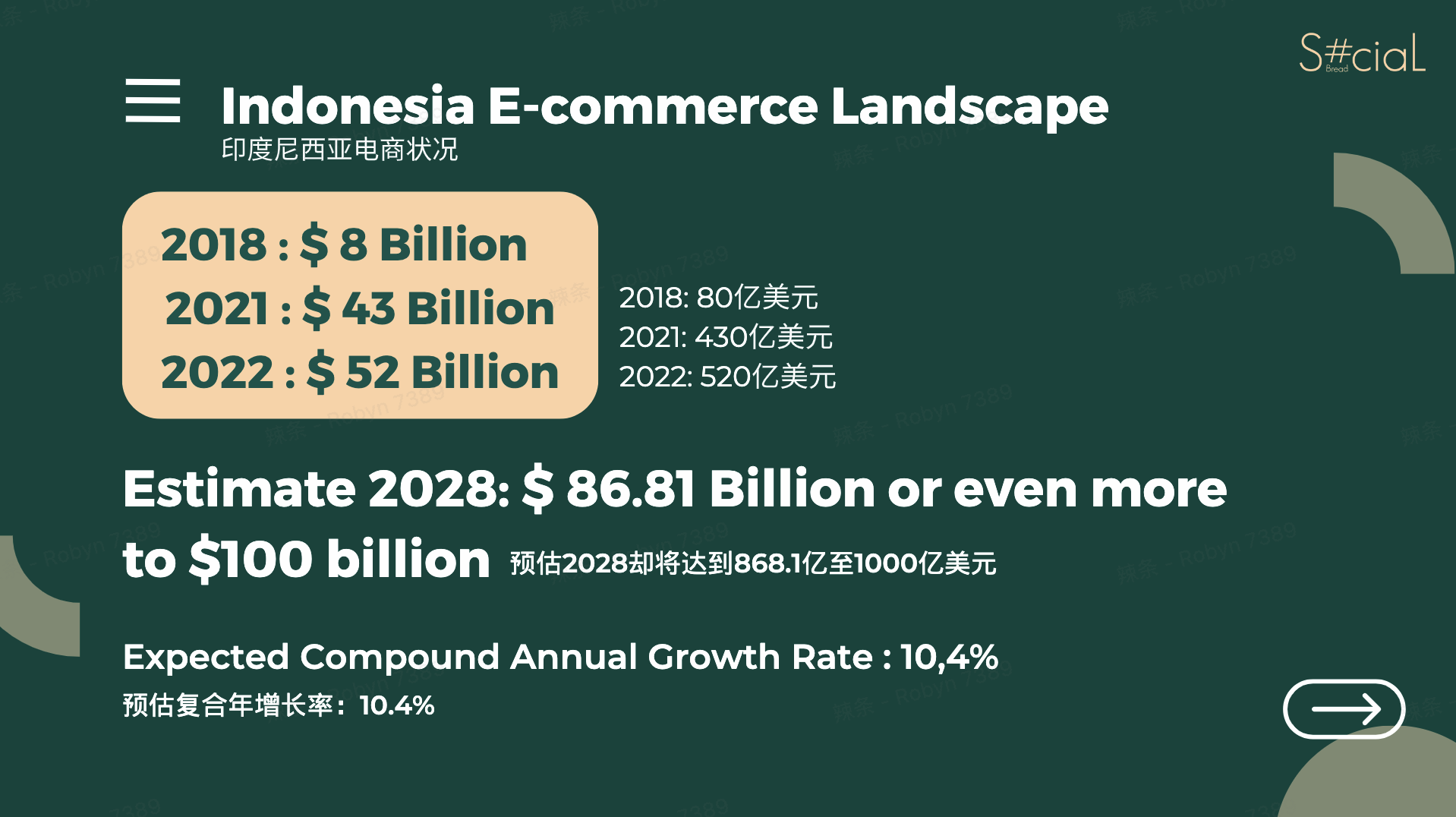 This trend underscores Indonesia's pivotal role in the evolution of Southeast Asia's digital commerce landscape. Its meteoric rise can be attributed to several factors. As of January 2022, over 75% of the nation's 270 million-strong population are internet users, making them a substantial customer base for online commerce businesses.
In tandem with the increased accessibility of the internet is the popularization of social media, with 64.5% of Indonesians exposed to content from platforms like Facebook, Instagram, and TikTok, influencing their online shopping behavior and decisions. This shift has accelerated e-commerce adoption among the Indonesian populace, benefiting platforms such as Shopee and Tokopedia.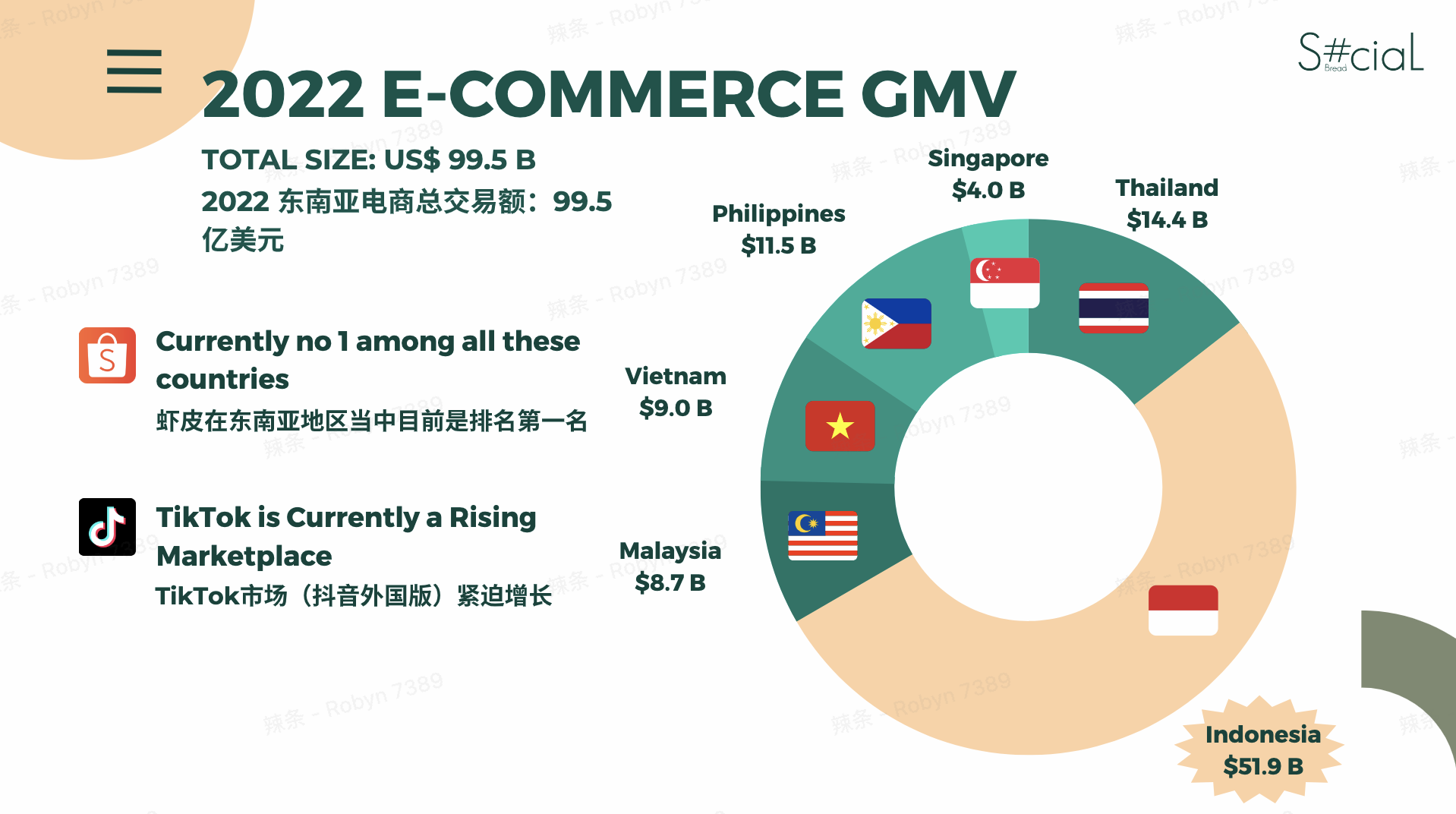 Nearly half (40%) of e-commerce transactions in Indonesia are paid for using digital wallets, due to the increased accessibility of digital wallets and other online payment options. Indonesia is served by over 50 different digital wallet service providers, with each Indonesian now utilizing 3.26 e-wallets on average.
Enhanced accessibility to e-commerce platforms and online payment services, in tandem with the rising influence of social media, serve as the current backbone of fast-growing Indonesia's e-commerce market. 4.1% of Indonesians now shop online daily, while 24.5% do so at least once a week. 16.8% of Indonesians make online purchases at least twice a month.
Data sourced from the Standard Insights Consumer Report for 2023 also offered insight into online shopping trends in Indonesia. According to the report, Indonesian consumers exhibited distinct preferences in the realm of e-commerce, with fashion (70.1%) emerging as the dominant product category Indonesians would shop online for, followed by beauty and care products (49.7%).
Think Indonesia
On September 15, KrASIA and 36Kr Chuhai co-organized a webinar as part of "Think Indonesia", a subseries of informative sessions designed to help companies navigate Indonesia's dynamic business landscape. The session featured Abibayu, a prominent entrepreneur and social media influencer representing Social Bread, an Indonesian social media agency and influencer management company,
According to Abibayu, Indonesian users typically shop across all available marketplaces, suggesting that they were not necessarily loyal to specific platforms when purchasing certain products. Therefore, e-commerce brands need to be flexible and cognizant of how they present themselves in the online sphere, transcending beyond the use of price-based strategies.
While price used to be a key consideration for Indonesians when they shop online, other factors also exercise increasing influence over shoppers in Indonesia. For example, they may consider whether products meet the national standards of safety and quality, as well as buyer and influencer reviews.
Localization is also an important factor, with brands likelier to find success by distilling Indonesian elements into their products and advertising strategies. This extends to customer service experience too. In particular, foreign companies expanding into the Indonesian market should consider employing locals to support and manage several key business areas, including operations, sales, and customer service. Leveraging local expertise not only relieves the need to rely on foreign or remote workers, or machine translations, but can also improve the overall customer experience, leading to improved brand equity.
While Shopee and Tokopedia remain firmly among the companies dominating the Indonesian e-commerce space, social media platforms—especially TikTok—are eyeing a share of the market. TikTok has been offering an e-commerce solution, TikTok Shop, which is integrated directly into its short video platform, enabling brands to showcase and sell products to users via the platform.
Since August, Indonesia has been abuzz with discussions regarding TikTok, not only for its intention to break into e-commerce, but also its new initiative titled Project S. According to the Financial Times, Project S refers to a social commerce feature that would open up a new section on the TikTok app, where items that go viral on videos would be algorithmically selected, marketed for sale, and have orders fulfilled by TikTok's parent company, ByteDance. According to a statement released by TikTok, the company does not intend to introduce Project S to the Indonesian market.
Amidst recent reports of several Indonesian government officials wanting to ban social media transactions, Abibayu clarified that, based on Social Bread's conversation with representatives from TikTok, that the likelier outcome is not an outright transactions ban imposed on TikTok, but rather measures to differentiate more clearly between TikTok Shop (as an e-commerce platform) and TikTok (as a social media company). The government is currently exploring regulatory options in accordance with this directive.
Robyn Tan and Wei Jing Ng contributed to this article.