Line Bank is entering Indonesia to offer digital banking services. Officially called Line Bank by Hana Bank, the service is built upon a 2018 acquisition—a 20% stake in Bank KEB Hana Indonesia that was acquired by Line subsidiary Line Financial Asia. The Indonesian arm of Line Bank introduced its new product on Monday through a new Instagram account and an official account on the Line messaging app.
According to Line Bank's website for Indonesia, its users will be able to open savings and deposit accounts, as well as apply for debit cards online without visiting a brick-and-mortar bank branch. Line Bank also offers a time deposit product with an IDR 1 million placement amount, which is much lower than the prerequisite at conventional banks. The app has yet to go live on Google Play or Apple's App Store. The platform is now open for pre-registration until June 9, with a cashback offer of IDR 300,000 (USD 21) for the first 10,000 registrants. Service is expected to begin on June 10.
Indonesia has 196 million internet users, 39.2% of which use banking and financial services apps, according to a report by global marketing firm We Are Social and Hootsuite.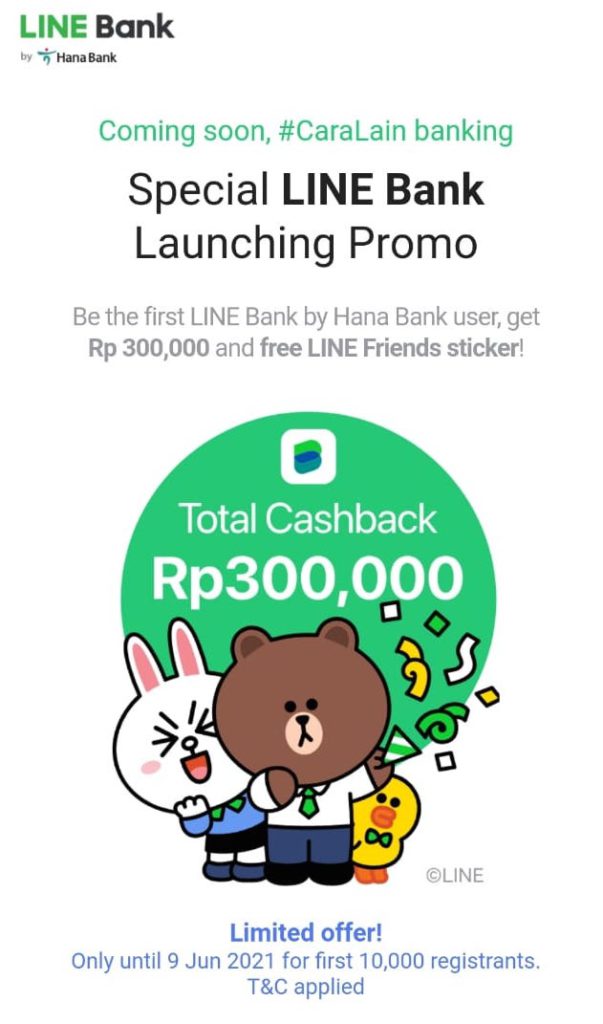 Line is the second most used messaging app in Asia after WhatsApp. It is estimated to have 167 million monthly active users in its key markets—Japan, Taiwan, Thailand, and Indonesia—as of September 2020, according to Statista. Line's chat app offers animated stickers of famous characters, in some cases with sound effects, making the platform popular, especially with young users. In Indonesia, Line is the seventh most used social networking platform.
Line made its first move into digital banking by collaborating with Kasikorn Bank and launching Line BK in Thailand last year. Earlier in 2021, Line Bank said that it was granted a license by Taiwan's Financial Supervisory Commission to operate a virtual bank. In addition to Indonesia, Line Bank will also roll out personal financial services in Japan this year.
Line Bank is about to join several digital banks in Southeast Asia's largest market, Indonesia. Other companies in this segment are Gojek-backed Bank Jago and Sea Group's Seabank.