In November 2022, Japan announced the "Startup Development Five-year Plan". This ambitious national initiative aims to invest 10 trillion yen in startups, create 100,000 startups and foster 100 unicorns by 2027. A key area of focus is the creation of deep tech startups that can compete on a global scale. Over the next five years, Japan anticipates significant progress in this area.
The Kansai region, in particular, is home to many of Japan's leading companies, universities, and research institutes. It boasts a high concentration of startups with exceptional technological and research capabilities. Governments and universities in the Kansai region have developed substantial support programs for entrepreneurs. These programs are accessible not only to Japanese entrepreneurs, but also to their foreign counterparts. For foreign investment institutions and companies, investing in and collaborating with deep tech startups in the Kansai region presents a promising opportunity.
On July 13, the Union of Kansai Governments and for Startups, Inc. jointly hosted the KANSAI Startup Night Vol. 4. The event featured four leading Japanese R&D startups from the Kansai region, all of which are actively seeking collaboration with overseas investors and companies, including those in Asia. These startups possess high-level technological capabilities that can contribute to solving issues such as an aging society and climate change. They have not only achieved various milestones in Japan, but they have also begun forming active partnerships with overseas companies.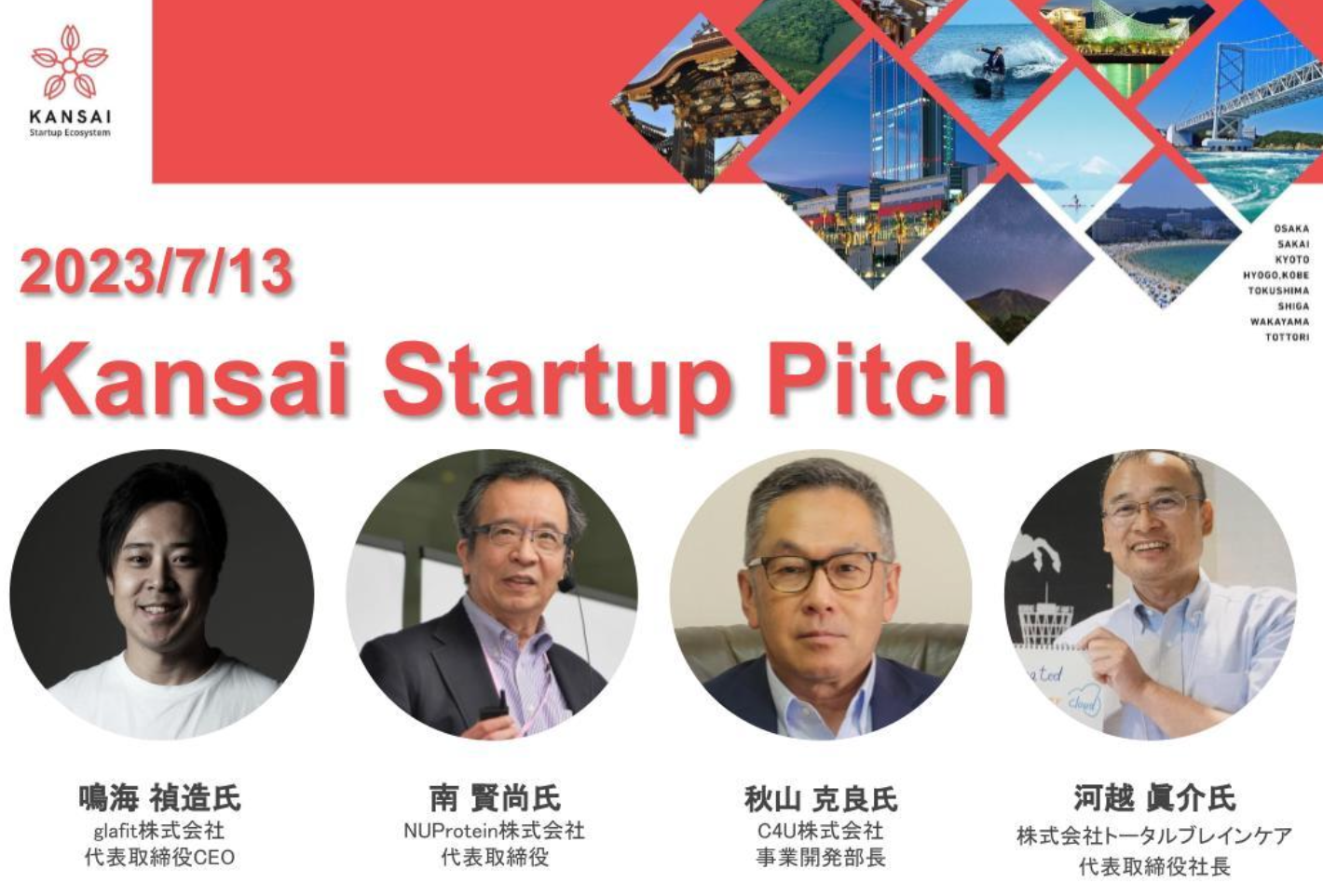 Featured startups
Glafit, a startup based in Wakayama, Japan, is ambitiously aiming to become Japan's leading next-generation vehicle manufacturer. The company handles everything from designing and development to the mass production and sales of micromobility vehicles. With capital and business alliances with industry giants like Yamaha Motor and Panasonic, Glafit boasts a top-tier background.
Glafit's vision is on the cusp of becoming a reality. In July 2023, Japan's revised road traffic law will introduce a new category of "specified small motorized bicycles," which will not require a license and can be driven by individuals aged 16 and above.
In this new category, kickboard-type mobility devices have garnered attention. However, Glafit's electric bicycles, unlike kickboards, offer a comfortable and stable ride with the added benefit of a seat. These features make them potentially well-suited to Japan's aging society.
In Japan, approximately 600,000 elderly individuals voluntarily surrender their driver's licenses each year due to concerns about driving. Surveys indicate that even after relinquishing their licenses, these individuals often find mobility challenging, especially for daily errands or leisure activities. While bicycles are an option, they can pose a risk to the elderly due to balance issues. Glafit's electric bicycles, a pedal-less electric mobility device, may offer a safer alternative.
The global micromobility market is projected to grow from JPY 7 trillion in 2023 to JPY 15 trillion by 2027. In Japan, Glafit has initiated collaborations with shared cycle operators to develop several thousand vehicles and plans to expand its partnerships further. The burgeoning micromobility market, with numerous startups emerging across Southeast Asia and China, is drawing the attention of investment institutions worldwide.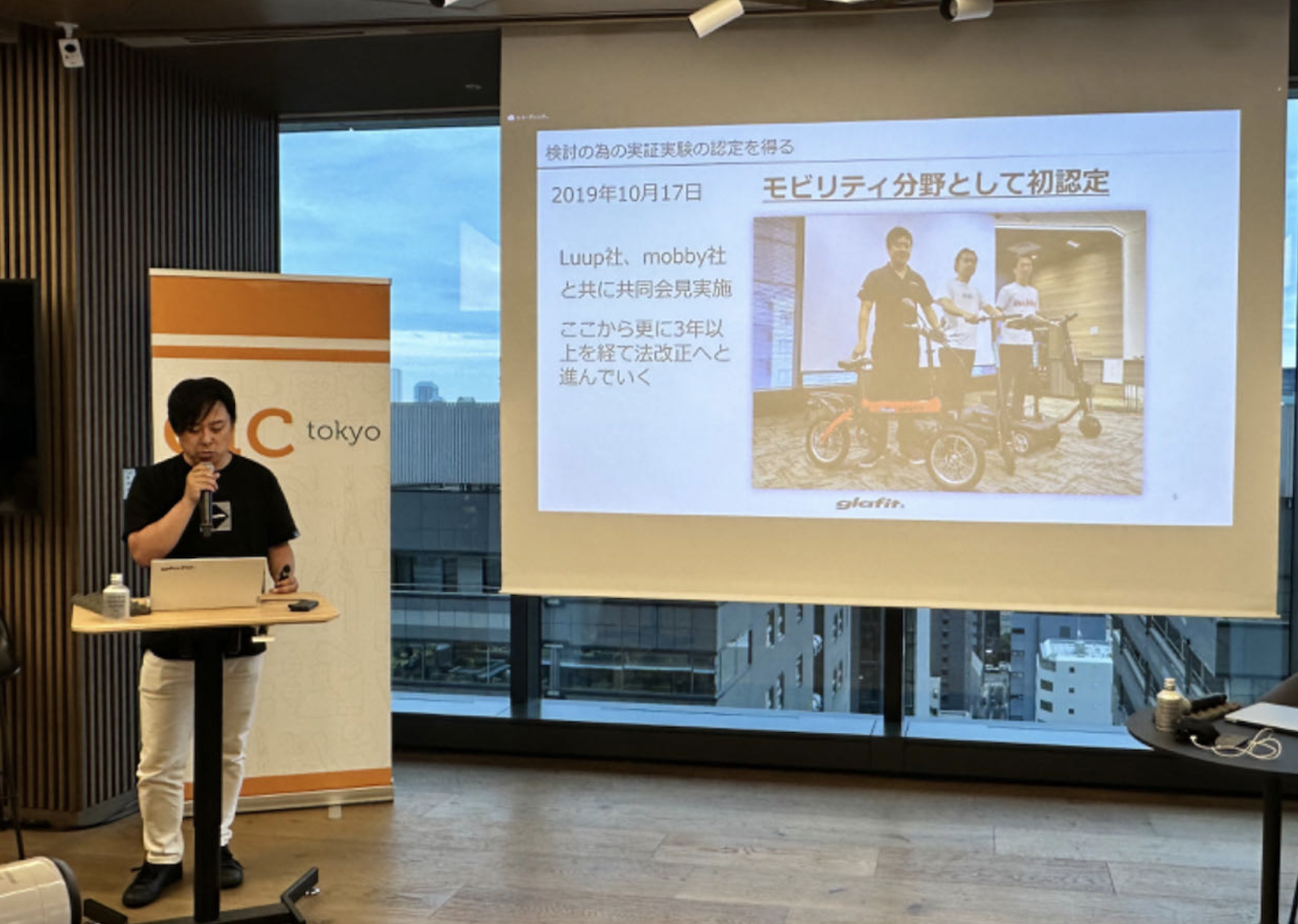 NUProtein, based in Kobe, a city renowned for its medical industry, operates research labs in Hyogo and Tokushima. As a bio-venture, the company specializes in the mass production of recombinant proteins in a manner that is cost-effective, safe, and swift. Leveraging its strengths in easy access to raw materials, plant-derived safety, and short lead times, NUProtein aims to contribute to various industries including cultivated meat, drug discovery, and biomass energy. In particular, the company is addressing social issues such as greenhouse gas reduction and food shortages due to population growth by supplying cultivated meat manufacturers with proteins derived from genetically modified rice named OmnivoRice™ .
According to NUProtein founder Masataka Minami, a significant challenge with cultivated meat is the high cost of the functional protein, such as growth factor required for cultivation. To produce one ton of cultivated meat, 607 grams of functional protein are needed, which some estimates suggest could cost up to JPY 970 million. However, by leveraging the company's intellectual property to grow dwarf rice plants and improve productivity per area, this cost could potentially be reduced to JPY 1.4 million. While the company has garnered significant interest from U.S. cultivated meat manufacturers and other companies, and partnerships are underway, it is still in the R&D stage and has not yet begun mass production. However, once a market is established, NUProtein believes it will enter a growth phase.
NUProtein has also received international recognition. In 2020, it won a special award at the Japan preliminary round of the Shenzhen Advanced Technology Pitch Contest. In 2021, the company became the first Japanese team to win the "Industrial Biotechnology and New Materials" category at the Hello Tomorrow Global Challenge, the world's largest deep tech community.
This year, it represented Japan at the first Singapore-Japan Fast Track Pitch Event, pitching to Bühler AG of Switzerland. The event was jointly organized by the Ministry of Economy, Trade and Industry (METI), the Japan External Trade Organization (JETRO), and Singapore's government-affiliated agencies. NUProtein has also formed a business alliance with UmamiMeats, a Singapore-based pioneer in the development of cultivated seafood, to help culture Japanese eel meat at a reduced cost.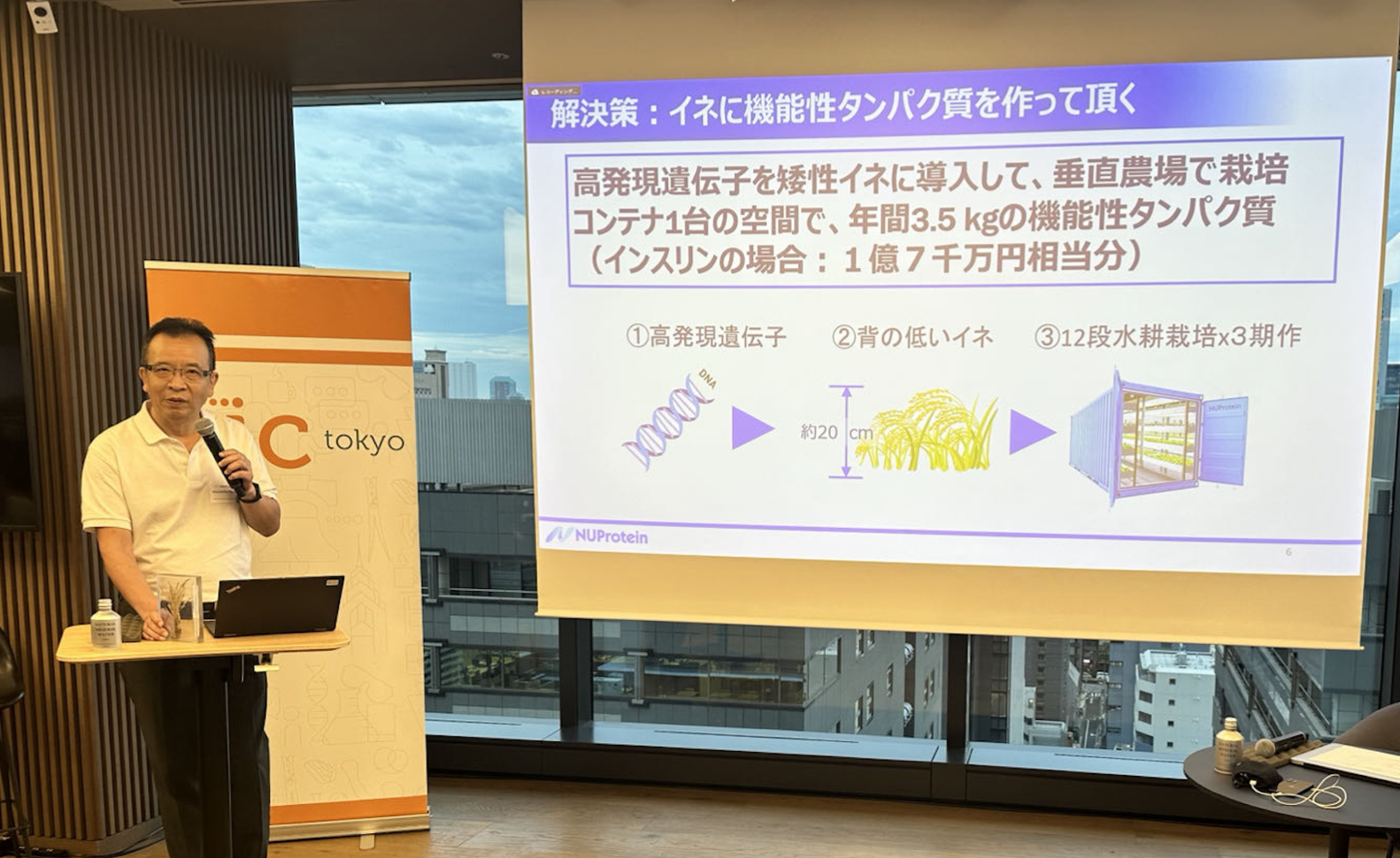 C4U, a biotechnology venture company from Osaka University, engages in research and development of novel genome editing technology. Utilizing domestically invented cutting-edge genome editing technology, CRISPR-Cas3, C4U promotes the development of new treatments for various diseases, including genetic diseases. C4U also collaborates with other companies and is working to develop platforms for applications in other industries. In May this year, C4U raised a total of JPY 1.5 billion in Series B funding, led by DCI Partners, a venture capital firm specializing in drug discovery and regenerative medicine, along with six other investors.
CRISPR-Cas9, a genome editing technology that won the Nobel Prize three years ago, has become a global standard. This technology has garnered significant attention, enabling the research companies behind the technology to successfully list overseas. C4U's CRISPR-Cas3 has various strengths as compared to the CRISPR-Cas9 technology. It is able to induce large scale DNA deletions, and is safer with less concerns about off-target deletions. C4U has also secured exclusive rights to the primary patent family that can provide Freedom to Operate (FTO).
C4U's knock-out/knock-in genome editing platform is anticipated to make significant contributions in various fields, including medicine in the areas of pharmaceuticals, diagnostics, and gene therapy, as well as biotechnology, agriculture, and environmental sustainability (biomass).
With a technology comparable to one at a Nobel Prize level, C4U is poised for significant advancements in the future. The company plans to actively pursue business alliances with major pharmaceutical and biotechnology companies in Southeast Asia and China.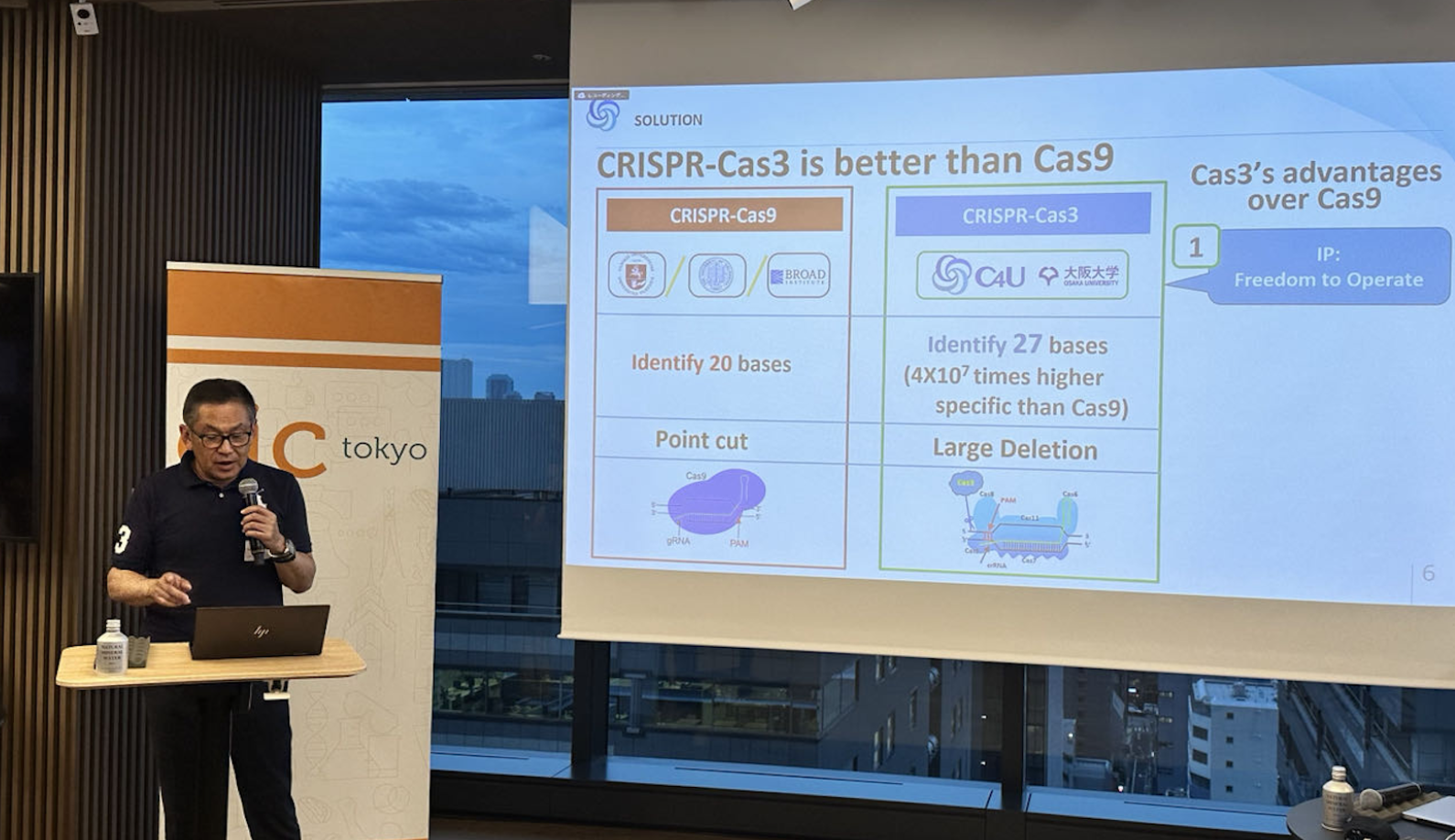 Total Brain Care was established in 2015 with the aim of developing and offering CogEvo, a cloud-based system for measuring and training cognitive function. Backed by medical evidence, it enables users to track the characteristics and changes in an individual's cognitive function over time through simple, engaging games. The system can also automatically generate result reports and share data with attending physicians and family members. It is currently being utilized in various settings including medical institutions, nursing homes, and insurance pharmacies.
According to Total Brain Care's president Shinsuke Kawagoe, active business life expectancy is dependent on cognitive ability. Despite living in an era where life expectancy reaches 100 years, cognitive ability begins to gradually decline after peaking at age of 40. Maintaining cognitive function is essential to slow this decline, ensuring work performance is not affected and enabling comfortable living into old age. Until now, the market has only had tools to diagnose dementia. However, the company aims to help detect and prevent dementia in its early stages by "visualizing cognitive function" through its services.
The company's strength lies in its commitment to an evidence-based approach, collaborating with leading experts in various fields to prepare research papers. It has steadily built up evidence by conducting test marketing over an extended period and collecting and analyzing valuable data.
For instance, CogEvo was included in one of the cognitive function tests in J-MINT, a national project by the National Institute for Longevity Sciences to verify dementia control. Besides dementia, CogEvo is currently used by sports doctors of the Japan Rugby Football Union in the field of concussion, expanding its reach into the sports sector. Toyota, a company committed to its employees' health and wellness management, has begun to implement evidence-based practice, by establishing a system to measure cognitive function when all employees reach the age of 36.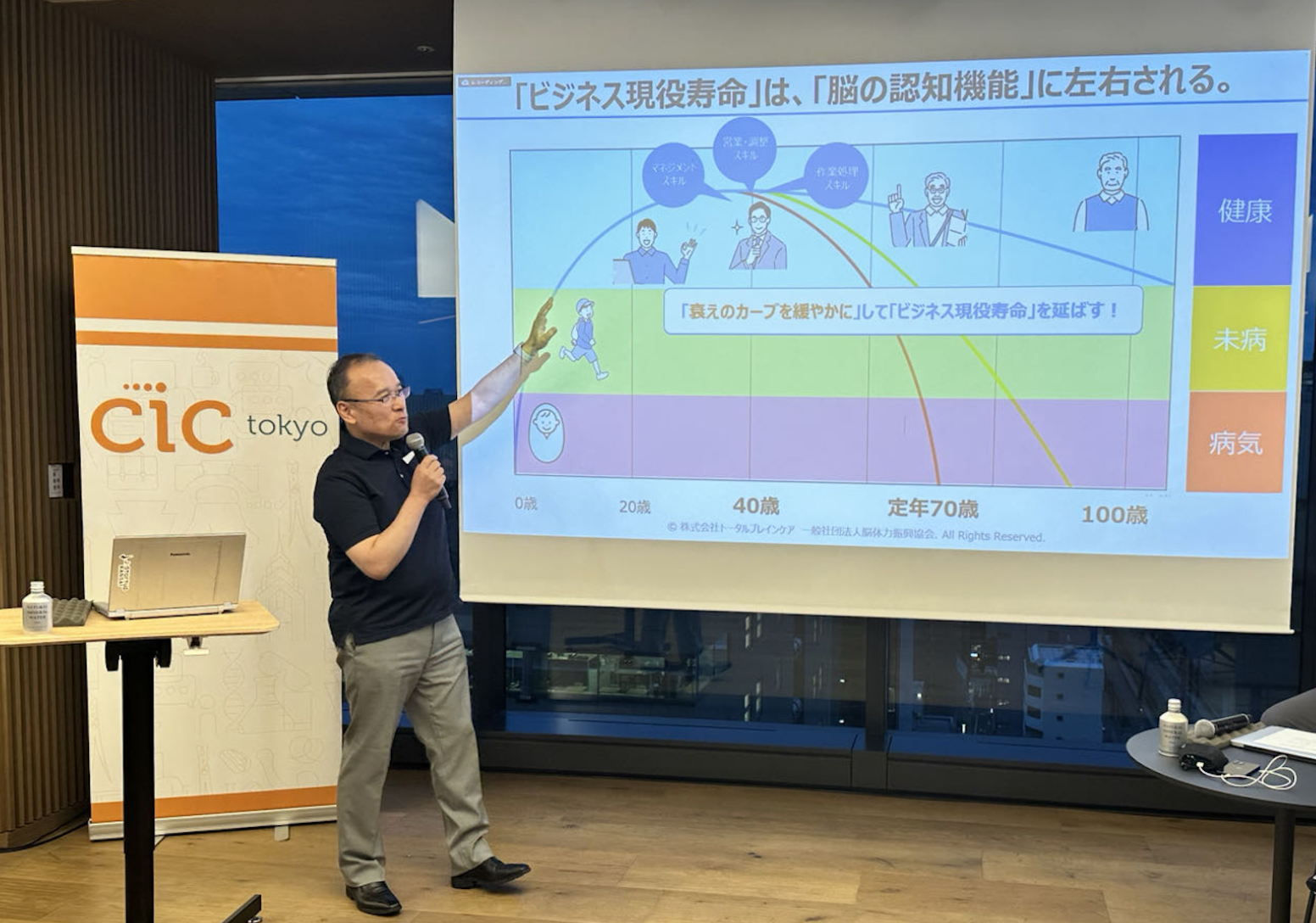 These efforts are vital for the success of deep tech startups in Japan. The creation of a mechanism for collecting critical data, strengthening evidence using the data, and implementing socially through collaboration with a wide range of large companies and research institutions will build trust and set the company on a growth trajectory. This concept is particularly beneficial for foreign companies considering expansion into Japan.
Deep-tech startups aiming for global recognition are emerging one after another from the Kansai region, and companies going public or becoming unicorns may become commonplace in a few years. The startup ecosystem in Kansai is strengthening its ties with foreign countries and has built a track record of attracting foreign entrepreneurs and companies to the region. The ecosystem also hopes to further accelerate investment in and collaboration with startups from Kansai by foreign investors and companies.
For more details about Kansai's startup ecosystem, visit its official website here.
36Kr Japan, KrASIA's sister company in Japan, is a media partner of this event.