In Japan, there is a growing national interest to support startups. New topics are emerging on a national scale, such as producing a number of unicorns, encouraging startups to expand overseas, attracting overseas unicorns to Japan, and improving the environment regarding Web3.0. Riding on this momentum, the Kansai region, which consists of Osaka, Kyoto and Kobe, is set to host the Osaka-Kansai Expo in 2025.
On 30 June, an event called Kansai Startup Night Vol.1 was organised by the Union of Kansai Governments. The Kansai area, which boasts Japan's second-largest economy, has formed its own startup ecosystem centered on deep tech and aims to actively collaborate with Asia and other overseas ecosystems. At the inaugural event, they introduced the potential of the Kansai startup ecosystem and the leading Japanese R&D startups from the Kansai region.
What is Deep Tech Valley Kansai, Japan's leading R&D-oriented startup location?
The Kansai region is known to have created numerous deep tech startups and continues to have a high potential to flourish. The 'Deep Tech Valley KANSAI' initiative aims to build a world-class startup ecosystem in which the collaboration of universities, research institutions, communities, the business community and government agencies will help to solve social issues on a global scale.
At the event, four key people supporting the growth of the Kansai ecosystem spoke and shared the appeal of the Kansai region and why the region is conducive for the development of deep tech. They are:
Shinichiro Fujiie, Director and Executive Officer, PeptiStar Co.
Yoshifumi Mizuhara, Investment Manager, Osaka University Venture Capital Co.
Yuichi Saito, Director, New Industry Section, New Industry Department, Medical and New Industry Division, Kobe City
Tomonori Izumi, Manager, Public Affairs Strategy Office, Four Startups K.K. (Moderator)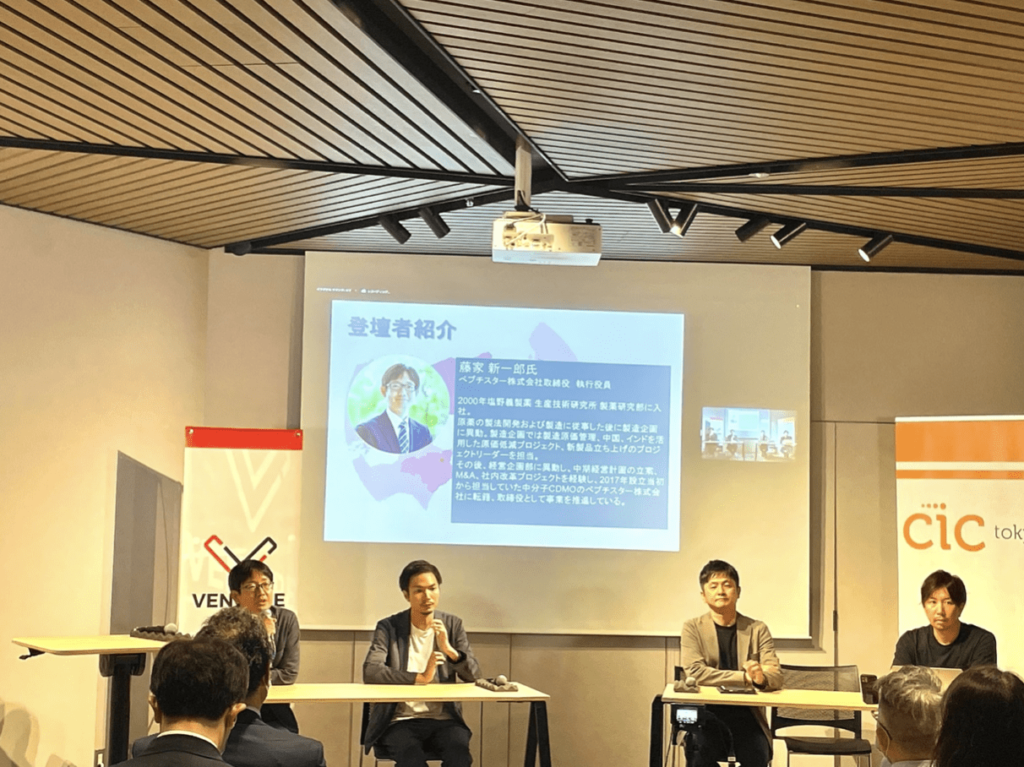 What are the benefits of Deep Tech Valley KANSAI?
A concentration of research institutions where deep tech can be nurtured
There is a concentration of world-class universities (Osaka University, Kyoto University, Kobe University, etc.), research institutions and large companies focusing on research and development, and the potential for innovation creation is extremely high. With a long-term mindset, the various institutions are strengthening their cooperation with each other to accelerate social implementation. The characteristics of some of the regions are:
Kyoto: Home to Kyoto University, Kyoto is a leader in the medical and health tech fields with its iPS cell production technology and more.
Kobe: Port Island is one of Japan's largest medical-industrial cities, with many R&D bases for overseas companies.
Osaka: Doshomachi in Osaka is famous as the 'town of medicine' and is home to a concentration of pharmaceutical companies, while the chemical and environmental industries have also developed.
Economic scale equivalent to that of one European country
With a population of over 20 million in the Kansai region, its economy is second only to that of the Netherlands (17th in the world) based on a comparison of the nominal GDP with the major countries in Europe.
A culture that encourages and supports entrepreneurs
The leading corporate-sized companies in Kansai are very friendly towards startups, including those from abroad. Many of these corporations began as startups and over time, thanks to the key benefits of the Kansai region, developed into the giants that they are today. These companies representing Kansai are from a wide range of industries; they include Panasonic, Keyence, Nidec, Omron, and Nintendo. As such, Kansai has a deep respect for entrepreneurs who start their own businesses, and are eager to help them grow.
Collaborative spirit
The greatest strength of the Kansai region is its infrastructure for startups. Public and private sectors work together to provide generous support, which extends to foreigners looking to start a business in the region.
According to Yuichi Saito of Kobe City, the number of projects involving foreign countries is also increasing. For example, Kobe City's Sustainable Development Goals Challenge, which was implemented this year, provides Japanese startups aiming to solve global SDG issues with various support, such as mentorship by a team of experts, introductions to ecosystem partners, and overseas startup support programs. The SDGs Day for Business Matching also facilitates new connections between corporations, investors, and startups. Deep tech startups from China and Southeast Asia with environmentally friendly technologies have participated in past events and are active in overseas collaboration.
Five deep tech startups representing the Kansai region at KANSAI Deep Tech Startup Pitch
Five deep tech startups representing the Kansai region presented their pitches at the event. Some companies were founded by Chinese nationals or funded by Chinese investors, giving the audience a sense that there are many economic exchanges and business opportunities between Kansai and overseas entities.
PeptiStar Inc. is a CDMO (contract development and manufacturing organization) of peptides and oligonucleotides, which have significant global growth potential. It was established in 2017 as a joint venture by PeptiDream, Shionogi, and Sekisui Chemical. Japan is one of Asia's leading developers of peptide and oligonucleotide medicines, but as there was not a sufficient supply system in the country, PeptiStar is taking on the challenge of establishing from scratch one of the largest manufacturing bases in Japan and the world.
Megakaryon Corporation was established in 2011 with the aim of commercializing technology for producing platelets from iPS cells invented at Kyoto University and the University of Tokyo. It most recently raised funds from INCJ, SBI, Sekisui Chemical and Satake MultiMix in a Series D round. By industrially mass-producing human iPS cell-derived platelet products originating in Japan, the company aims to supply them to medical facilities around the world, including developed countries where there are concerns about blood donation shortages due to falling birthrates and ageing populations, and developing countries where the shortage of platelet products is a persistent social issue. The company is also continuing to search for potential partners in each country, with a view to forming alliances with overseas operators in the future.
Bio Palette Co. Ltd. is a biotech company established in 2017 that aims to develop and commercialise microbiome (gut bacteria) therapy using genome editing technology. They utilize a unique technology that originated from Kobe University, which precisely edits DNA bases without cutting it, unlike conventional genome editing technology. It has raised funds from several American VCs including Eight Roads, F-Prime Capital, and ARCH Venture Partners, as well as JAFCO in Japan. Harvard University and Kobe University are the only universities with this basic patent, and Bio Palette has signed a cross-license agreement in 2019 and successfully implemented an IP strategy. The company hopes to disseminate innovative medicines from Kansai in the future.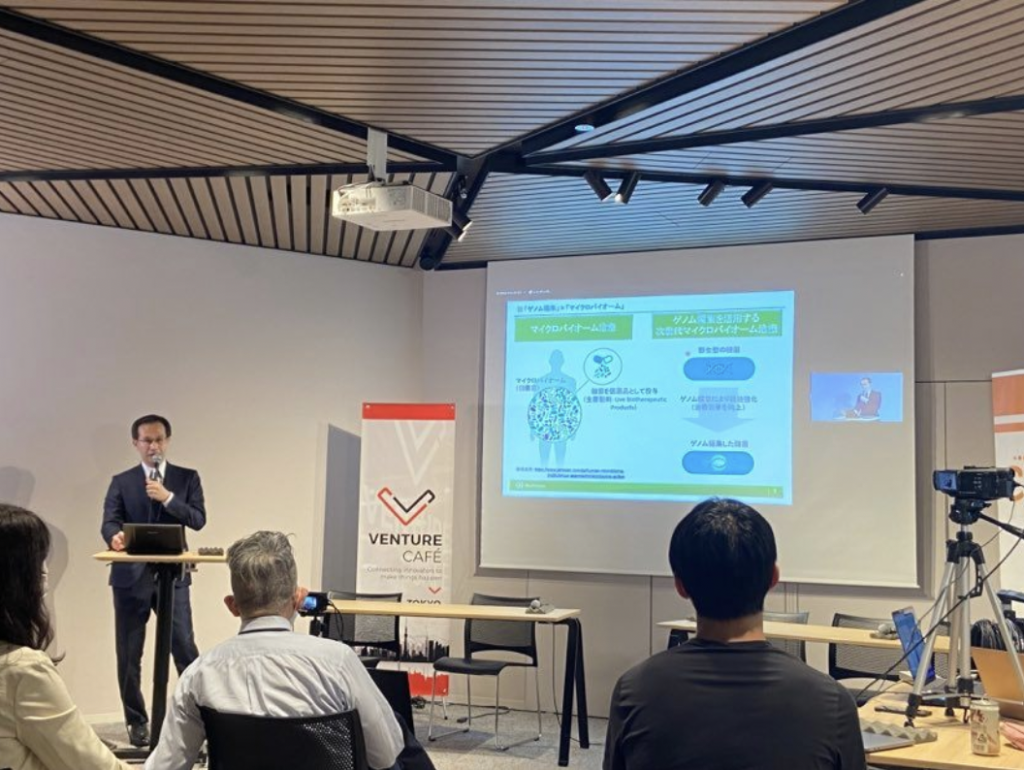 4D Sensor Inc. was established in 2012 as a startup from Wakayama University. It develops 4D sensors that enable ultra-precise shape measurement with the world's fastest 3D scanner. It recently raised funding from Seiko Epson in a Series D round. Thanks to its ability to deploy wide-area measurement with high precision and speed, the company can serve a variety of sectors, including the measurement of 3D shapes of electronic and automotive components, deformation of structures, and human body measurement. The startup currently works with major manufacturing and construction companies.
tiwaki Co., Ltd. is the world's most advanced edge AI image recognition provider. It was established in 2016 by Chinese founder Ruan Xiang as a startup from Shiga Prefecture. It offers proprietary software, customized development, and flexible technology according to client needs. It is also known for the development of proprietary algorithms for edge AI image recognition. The company is skilled at implementing technologies at the commercialization level and is currently promoting more than five projects, including smart shops, station monitoring systems, and smart parking lots. Tiwaki believes there are numerous companies and government agencies in the Kansai region that will undergo digital transformation, resulting in new business opportunities.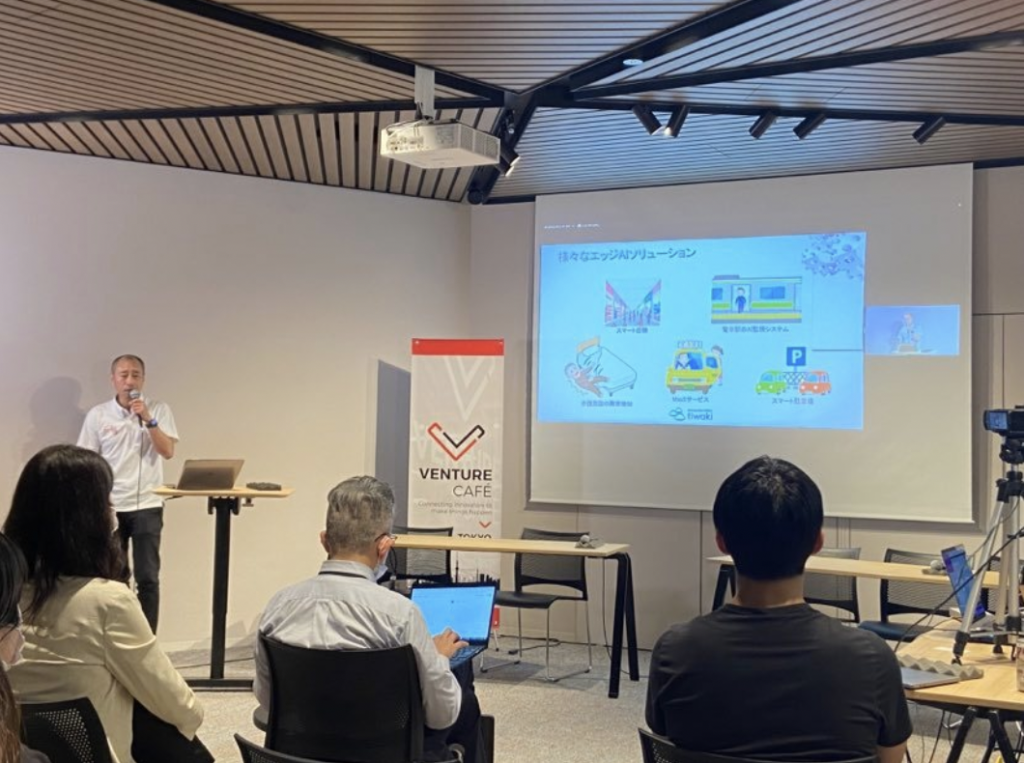 To find out more about Deep Tech Valley KANSAI, visit www.kansai-startup-ecosystem.com.