Sad news for kids who are looking forward to binging on Honor of Kings in the coming winter break: users under 18 can only play online games for no more than 90 minutes a day from this November on, except for public holidays, during which they're eligible for a maximum of 3-hour's gameplay.
Under the new anti-game-addiction guideline released by the General Administration of Press and Publication at the end of October, underage players are banned from online games from 22:00 to 08:00.
In addition to the curfew, minors are also restricted from in-game purchases, in response to the shocking news stories in recent years on how teens had spent almost all of their families' savings overnight on game items.
Kids under eight are not allowed to spend any money on online games. Teens between 8 and 15 can spend up to RMB 50 (USD 7) at one time with a monthly top-up accumulative limitation of RMB 100 (USD 14).
Kids between 16 and 18 have single-time and monthly top-up limitations of RMB 100 and 400 (USD 14 and 57) respectively.
The Notice on Preventing Minors from Indulging in Online Games also stipulates all the game players, no matter minors or adults, to register the accounts with real names using effective IDs.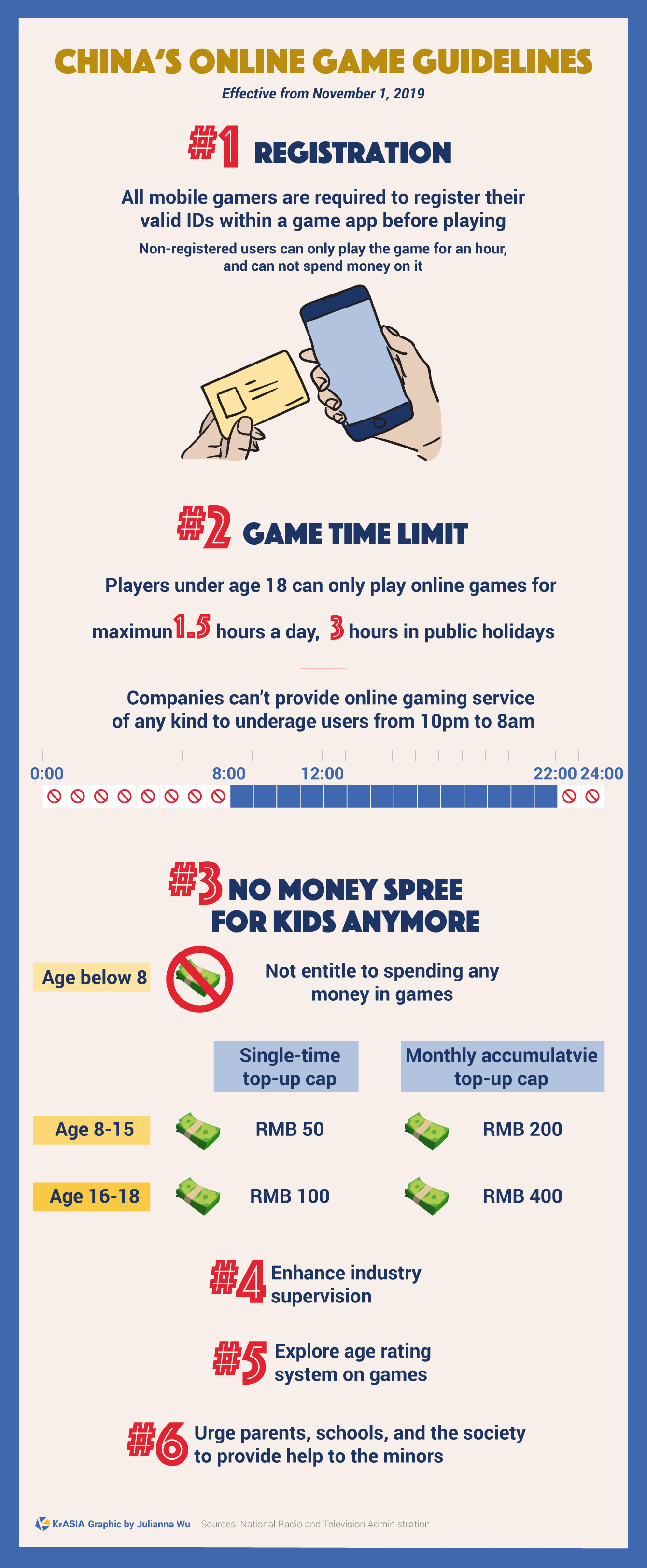 In the wake of widespread criticism on how online games have "poisoned" youngsters these years, some game publishers have developed their own anti-game-addiction systems to their own products.
Tencent, for example, cooperates with Chinese police to put forward facial recognition in their games and gives parents the authority to lock and unlock children's accounts in 2018.
Tencent COO Mark Ren said on November 21 that, on average, 5.6 million minors trigger the company's game time limitation system in a day, the system thus is pushing more and more underages to control their gaming time.
Chinese government has long vowed to curb game addiction among kids and teens. Previously it largely relies on the gaming companies' self- regulation, this guideline is the first to apply to all the online games in the country.