Israeli companies and startups raised an all-time record of USD 11.9 billion in the first half of 2021, more than the total amount of investments in 2020 which stands at USD 10.3 billion, according to a new report published Wednesday by the IVC Research Center and law firm Meitar.
In the first quarter of 2021, Israeli companies attracted over USD 5.38 billion in investments, according to the report, and the second quarter saw an upsurge to more than USD 6.5 billion over a total of 230 deals, compared to 172 in the previous quarter.
These investments included 38 deals of over USD 100 million each, accounting for 50% of the total capital raised in H1 2021, according to the "IVC-Meitar Tech Review" report. These mega-rounds include Trax, the computer vision firm transforming retail which secured USD 640 million in April; US-Israeli auto finance startup Lendbuzz, which raised USD 300 million in debt financing with Goldman Sachs; Israeli-founded global fintech-as-a-service provider Rapyd, also with a USD 300 million investment; and Israeli-founded insurtech company Next Insurance with a USD 250 million investment that doubled its valuation to USD 4 billion in just six months.
Investment agreements of USD 50 million were seen in 79 deals in H1 2021, according to the report. This is compared to 47 such deals in all of 2020, and 39 in 2019.
Investments in early rounds (seed and Series A) saw an increase in 2021 both in terms of the number of transactions and in dollar volume, and such deals in Q2 2021 reached 126 transactions with USD 1.04 billion raised. Investments in more advanced rounds (Series B and further) also continued to increase: USD 5.48 billion in Q2 2021, compared to USD 4.66 billion in Q1 2021, an 18% increase.
A majority of capital in H1 2021 flowed to companies in the fintech sector and the cybersecurity industry with 57 transactions in fintech for approximately USD 3 billion, compared to 26 deals in the same period last year, and USD 2.9 billion in capital for cybersecurity companies. Investments for food tech startups and companies also increased, with over USD 300 million in capital over 27 deals. IoT companies raised over USD 1 billion in Q1 and Q2 2021.
An overwhelming majority of the investments were backed by VCs—a record USD 10.69 billion of the USD 11.9 billion total, surpassing 2020's annual figure of USD 9.1 billion. Foreign investors also continued to be more involved than Israeli investors, though the latter took a much more active approach in H1 2021, making more investments than the quarterly average.

Foreign investors put in over USD 4.5 billion in capital in H1 2021 while Israeli investors invested over USD 1.6 billion, according to the report.
"According to the findings observed during the first half of 2021, it seems that the Israeli high-tech industry continues to be a strategic target for foreign venture capital investors, with technology companies benefiting from generous investments at every stage, with serious investors participating in earlier stages, which is reflected in greater fundraising volumes, and leads to increased chances of survival," said senior IVC analyst Mariana Shapira in a statement.
SPACs and IPOs
Israeli high-tech activity in the US, Israel, and other public capital markets increased significantly in H1 2021, according to the report. This was reflected in the number of initial public offerings, SPAC transactions, and follow-on offerings over the past six months.
The Tel Aviv Stock Exchange attracted 35 IPOs—the highest number—during 2021, which accounted for approximately 12% of the total amount raised through the 48 IPOs in total during the first half of this year. Twelve were in US capital markets and one was in London.
"Exceptionally high activity in IPO deal-making defined this half-year, with more than double the number of offerings from 2020. While this level of capital inflow by exits has been seen before, as in 2019, its uniqueness this time is that there are no outlier M&A deals, like Mellanox in 2019 or Mobileye in 2017," read the report.
"Since 2013–2014, we have not seen such a large number of Israeli high-tech companies go public in such a short period of time," said Mike Rimon, a partner at Meitar, in a statement.
Nearly two dozen Israeli companies went public on capital markets or via SPAC mergers so far this year, including Monday.com's Nasdaq IPO in June at a post-money valuation of USD 6.8 billion, SimilarWeb's New York Stock Exchange IPO in May, and WalkMe's IPO on the Nasdaq, also in June. The SPAC boom included Ironsource's merger deal with Thoma Bravo Advantage at a valuation of approximately USD 11.1 billion, Israeli-founded online payments startup Payoneer's USD 3.3 billion SPAC merger, and Israeli content recommendation firm Taboola's SPAC merger with ION Acquisition Corp and trade on the Nasdaq at a valuation of USD 2.6 billion.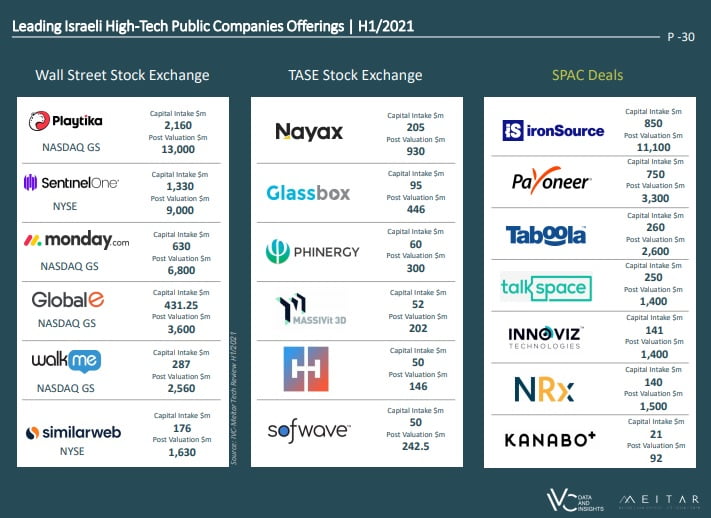 "These companies, especially those that went public in the US, completed their IPO at very high valuations, and most raised their valuation following the IPO," added Rimon. We anticipate this trend to continue in the near future, albeit possibly more moderately than in the first half of 2021."
Itay Frishman, also a partner at Meitar said, "The Startup Nation wants to be a scale-up nation. Companies in Israel try to [keep up with] their counterparts in Silicon Valley. All those unicorn companies, including those that went public, will have to prove they deserve their high valuation."
"Until recently, most Israeli companies were sold or evaluated based on dreams and promises. Today, the Israeli high-tech market is ready for the next phase. The outcome will be tested in the coming years. The future will determine if what we see is the real thing," said Frishman.
M&As in H1 2021
The Israeli high-tech M&A deals in the first half of 2021 amounted to about USD 4 billion, a rate that was similar to 2020, which also saw a decline, said the report.
The three biggest acquisitions in 2021 so far were MyHeritage's acquisition by Francisco Partners for USD 600 million, Prospera's acquisition by Valmont for USD 300 million, and VDOO's acquisition by JFrog, also for USD 300 million.
The low number and total value of M&As in the first half of 2021 is an expected result of the exit activity for the Israeli tech sector, said Shira Azran, a partner at Meitar.
"First, companies are able to raise significant capital at high valuations and prefer this over a sale. This is the outcome of an increase in the share of US growth and private equity funds in tech investments in Israel, deploying significant capital amounts into companies. Second, we see the patience and trust of investors in the ability of companies to reach high valuations and realize their investment in the capital markets and not necessarily through M&As," she explained.


The article was originally published by NoCamels, a leading news website covering breakthrough innovation from Israel for a global audience.