An Israeli-made AI-powered robot assistant is being used in hundreds of hospitals, medical centers, nursing homes, and corporate buildings in Asia to help minimize human-to-human contact as millions of people take precautions due to the novel coronavirus outbreak worldwide.
Israeli startup Robotemi, the developer of the Temi robot assistant, says the product has already been distributed to hundreds of locations throughout Southeast Asia as well as China, Japan, South Korea, and Hong Kong. The Temi was initially conceived as a companion to senior citizens and busy families and executives, and was not specifically designed to help with a virus outbreak, but that is exactly what is happening, the Israeli company says.
"We help [our customers] to develop solutions that they can integrate into the Temi," Robotemi CEO Gal Goren tells NoCamels in a phone interview. "The Temi is basically using the same functions, but converted to the coronavirus situation."
The Temi, which the company calls the world's first intelligent personal AI robot, is a mobile, smart-display assistant, featuring human-robot interaction capabilities and characteristics. Standing at three feet tall and featuring a ten-inch tablet for a head and thin, curved body on top of a base, the Temi can roll on four small wheels for as much as eight hours on battery power. It connects over WiFi, LTE, and Bluetooth, has a built-in sound system, and can be used with Amazon's Alexa technology. It also has an autonomous navigation system that allows it to move around on its own while avoiding obstacles.
As the novel coronavirus began spreading starting in late December, the Robotemi team—which is headquartered in New York, with an R&D lab in Tel Aviv and a manufacturing location in Shenzhen—decided to add special features to the robot, including a thermometer, a thermal camera, and even a sink attached to the machine where employees can wash their hands.
"In China, there are regulations currently in place where an employee arriving at the office must get his body temperature checked before continuing his day. Temi is standing at the front door waiting for him," Goren explained, "There is a thermometer installed on top of the robot. It can measure the employee's temperature and show the number on its screen."
This is not only done in places of work, he explained. It can be integrated wherever there is a Temi, like in hotels, stores, and restaurants.
As the novel coronavirus continues to spread across the world, with infections confirmed in over 60 countries, large conferences and events are being canceled and more people are avoiding large crowds and gatherings for fear of contracting the virus. France went as far as banning all indoor gatherings of more than 5,000 people over the weekend, and countries across the globe are updating travel restrictions as the US and Australia recorded their first deaths from the virus. The future of the 2020 summer Olympics in Japan is also in question.
As of March 1, over 2,900 people have died after contracting the virus, known as SARS-CoV-2 and which causes a disease called COVID-19, and over 85,000 have been infected globally, with the majority in China. South Korea, Italy, and Iran are also recording a growing number of confirmed coronavirus cases.
Thousands of people are in either hospitalized quarantine or home isolation as international health officials try to get a handle on the spread. In China, authorities locked down major parts of Hubei province—home to over 50 million people—where the outbreak was first recorded in the city of Wuhan.
While global travel restrictions are still being heavily enforced, others are cautiously leaving quarantine and heading back to work—but not without emergency measures in place to reduce the risk of exposure.
"Many businesses and offices already have Temi, but now it is being used for specific purposes related to coronavirus," Goren says.
In a promo video in South Korea, the Temi robot can be seen in an office center rolling up to an employee so she can wash and disinfect her hands. "The smart protection care robot Temi comes to you," the video says.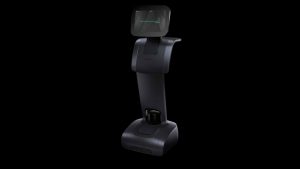 Nursing homes and medical centers
In Hong Kong, mainland China, as well as South Korea, the Temi has been deployed in nursing homes allowing families to communicate with residents through video calls, the company announced last week. The robots can also take remote heat samples and distribute sanitary measures on a robot tray.
Long Hei Roy Lim, vice chairman of the AI & Robotics Alliance and a representative of Temi in Hong Kong, posted a news segment from Now TV showing Temi robots rolling through nursing homes to help residents. He also listed five ways that the Temi is being used in such centers, where senior citizens are quarantined until further notice. Tasks include bringing hand sanitizer to each room and asking residents to wash their hands regularly, and playing different songs for each resident, depending on their tastes.
"Many people are in quarantine. Doctors need to visit them. People need to bring them food and someone needs to take their temperature—all of these things a robot can do," Yaron Yoels, the CMO of Robotemi, told The Media Line last month. "Then you can refrain from contact with people who are infected."
"We started to market it to hospitals, airports, and other places," Yoels said. "Immediately, we got many requests and have already deployed in a few hospitals. . . [It] allows doctors to visit these patients without having to be in contact with them."
In South Korea, Robotemi and South Korean service robot Hyulim Robotics announced that in a joint effort they will "utilize the service robot 'Temi,' while protecting medical staff and citizens from the risk of new coronavirus infection, not only to prevent the spread of viruses in each local region, but also to provide smart medical and public health services to global countries at the same time," according to a report in Direct Industry.
With Temi's thermal camera, the general public will be able to self-diagnose themselves while staff can check infected persons in real-time and respond to an emergency center.
While the focus is on the distribution of Temi in Asia, Goren tells NoCamels that Robotemi is currently collaborating with large German healthcare distributor Medisana to bring the robot to nursing homes and elderly care centers in Germany. Last February, CTech by Calcalist reported that the company announced an exclusive distribution agreement with Zora Robotics NV, the worldwide distributor of SoftBank Robotics, but Goren said there is no longer an active contract with Zora.
Robotemi announced last week a fresh USD 15 million funding round led by Chinese VC firm Joy Capital. Chinese entrepreneur John Wu, an existing investor in the company who previously served as Alibaba's CTO for a decade, also participated in the round. The company has raised USD 95 million to date.
Temi by Robotemi has won a number of prestigious awards over the past year, including first prize in the field of robots and drones at the Shanghai CES Asia 2019 Exhibition, a Gold Award in the Personal Robot category at the prestigious Edison 2019 Awards, and the best robot in CES Las Vegas according to Tom's Guide, and the International PC Magazine Award for Best of MWC 2018. It was also recently listed as one of 100 best inventions of 2019 by TIME Magazine (alongside eight other Israeli inventions).
This article first appeared in NoCamels, which covers innovations from Israel for a global audience.