Indian SaaS firms have raised USD 4.5 billion from investors in 2021, compared to USD 1.7 billion last year, according to a recent report by Bain & Co. The 165% increase in funding was primarily driven by a spike in USD 50 million-plus deals this year.
The rising capital inflow in the segment over the last two years has given birth to a string of SaaS unicorns. India now has 13 billion-dollar SaaS firms compared to one in 2018, of which five entered the elite unicorn club this year.
While Tiger Global emerged as the top investor in SaaS firms in terms of deal value in the South Asian nation, Sequoia was the leading investor in the segment based on the number of completed deals, the report noted. Tiger Global—which has been pumping venture capital at an unprecedented pace into the world's third-largest startup ecosystem this year—is a backer of SaaS firms like conversational enterprise platform GupShup, healthcare data analytics provider Innocaver, and subscription billing startup Chargebee—all of which became unicorns in 2021 after landing checks from the New York-headquartered hedge fund.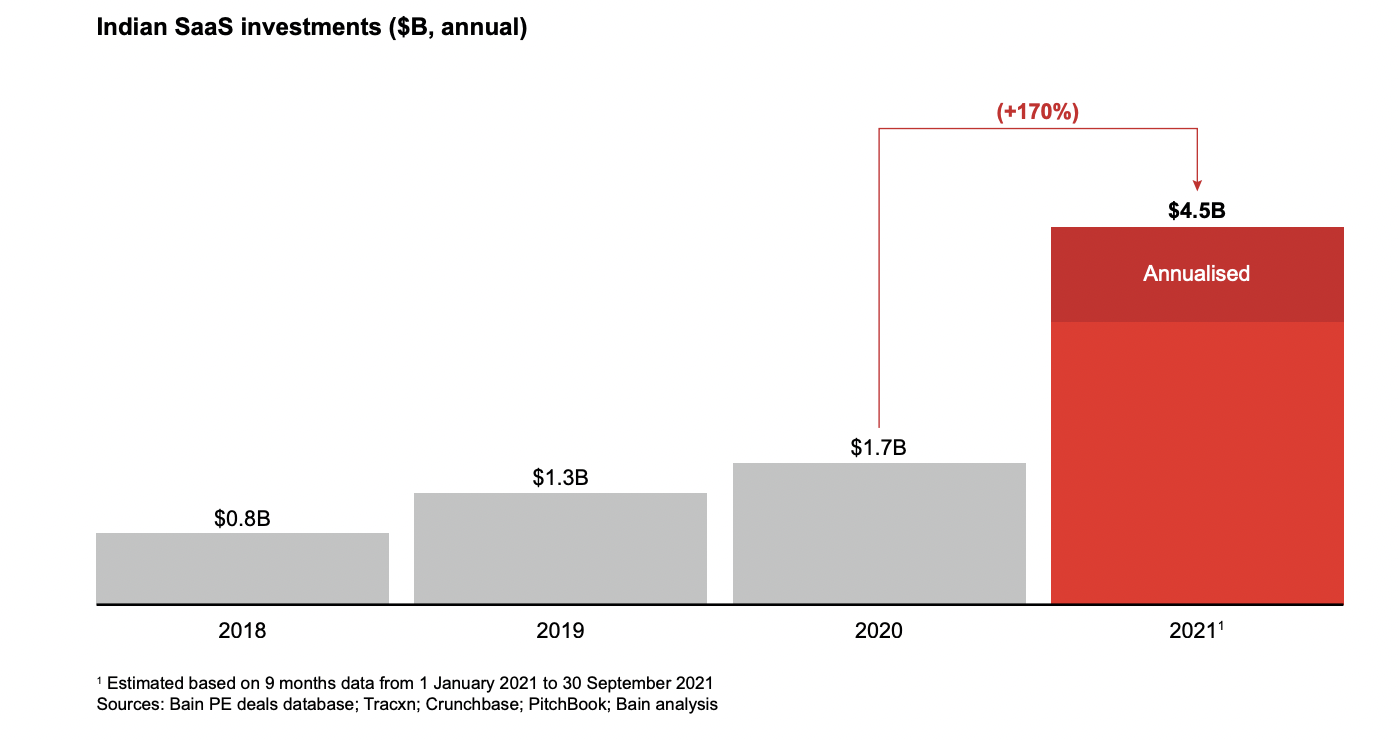 "Increasingly mature companies of demonstrable scale are propelling greater investor interest across both early- and late-stage Indian SaaS companies," the report said.
This year, some of the top Series C and Series D SaaS deals included Gupshup's USD 340 million funding, Chargebee's USD 125 million check, and Mindtickle's and Khatabook's USD 100 million rounds.
On the other hand, the average seed round value for SaaS companies has grown by 85%—from USD 690,000 in 2019 to USD 1.27 million in 2021—implying VCs' higher risk appetite for early-stage SaaS startups.
Notably, seven to nine Indian SaaS companies have now reached USD 100 million in annual recurring revenue. "With an increasing number of world-class founders and strong investor support, Indian SaaS companies are poised to reach USD 30 billion in revenue, capturing an 8% to 9% share of the global SaaS market by 2025," the report said.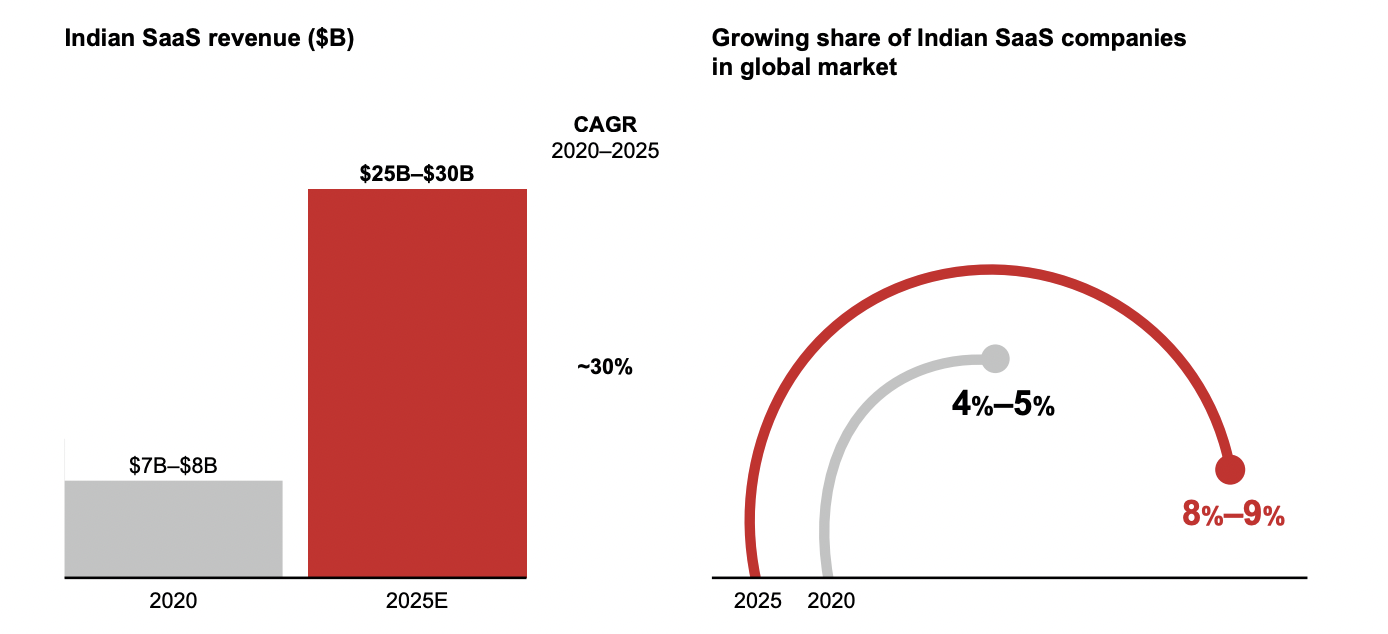 Overall, India currently has 8,000–9,000 SaaS companies, up from 4,000–5,000 five years ago, of which over 1,300 have raised funds, the report added. More than 60 SaaS companies have drawn late-stage capital—Series C or above rounds—over the last five years.
Meanwhile, the number of Indian SaaS exits has doubled—from six in 2018 to 12 in 2021—with a rise in secondary transactions and M&As. Additionally, Freshworks' USD 1 billion initial public offering in September 2019 has opened a new exit path, bolstering investors' confidence in the space. Another SaaS firm, Gupshup, is also expected to go public in the next 12–18 months.
On the back of the rapidly increasing scale, Indian SaaS companies have generated 62,000 jobs in India to date. Interestingly, more than 250 new Indian firms have been founded by former employees of local SaaS companies so far, which now employ more than 5,000 people.