Having completed stints both locally and overseas as an officer of Enterprise Singapore, Sean Tan saw how food waste and food security were growing concerns around the world. With the drive to solve these issues, he conducted extensive research to identify sustainable solutions. This eventually led him to insect farming.
It's a sound concept that in theory: to grow the same amount of protein, insect alternatives could reduce 70% of greenhouse gas emissions and up to 90% of land and water compared to industrial agriculture for chickens, cattle, pigs, and soy.
Those statistics are significant, especially since our continued existence depends heavily on developing sustainable sources for food and water in the context of changing climate patterns and dwindling water resources. But Tan realized there was a barrier in the transition to including insects in daily meals: some people found the premise of eating bugs difficult to swallow.
If humans weren't immediately on board with the change, then maybe insects could be farmed for food in a different context. In 2020, Tan founded Insect Feed Technologies, or IFT, to make aquafeed and pet food out of black soldier fly larvae, or BSFL.
Over the past two years, IFT had to build a supply chain that previously didn't exist in Singapore. This involved establishing connections with clean food waste sources like Sunbird Brewing Company and soy-focused F&B brand Mr. Bean to acquire feed for IFT's larvae. It was a new way of utilizing untapped resources, reflecting Tan's vision to cultivate a circular economy in the city-state, reduce the misallocation of food, and curtail the overall carbon footprint of Singaporeans.
Tan said IFT's way of growing BSFL "contributes to a more traceable and sustainable food system," in that the company sources its raw materials from "approved" sources, specifically non-animal food materials that have not been sold to consumers, including waste from food manufacturing, agricultural operations, and kitchen prep settings.
On top of this, IFT has come up with several innovative ways to grow its larvae. The startup tracks the overall health, production quality, and growth rate of its larvae by using proprietary monitoring and environmental control systems, ensuring each larva has the optimal fat and protein content. Plus, IFT has built its own software to manage, record, and analyze all operational data, setting the company apart from its competitors, which typically use tools offered by third parties.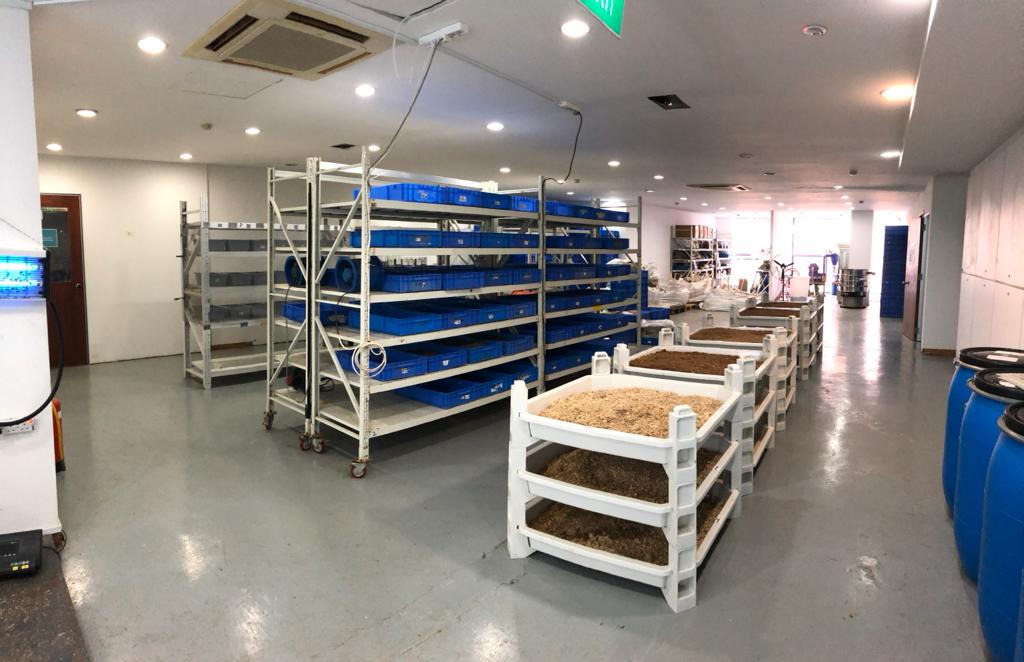 There are two consequences to this arrangement. The first is that IFT has a way to justify its compliance with food standards no matter where it sells its aquafeed and pet food. By tracing the production process behind each batch, IFT can indicate that its feed is fit for animal consumption.
The second useful outcome is that IFT's system can monitor every step in its farming process and make small corrections and adjustments to produce uniformity in its product standards. For instance, Tan said there was a case where the food waste collected by IFT was too moist. At the time, IFT's staff verified this by performing manual tests, but that process has since been automated so that the company's larva cultivators can take appropriate actions should a similar case occur.
This also means that IFT will be able to license its operating system to waste providers, who can in turn manage their own BSFL farms. In this situation, IFT will provide eggs and sales distribution services to draw revenue. Yang En Tan, the co-founder of venture builder Audacity and an early supporter of IFT, described this element of the startup's business model as "decentralized" as it creates multiple hubs of larva cultivation.
Because of Tan's vision to insert automation into IFT's daily processes, the startup has caught the attention of investors. The company raised SGD 1.25 million (USD 920,000) from Mistletoe, Juniper Capital, and EcoImpact Capital this week, giving it a valuation of SGD 10 million (USD 7.4 million). The fresh funds will be used to augment the operations of its pilot facility.
Over the past 12 months, IFT has diverted 60 tonnes of food waste away from landfills and incinerators. A new facility is in the works to build upon this achievement and collect ten tonnes of waste each day, significantly boosting the aquafeed and pet food production capacity of IFT.