Indonesia's financial regulator, the OJK, is considering encouraging investments in coal plants that power the metal-processing industry, prompting criticism from energy and finance observers.
The proposed green label would put these highly polluting plants in the same favorable investment category as renewable energy projects, on the basis that the products they're helping churn out will be used in batteries and electric vehicles.
But observers say the plan goes against scientific evidence and will incentivize more new coal plants, keeping the fossil fuel industry alive at a time when Indonesia is supposed to be transitioning to clean energy.
They also warn that any banks or investment institutions that fund such projects on the back of this green label run the risk of reputational damage.
Indonesia's move to categorize coal-fired power plants for industry as sustainable has sparked criticism from energy and finance observers, who say it goes against the scientific evidence.
The country's financial regulator, the Otoritas Jasa Keuangan (OJK), is in the process of revising the country's Green Taxonomy, a framework defining what kinds of investments may be considered environment-friendly, and thus eligible for various incentives. Among the proposed revisions is giving a green label to new coal-fired power plants that exclusively serve the metal-processing industry.
Such a label, the cleanest on the Green Taxonomy's green-yellow-red scale, would effectively define these so-called captive coal plants as projects that "protect or improve the environment," the same as renewable energy projects.
"It is extremely concerning that now, new coal-powered generation could be seen as protecting or improving the environment," Christina Ng and Putra Adhiguna, researchers at the U.S.-based Institute for Energy Economics and Financial Analysis (IEEFA), wrote in a commentary. "This simply goes against scientific evidence."
They warned this will relegate Indonesia to the bottom of the pack of global green or sustainable finance taxonomies.
'State-sanctioned greenwashing'
There are at least ten green or sustainable finance taxonomies that have been published globally. None recognize coal power as green, including markets like China and Russia, where, like in Indonesia, coal still has a heavy presence and new coal-fired power plants are in the pipeline.
"If the country goes ahead with the latest idea, of using the aim of energy transition to justify new plants' eligibility for green finance, its taxonomy would be the first to recognize coal as green," the IEEFA researchers said. "Not only would national credibility be hurt, but the move might also border on state-sanctioned greenwashing."
Binbin Mariana, Southeast Asia energy finance campaigner at climate group Market Forces, said the green labeling of coal might encourage banks to provide so-called green finance to bankroll coal companies, thus making it less likely for these firms to pivot their business models away from fossil fuels.
"The practice of 'transition-washing' is very worrying because green financing is being used to fund carbon-intensive companies that don't have credible plans to transition their businesses from burning fossil fuels," she said.
Yet even with a green label, foreign investors are likely to steer clear of investing in Indonesia's coal sector, as most would view it as unjustified, the IEEFA researchers said. As such, the OJK's labeling proposal could backfire on Indonesia's efforts to attract green financing, they said.
Last year, financial firms with more than EUR 50 trillion (USD 54 trillion) in assets under management criticized the European Union's decision to label gas-fired power plants, which the EU touted as less dirty than coal, as sustainable. The financial firms said the labeling was meant to accommodate the interests of some member states and the gas industry.
The green labeling of coal will also oblige foreign investors to carry out more due diligence, in turn raising transaction costs, the IEEFA researchers said.
"[The] OJK should realize that it does not need to call coal-fired power plants 'green' in order to obtain financing," they said. "Withholding the green label does not deprive them of conventional capital funding."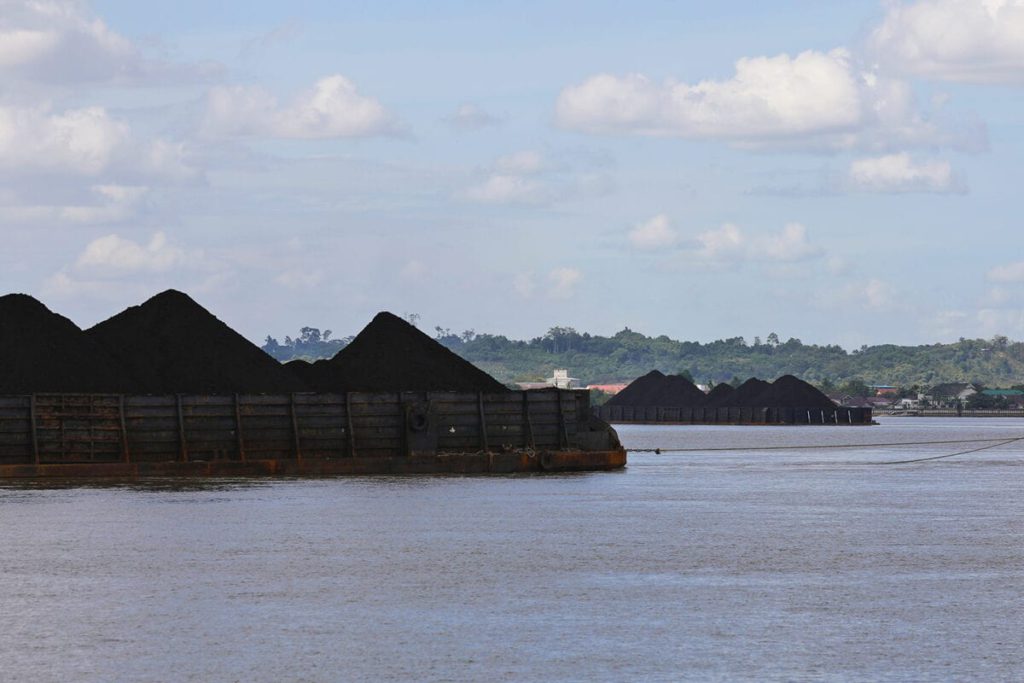 Justifying the green label
The Indonesian government has vowed to undergo an ambitious energy transition to wean the country off its heavy reliance on coal, which makes up 64% of its energy mix. The country is also the world's biggest coal exporter.
Its energy transition is estimated to cost IDR 4 trillion (USD 262 billion) through 2030. To attract financing, the OJK plans to label energy transition projects as green in the revised Green Taxonomy.
OJK chairman Mahendra Siregar said foreign financial institutions are reluctant to fund any fossil fuel projects, including energy transition projects that involve coal, such as the early retirement of existing coal plants, which may include compensating the owners, or building new coal plants to power the smelters making the metals used in lithium-ion batteries.
To convince investors otherwise, the OJK aims to roll out the green label, which Mahendra said follows in the footsteps of the Association of Southeast Asian Nations (ASEAN), which recently labeled the early retirement of coal plants as green.
But unlike ASEAN, the OJK is also extending the label to the construction of coal plants that supply power exclusively to smelters, as they're considered as part of Indonesia's energy transition plan. Known as captive plants, they differ from other coal-fired power plants only in that they don't feed electricity into the grid and are instead "captive" to a single industrial user.
The green labeling isn't a done deal yet, however, with Mahendra saying a study is underway to quantify the emissions along the entire supply chain of industries powered by captive coal plants, such as electric vehicles. Should the study find a net positive climate benefit, even if the supply chain is powered by captive coal, then the OJK might consider captive coal plant projects as a green investment, Mahendra said.
"There's a likelihood that the calculations deem the whole supply chain to be green," he said at a press conference on Sept. 5.
Reputational risk for funders
While EVs have virtually no emissions during operation, their production is 30–40% more carbon intensive than that of an internal combustion engine vehicle—with much of that footprint coming from the production of the batteries.
And if the smelters that process the metals needed to make EV batteries continue to be powered by coal, then the end product can't be considered "green," said Bhima Yudhistira Adhinegara, executive director of the Jakarta-based Center of Economic and Law Studies (CELIOS).
"The OJK has to firmly reject the funding of new coal plants in industrial areas in the name of supporting downstream processing [of metals]," he said.
"It's very likely that potential buyers such as EV battery companies will look for alternative sources [of metals to make EV batteries]," Bhima added. "Consumers will also become skeptical of the development of EVs as long as the downstream processing still relies on coal."
Banks that do fall for the label and go on to fund new captive coal plants, meanwhile, run the risk of reputational damage. Indonesian banks lag behind lenders elsewhere when it comes to ending financing for destructive activities, with none having joined the UN's Net-Zero Banking Alliance of lenders that have committed not to fund fossil fuel projects.
Five Indonesian banks recently approved funding of more than USD 1.5 billion for a captive coal plant being built by the country's biggest coal miner to power its new aluminum smelter. For these banks, the reputational risk may be costly, the IEEFA researchers said.
"Their commitment to decarbonization becomes questionable, and their global relevance risks diminishing," they said.
To end the financing of new coal plants, experts say Indonesia must label all coal projects, captive or otherwise, as red investments. This way, there will be no more loophole that investors can exploit to continue funding fossil fuels, Bhima said.
Labels aside, there's also the problem that captive coal plants, like grid coal plants, not only emit large amount of climate-warming emissions, but also pollute the air and endanger the health of local communities living near them, said Pius Ginting, coordinator of the NGO Action for Ecology and Emancipation of the People (AEER).
"The number of people around industrial areas who suffer from respiratory problems because of worsening air quality has increased in industrial parks in Morowali, Central Sulawesi, and Weda, North Maluku," he said.
This article first appeared on Mongabay and was originally written by Hans Nicholas Jung, an environmental journalist and staff writer at Mongabay. It has been republished here under the Attribution-NoDerivatives 4.0 International (CC BY-ND 4.0) Creative Commons license.