Indonesian health tech startup Halodoc denies a recent rumour that it's in the middle of raising US$50 million in new funding. "I'm not sure how they came up with that news but it's not true," Halodoc CEO Jonathan Sudharta told KrAsia.
Last week, Halodoc was reported to be in talks to raising the new round at a pre-money valuation of about $250 million, expecting it to close early next year. Although denying that this is the case, Sudharta does not rule out the possibility of seeking new financing in the future, "As founder of a startup, of course, I have a lot of discussions and I'm constantly sharing ideas with  investors and venture capitals, but we don't have anything big to announce relating to new investment at the moment. Maybe later in the future, but clearly not now," Sudharta said.
Halodoc has raised US$13 million funding in September 2016, led by Singapore-based VC Clermont Group, along with Go-Jek, Blibli.com, and NSI Ventures. The Halodoc app, which offers services like medicine delivery and online consultation, is a standalone app but it's linked from within the Go-Jek application.
Not long ago, Halodoc won an award as "most innovative startup" from Galen Growth Asia, an organization that monitors the health startup ecosystem in the Asia Pacific. Out of 64 health startups, Halodoc was selected for this award, "mainly because of our large user base and the impact we give in the health industry," says Sudharta.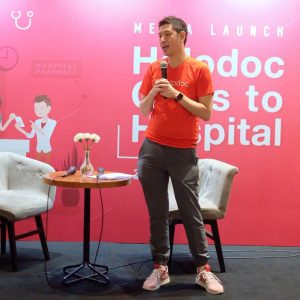 Halodoc says it currently has 2 million monthly active users and has worked with over 20 thousand doctors throughout Indonesia.
Last month, the startup launched a new programme called Halodoc Goes to Hospital, a service that allows patients to save time because they'll get their prescribed medicine delivered home instead of waiting for them at the hospital, which can take a long time, especially for people in the public healthcare system. There are 120 hospitals that have collaborated with Halodoc so far, and they project to collaborate with 500 more hospitals next year.
Go-Jek plays an important role in supporting Halodoc to achieve its ambition to simplify access to Indonesian healthcare. The ride-hailing and on-demand services app has hundreds of thousands of drivers in its fleet, who also handle medicine deliveries for Halodoc.
As Go-Jek is now expanding to four countries in Southeast Asia, Halodoc also showed its interest in following the footsteps of its partner. "Go-Jek is our closest partner since the beginning. While we're currently focusing on the Indonesian market, there's always a possibility to follow Go-Jek's expansion in the future," Sudharata continued.
In 2019, Halodoc will continue to provide new healthcare services and features. "We always emphasize that Halodoc is not a substitute for doctors or hospitals, but we connect patients to doctors with technology. So our next plan is to keep updating our services and features that are definitely related to traditional health services," Sudharta added.
Asia is seen as a promising market for the health tech industry. A survey by Galen Growth Asia reported that Asia Pacific's health tech funding in 2018 will reach US$ 5.5 billion by the year-end, with Indonesia showing good growth in this sector this year. The distribution of healthcare services is not optimal in Indonesia, which means there's a high potential for tech to blend with and extend the reach of the conventional healthcare industry, providing better care for the archipelago's large population. The Indonesian government is supportive of startups engaged in the health sector. Rudiantara, the country's minister of communication and information technology, once said that the government has allocated 5% of the state budget to support health tech advancement in Indonesia.
Editor: Nadine Freischlad