E-commerce unicorn Bukalapak is expected to conduct a share offering on the Indonesian stock exchange, or IDX, on July 23–24, and be listed on July 29, according to the company's presentation to IDX that was obtained by KrASIA.
The document contains various details of Bukalapak's IPO plan, including a timeline leading up to the listing, offering structures, and underwriter names. The firm will offer up to 25% of its enlarged capital to the public. Up to 0.1% of the shares offered will be dedicated to employee stock allocations, while management and employee stock option plans will make up 4.91% of the total issued and paid-up capital after the IPO.
The company has appointed five underwriters for the listing, namely UBS, BofA Securities, Mandiri Sekuritas, Buana Capital Sekuritas, and UBS Sekuritas Indonesia. Bukalapak expects its shares to be traded on IDX under the ticker symbol BUKA.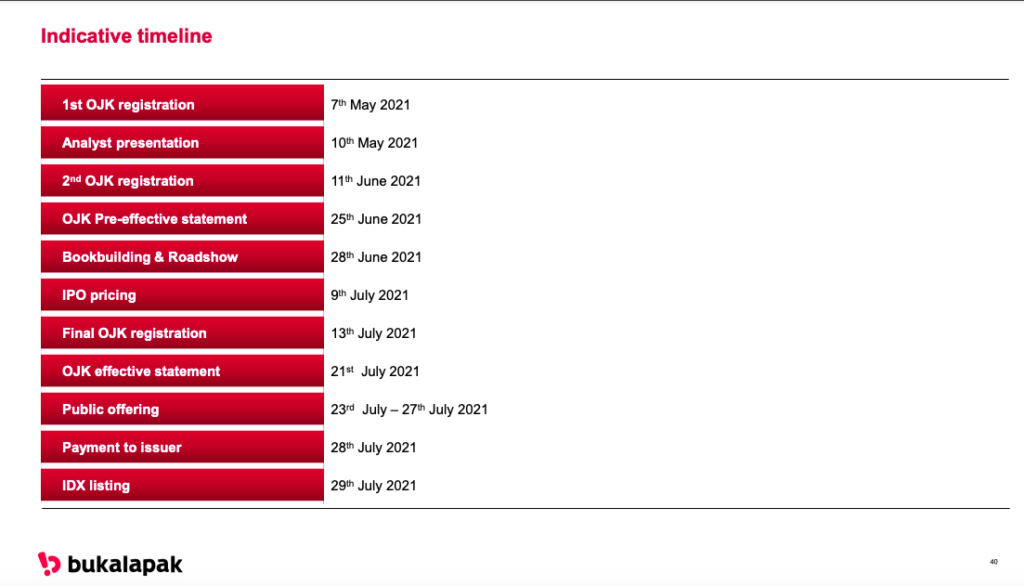 Bukalapak's plan to go public has been circulating in the media for several months. Last week, Reuters reported that the company aims to raise as much as USD 800 million at a valuation between USD 4 billion and USD 5 billion.
Until last week, the exchange's listing pipeline included 23 companies, with three of them from the tech sector, IDX director I Gede Nyoman Yetna Setya told local reporters in a WhatsApp group. However, he didn't reveal the identities of those three firms.
Meanwhile, the country's financial supervisor OJK is working on a draft for new IPO regulations for tech firms that include the implementation of shares with multiple voting rights. To qualify, a company must have assets worth at least IDR 2 trillion (USD 138.2 million) and have been operating for a minimum of three years. According to the draft, holders of the multiple voting shares aren't allowed to transfer part or all of their share ownership for two years, and they can only own 47.3% of the total shares.
Bukalapak is the third most visited e-commerce site in the country—after Tokopedia and Shopee—according to iPrice. The company said it had 104.9 million registered users and more than 6 million merchants on the platform as of December 2020. Besides Bukalapak, GoTo and Traveloka are reportedly also planning to go public in Indonesia this year.