Xiaomi and RealMe led online smartphone sales in Indonesia last year, according to a report by Counterpoint Research, while Vivo and Oppo dominated overall sales, following a study by IDC Indonesia.
Smartphone sales in the country grew throughout the year and topped in the fourth quarter of 2020, with 20% sold online, said Counterpoint, which was analyzing shipment data. Lazada was the leading e-commerce site, followed by Shopee. "Blibli, Akulaku, Bukalapak, and JD.id made up a smaller proportion," explained senior analyst Glen Cardoza.
After a decline in the first two quarters, sales rebounded later in the year, recording 23% year-on-year (YoY) growth in the final three months. "It started to pick up again in the third quarter," Cardoza said.
In line with Counterpoint, IDC Indonesia also noticed a sharp drop of 18% YoY in the first half. Smartphone shipments bounced back strongly with 19% YoY growth between July and December, reaching 11.7 million units in Q4. Overall, 36.8 million phones were sold in 2020, a 1% YoY growth from 2019.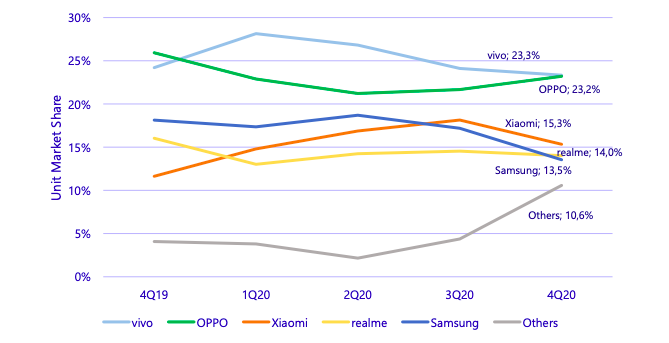 Vivo and Oppo reached the largest share, with 23.3% and 23.2% respectively at the end of the year, thanks to a wide network of unorganized retail channels that were still operating during the lockdown. Xiaomi came in third with 15.3%, followed by RealMe with 14%. Samsung merely achieved 13.5% of the market, down from 17.2% in Q3.
"Demand for smartphones increased in the middle of last year to support work-from-home, home-based learning, entertainment streaming services, or just to communicate with each other virtually," said IDC market analyst Risky Febrian.
Febrian added that the new International Mobile Equipment Identity (IMEI) regulation, that was launched last year, helped minimize the circulation of illegal phones sold on the black market. "This played a role in the recovery of the smartphone market in 2021," he said. IDC estimates the Indonesian market to grow around 20% this year.