Kudo, an Indonesia-based tech company that connects traditional retailers such as kiosks to sell digital and physical goods through its app, has officially merged completely into the Grab's ecosystem, according to Grab's official Instagram account's post on October 9.
Kudo's official name is now transformed into "GrabKios by Kudo", which is now Grab's newest line of business in Indonesia, according to the post. Kudo's website currently redirects users into Grab's website as a sub-menu.
According to the website, all Kudo's shops will slowly change to follow GrabKios' design, while the GrabKios' application will offer the same products and services as the previous Kudo's app.
Nonetheless, Grab has not made a press announcement on this new development. Responding to KrASIA's request to comment, Kudo said that the merge and rebranding are expected to strengthen its commitment to better empower traditional retailers in Grab's larger ecosystem.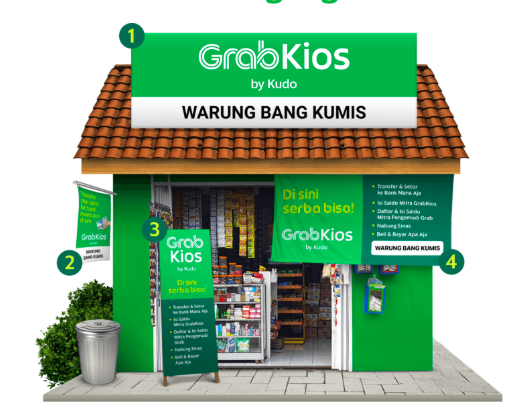 Kudo was acquired by Grab in 2017 in a cash deal worth USD 80 million to USD 100 million that represented the giant ride-hailing company's first-ever major acquisition, a move to strengthen the latter's foothold in Indonesia and boost the adoption of Grab's mobile payment platform in the country.
In an interview with KrASIA earlier this year, Kudo's co-founder and CEO Agung Nugroho said that Kudo functioned as an independent subsidiary, although they collaborate with Grab and support each other in developing strategic directions. However, the rebranding seems to question Kudo's business autonomy.
Nugroho also said that Kudo's technology and digital products are integrated within the Grab app, making it available in the Southeast Asian markets where Grab operates.
According to local media Katadata, Kudo's head of commercial and business expansion Nacitta Kanyandara said that this modification was started in late September 2019. The platform recently added several new services including gold investment starting from IDR 10,000 (USD 0,71), as well as mobile screen protection insurance services, among others. GrabKios' users now can also save up for Umra (Islamic pilgrimage to the Mecca, Saudi Arabia) on the platform.
According to its website, GrabKios' shops can be found in more than 500 cities throughout Indonesia. GrabKios currently has approximately 2.6 million agents and the figure is expected to continue to grow.
This article was updated on October 18 to reflect comments from a Kudo's spokesperson.