Matahari Mall was launched in 2015 with plans to become the "Alibaba of Indonesia". It was a versatile e-commerce marketplace with a wide range of shopping categories from fashion to electronics. Now it's merging with the site of one of its shareholders, the brick-and-mortar fashion retailer Matahari Department Store (MDS) and will focus on selling fashion only.
Matahari Mall CEO Hadi Wenas told local media this is a strategic move aimed at better serving its customers.
Both Matahari Mall and MDS are part of the vast Lippo Group conglomerate. Different divisions of the Group had come together to form Mataharimall.com. One of them, MDS, over the years had gradually grown its shareholding in Matahari Mall, now owning at least 16% of the newer firm. After the merger, the single access point will be Matahari.com, MDS's online representation.
A note obtained by KrAsia was circulated to Matahari Mall merchants. It informs merchants that all transactions on Mataharimall.com will be stopped from November 20th and that the team will reach out to each of them to settle outstanding payments. Fashion merchants are invited to move over to become MDS merchants. According to this note, they have to fill out a form and send it by post to an MDS address.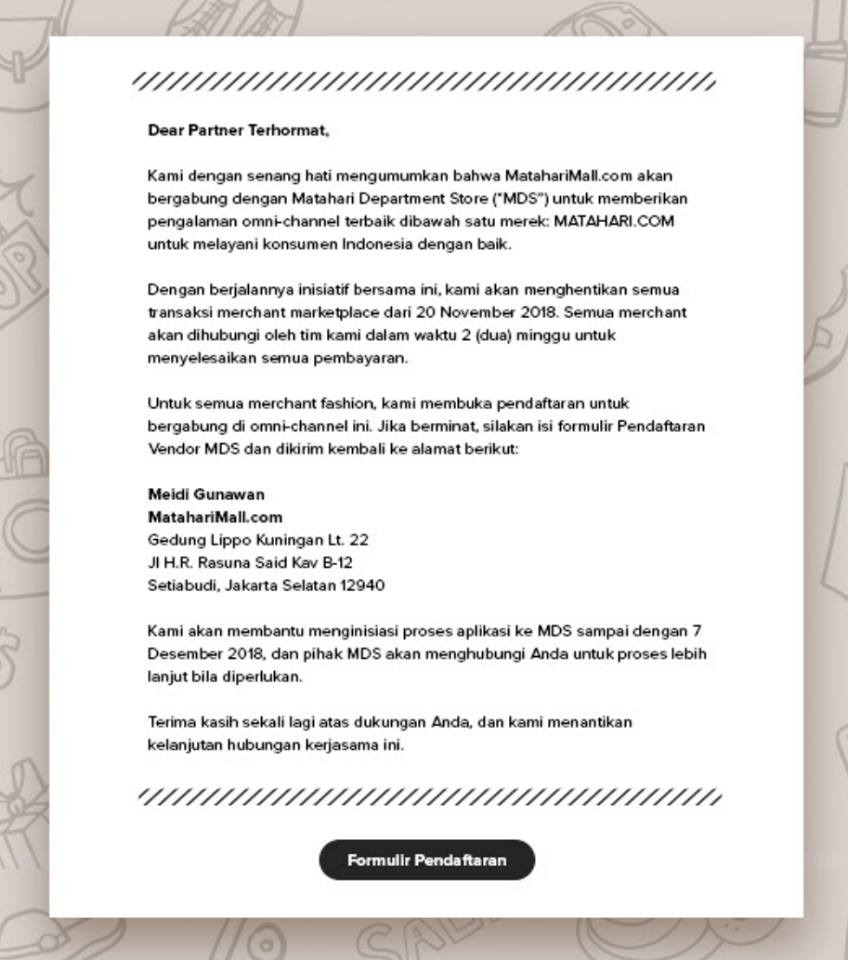 Wenas had told local media that Matahari.com is adopting Mataharimall.com's tech.  It's not clear if Wenas and the Matahari Mall team are joining MDS after the sites merge. We have reached out to the firm for comment.
There are several ways to read this move. It's possible that Matahari Mall wasn't able to achieve the growth it needed to keep up as a fully fledged e-commerce marketplace rivalling Lazada. The latter is now fully owned by  Chinese e-commerce behemoth Alibaba, which means it has access to an abundance of tech and financial resources.
Another dimension to consider is the need for digitisation inside of Lippo Group itself.  This way, MDS — one of the more traditional retail divisions whose brand was starting to look old in the modernising Indonesian retail landscape — accelerated its digitisation, adding online-to-offline capabilities at a pace it probably couldn't have achieved if it had tried to develop these from within. The Matahari Mall tech stack could also be applied to other Lippo divisions, for example, the Carrefour-like Hypermart.
Transformation within the Lippo empire seems necessary. Some of it businesses are currently under a lot of pressure. Its massive property project Meikarta is embroiled in a corruption scandal. An analysis by local media Katadata said some Lippo group companies are actually at risk of bankruptcy.
Editor: Ben Jiang