Two Indonesian biotech startups, Nalagenetics and Nusantics, recently obtained regulatory approval to launch PCR test kits that can detect COVID-19 from saliva samples. These kits will function as alternatives to nasal and throat swab tests.
Nalagenetics' invention, called Quickspit, has an accuracy of "up to 97%," according to a press release circulated by the company. The kit's performance has been validated by multiple labs and hospital partners, and the results have been published in a peer-reviewed journal. Since the experience of receiving a swab test can be uncomfortable and even painful for some people, the saliva-based test kit presents a convenient option that suits children and seniors. Quickspit requires no extraction, it is affordable, and the test can be self-administered.
"It took us six months to develop the test kit and we have tested it on more than 300 samples," Nalagenetics CEO Levana Sani told KrASIA. "We are currently working on price discovery, but labs and hospital partners have sold the kit at prices starting at IDR 500,000 (USD 35), which is cheaper than the regular PCR tests." Existing PCR test kits on the market cost IDR 700,000, or USD 48, each.
Nalagenetics partners with various labs and healthcare platforms, like Triasse and Halodoc, to distribute the test kit. Customers can also order the kit directly through the company's website and Instagram page. Sani added that Nalagenetics will work with labs in remote areas as well, where medical facilities are scarce and resources are limited.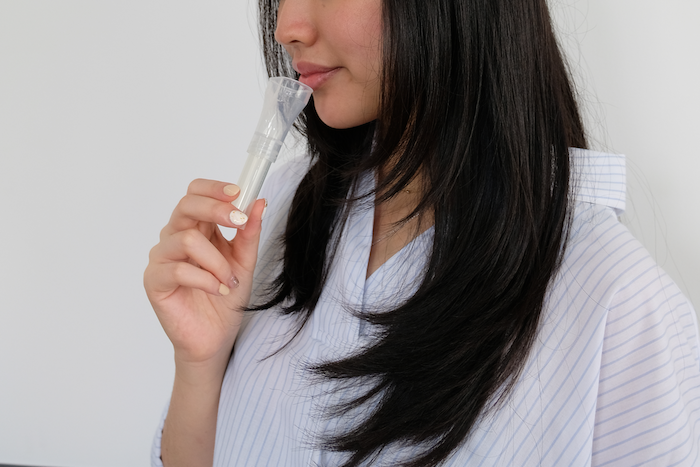 Meanwhile, Nusantics partnered with state-owned pharmaceutical company Bio Farma to launch Bio Saliva, a test where subjects gargle a test solution. Bio Saliva complements Nusantics' previous product, a nasal swab test called mBioCov19. Bio Saliva can detect ten variants of the COVID-19 mutation, including the kappa and delta variants, which are described as more infectious than others. The new test kit has an accuracy of "up to 95%," the startup said in a press release. Its development process involved more than 400 samples from COVID-19 patients, including outpatients and inpatients, as well as validation research over the course of seven months.
Both Nalagenetics and Nusantics hope the new test kits can shore up Indonesia's COVID-19 tracing capabilities. As the administration of Quickspit and Bio Saliva does not require medical training, subjects do not need to visit medical facilities to produce samples, which means they are able to avoid crowded areas and limit the risk of viral transmission.
Indonesia is currently struggling with surging cases of COVID-19 infections. There have been 2.3 million confirmed cases and 61,140 reported deaths. Medical facilities across Java are overwhelmed with an influx of new patients, and people who do not exhibit severe symptoms are being turned away from hospitals, as the medical institutions are all stretched beyond full capacity. This has led to a shortage of medical supplies, especially oxygen cylinders.