Funding for Compare88
C88 Financial Technologies, parent company of CekAja in Indonesia and its sibling eCompareMo in the Philippines, raised US$28 million in a series C round led by credit scoring firm Experian.
C88's sites let users compare financial products, like credit cards, loans, and insurances, and apply for them online. Experian's credit scoring solutions will help C88 approve loan and credit card applications more effectively.
Kredivo Funding
More funding in fintech: Kredivo locked in US$30 million in its series B round. Kredivo is a type of virtual credit card that lets online shoppers make instant purchases with installment payments.
It's available as a payment method at several online merchants in Indonesia, including the big ecommerce sites like Lazada and Tokopedia. Kredivo collects data on its customers and has developed its own credit scoring system.
These two developments are interesting, as both companies work on improving credit scoring mechanisms. Indonesia does not have a central credit scoring database like many other countries do, so entrepreneurs have had to develop their own models.
Reliable credit scoring is instrumental in the business of online loans and credits, and it's not easy to build these algorithms. You need a lot of data to train on. So whoever is one of the frontrunners in this race has a strategic advantage.
P2P sector faces tougher regulation
More and more startups have been pushing into the online lending sector. Last week, Indonesia's financial regulators spoke a stern word and reminded companies who are not yet registered with the authorities that they are not allowed to operate peer-to-peer lending businesses in Indonesia. As the fintech industry is growing more mature, so are the government's efforts to exert tighter control and enforce regulations. This might slow down activities in the P2P lending space to some degree, but looking at the trouble with fraudulent P2P lenders in China, some caution seems appropriate.
On-demand motorcycle drivers are gearing up for a protest
The Asian Games are due to kick off soon in Indonesia. Residents of Jakarta and Palembang, where most of the sporting venues are located, are bracing for traffic chaos during this time. Choosing motorcycle taxis (as offered by Go-Jek and Grab in Indonesia) is often the only option if you don't want to spend hours stuck in a car.
These online "Ojek" drivers as we call them here are well aware that the Asian Games cities will depend on them and chose this time to stage a protest.
A fraction of online Ojek drivers have been protesting regularly. Their core demand is to get better and guaranteed tariffs for their rides.
In a previous protest in March this year, 7,000 drivers came together and asked for a steady minimum tariff of IDR3,500 [US$0,24] per kilometer, while doing away with a bonus system that rewards drivers who complete many rides a day.
It's difficult to estimate what percentage of all drivers are dissatisfied with the current system. Go-Jek has several hundred thousand drivers in Indonesia now. While driving for ride-hailing network seems to pay off for many, there's also a number who are unhappy with the frequent changes these platforms are making to the bonus and tariff structure and ask for more government protection. Go-Jek, Grab and other on-demand firms are only going to grow in relevance and at the same time, its drivers can be expected to become better organized and more sophisticated in their demands as well.
Comes with education
Ruangguru is one of Indonesia's largest edtech startups. It's quite diverse with an online platform for after-school tutoring, a homework problem-solving app, and online test preparation tools, and other educational content.
The startup is now introducing a content bundling plan with Telkomsel, Indonesia's state-owned telco.
You may have seen this type of bundling when a telco offers data packages that include 2GB of free streaming on on-demand video platforms like iFlix or Hooq.
Now Ruangguru is trying the same by offering a 3GB data package that consists of 1GB for surfing whatever and 2GB for Ruangguru's content. The package costs IDR 25,000 [US$1,74].
This must have had some effect because Ruangguru's app currently sits within the top ten free apps in Indonesia's Google Play store.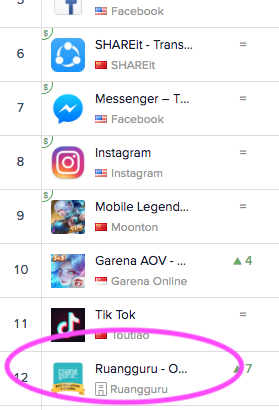 Cashless in mosques
Muslim communities are quickly adopting new cashless payment options, even for religious donations.
This giant QR code was spotted inside a mosque, calling upon the visitors to scan and donate.