Indonesia has been actively developing its sustainability roadmap. During President Joko "Jokowi" Widodo's recent visit to China from October 16–18, 2023, both countries reaffirmed their mutual commitment to energy transition, marking a significant step toward advancing sustainability and addressing global energy challenges.
China and Indonesia are currently engaged in a partnership emphasizing the exploration of new and renewable energy sources, and this extends to the development of cutting-edge technologies in the areas of smart cities, and telecommunication, among others, reflecting their shared dedication to pushing the boundaries of innovation.
China's investments: A key element in Indonesia's energy sector
China's involvement in Indonesia's energy sector has been pivotal, having committed substantial investments across various initiatives including the construction of power plants, refinery upgrades, and the advancement of renewable energy projects. These endeavors have significantly boosted Indonesia's energy production capacity and created local employment opportunities.
To harness the full potential of its mineral resources, particularly nickel, the Indonesian government implemented a policy in 2010 aimed at revamping the local industry, shifting its emphasis away from extraction activities and toward attracting investments in metal manufacturing.
More recent developments prompted the Indonesian Ministry of Energy and Mineral Resources (MEMR) to amend the policy in August 2019, enacting MEMR Regulation No. 11 of 2019 (MEMR Reg 11/2019), tightening its stance on the export and utilization of mining minerals and coal.
To comply with this amendment, foreign mining companies are required to establish smelting plants in the country if they wish to tap into the domestic market. This move changed Indonesia's composition of foreign investments. While countries such as Japan and the UAE had been the major investors in the Indonesian mineral sector, foreign direct investments from China began to grow, resulting in a myriad of projects. For example, PT Indonesia Morowali Industrial Park (IMIP), a joint venture operating in Central Sulawesi, is a collaboration between Indonesia's Bintang Delapan Group and China's Tsingshan Steel Group. IMIP focuses on processing nickel minerals into raw material for electric vehicle batteries, which can be exported out of Indonesia.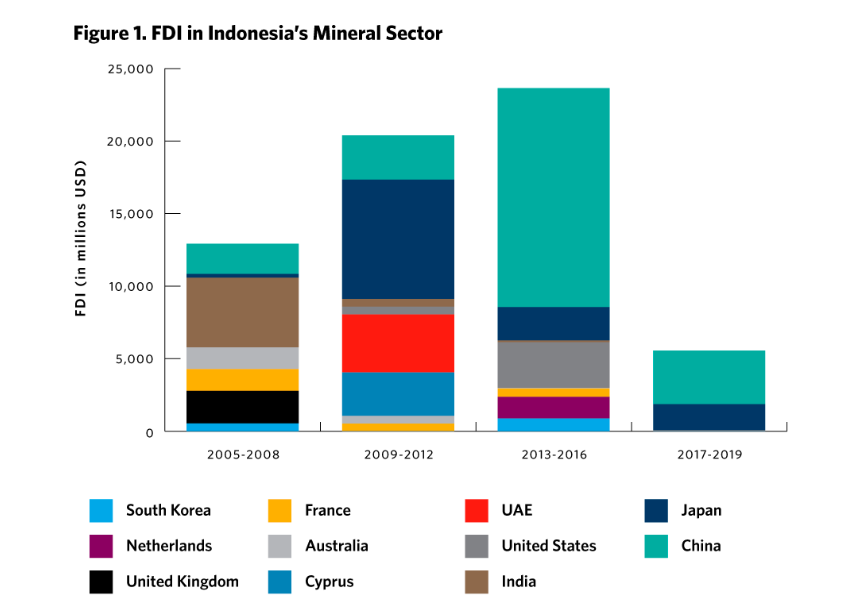 In 2019, the Jawa 7 coal-fired power plant was constructed by a joint venture between China Shenhua Energy and PT Pembangkit Jawa Bali (PJB). PJB is an Indonesian state-run power company. The power plant comprises two sets of 1,050-megawatt generating units, with an annual power generation capacity of around 15 billion kilowatt-hours.
Between 2006 and 2022, China also invested around USD 35 billion in Indonesia's energy sector, albeit with a considerable portion of that amount directed toward the fossil fuels industry. Nonetheless, this financial support is crucial for Indonesia's renewable energy transition. Indonesia has set ambitious goals, targeting net zero emissions by 2060.
Achieving this vision requires up to USD 1.1 trillion in investments, which would be used to install 768 gigawatts of renewable energy capacity. Solar energy is expected to play a key role in this transition. Additionally, Indonesia's abundant mineral reserves, which can be utilized to manufacture solar cells and batteries, indicate opportunities in solar energy for the near future.
Navigating the complex dynamics of Indonesia's energy transition 
While China has committed to reducing global coal dependency, Indonesia continues to grapple with a paradox. Several coal-fired power plants funded by Chinese companies under the Belt and Road Initiative (BRI) are currently under construction. Although these projects will create new jobs and help develop the local economy, they have also become a subject of environmental concerns, particularly regarding their emissions and coal ash disposal.
For instance, the IMIP's nickel smelter has come under scrutiny for lacking a clear and actionable plan to mitigate its environmental impact, resulting in damage to the area's rice fields and plantations. This has had a negative impact on the primary economic activities of the residents, which include fishing and farming.
The Rempang Eco-City, a collaboration between Indonesia and China, is also generating mixed reactions. The aim of this project is to transform Pulau Rempang into an integrated center for industry, trade, and tourism, with the goal of enhancing Indonesia's competitiveness in the region. The total investment for the project has reached IDR 43 trillion (USD 2.74 billion), including a partnership with Xinyi International Investment for the processing of quartz sand and silica sand. However, local residents are opposing the project and are refusing to be relocated for its development due to the fear of losing their traditional livelihoods as fishermen.
Progress through sustainable partnerships
The recent China-Indonesia Business Forum has strengthened the partnership between the two nations. During the forum, PT Perusahaan Listrik Negara (PLN), an Indonesian state-owned electricity company, signed agreements with major Chinese energy firms including the State Grid Corporation of China (SGCC) and Trina Solar.
According to Darmawan Prasodjo, president director of PLN, the company's goal is to be the driving force behind Indonesia's energy transition. While PLN has access to abundant natural resources, such resources are spread across the archipelago, presenting a considerable challenge in implementation.
"We are moving swiftly to address the mismatch between energy sources and demand centers through the development of a super grid and green enabling transmission lines," said Prasodjo, in a statement released on October 20.
These agreements also highlight both countries' commitment to the environment, outlining solutions to issues like air and water pollution. with the ultimate goal of mitigating climate change globally.