Indonesia's capital Jakarta is one of the world's most air-polluted cities. On the morning of August 29, 2023, Jakarta recorded an air quality score of 166 on the globally recognized Air Quality Index (AQI)—the highest worldwide at the time. This places the city in the "unhealthy" range (150–200). Typically, cities with good or moderate air quality score between 0 and 100 on the AQI.
The urgency for the Indonesian government to manage pollution and realize its promise of a greener future has been growing for some time. Indonesia is home to various sources of renewable energy, one of which is its massive geothermal capacity—second only to the United States. Yet, the country's current utilization rate of renewable energy sits at a dismal 2.3%.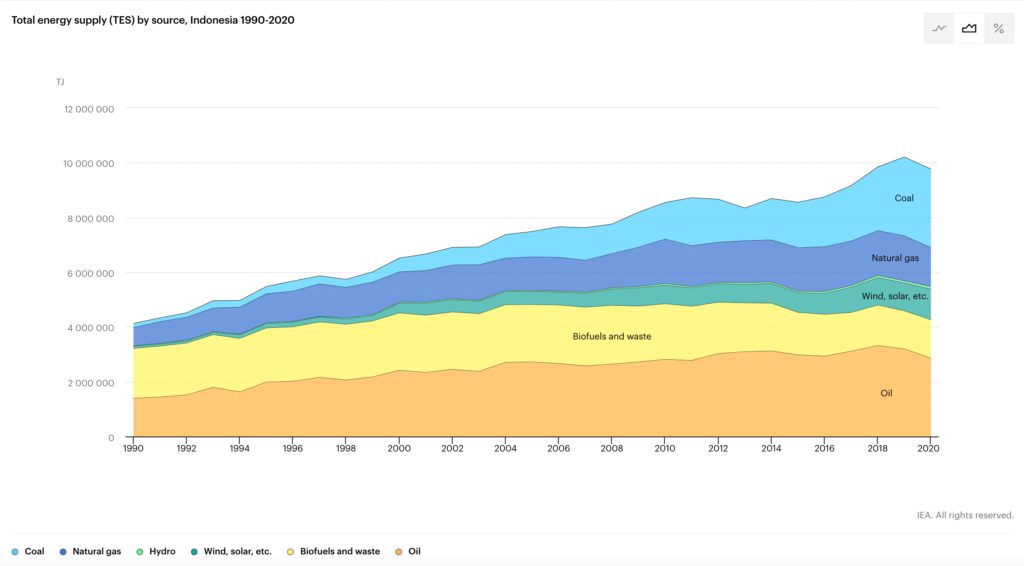 With Indonesia's population projected to grow to 335 million over the next three decades, the nation's energy demands will escalate, requiring new measures to accommodate this trend A recent report from the International Renewable Energy Agency (IRENA) highlights Indonesia's potential for a transition toward renewable energy. IRENA envisions two-thirds of Indonesia's energy to originate from renewable sources by 2050, up from the current 14%. Solar, bioenergy, geothermal, and green hydrogen are among the sources that the country will prioritize, according to the report.
Indonesia's reliance on coal
Indonesia's shift toward renewable energy will be neither easy nor straightforward. The nation is presently held back by immense inertia while trying to reduce its reliance on coal. Legacy policies like Government Regulation No. 75 of 2011 effectively grants provincial governments the liberty to hand out new mining licenses without requiring the oversight of the central government, complicating the implementation of interventive measures.
Cement is another industry that is a heavy consumer of coal. Indonesia is the seventh largest cement producer worldwide, and the cement industry accounts for around 5% of the country's GDP. Coal remains the preferred source of energy for cement production to generate the high temperatures needed to process the raw materials. Around 450 grams of coal is consumed to produce approximately 900 grams of cement. In 2022, Indonesia produced 64 million metric tons of cement.
In 2015, President Joko Widodo launched a program to add 35 gigawatts to Indonesia's power grid to help the country cope with electricity shortages. The program entails the construction of nearly 300 power plants, of which 117 will be coal plants that will jointly provide 20 gigawatts of power.
As the world's largest producer of nickel, a key ingredient used in lithium-ion batteries, Indonesia is shaping up to become an important player in the battery and electric vehicle industry. Fueled by the growth of its EV industry, Indonesia's nickel production rose by 60% in 2022, accounting for half of all nickel produced globally. There are trade-offs to relying on nickel to power this transition. As nickel is an energy-intensive industry, Indonesia has resorted to utilizing more coal, creating a vicious cycle.
This deep-rooted relationship has made Indonesia a significant coal importer and one of the world's worst polluters.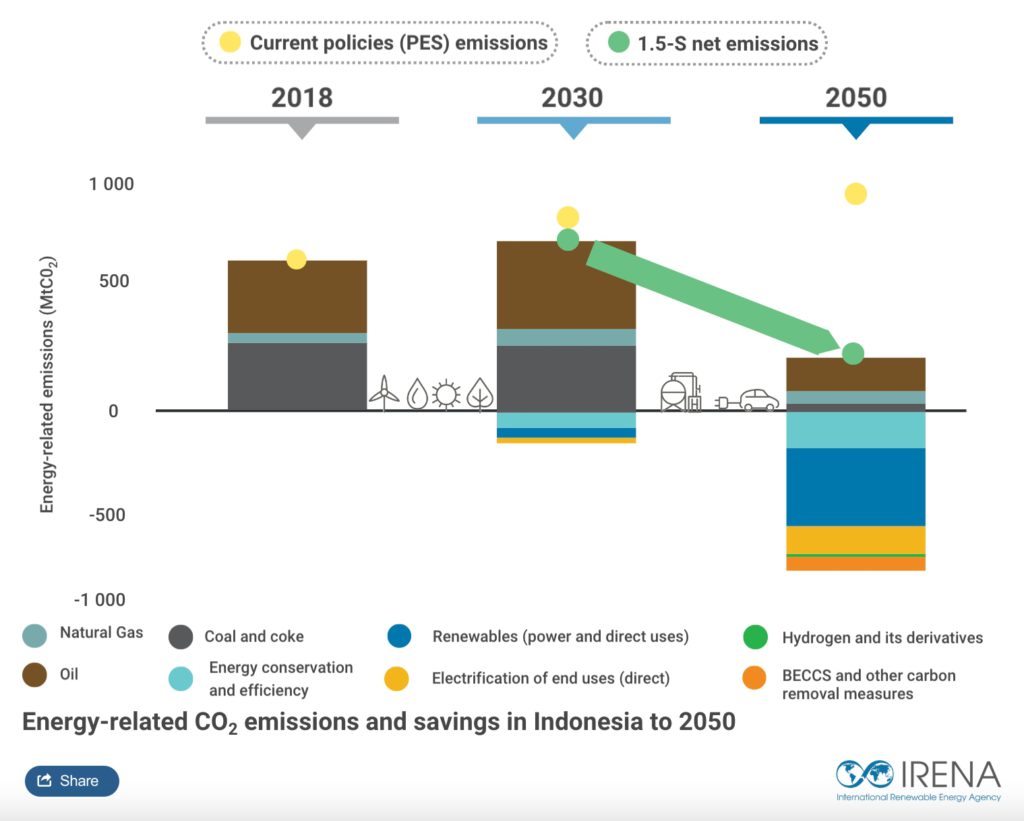 Fostering the nation's renewable energy through strategic policies
Indonesia's energy transition is guided by Government Regulation No. 79 of 2014, which is a policy detailing the country's plan to achieve energy independence, national security, and sustainable development. The policy describes the nation's strategy on energy production and sourcing, both domestically and internationally, with a focus on reducing fossil energy exports gradually and setting a deadline to cease such exports completely.
The policy also lists goals to reshape Indonesia's energy mix towards renewables and coal. The country wants to reduce its reliance on coal by limiting it to a maximum of 25% of its total energy supply, and to increase the share of renewable energy to at least 31% by 2050.
A key issue on the policy front surrounds the concept of new energy and how it should be defined. Stakeholders offer diverse interpretations of new energy, with some focusing solely on renewable energy while others advocate for the term to include nuclear and hydrogen energy too. This discourse highlights key challenges in pricing, subsidies, and regulatory oversight critical to advancing the nation's green energy transition.
Look past the debate, however, and Indonesia's move towards renewable energy is seemingly backed by sound policy measures. The country's minister of environment and forestry, Siti Nurbaya Bakar, reinforced this commitment in April 2023 during a meeting with a US congressional delegation, when she highlighted Indonesia's intent to strengthen its climate policies for key sectors such as forestry, EVs, and waste management. The nation's Nationally Determined Contributions reflect loftier goals: to bolster emission reductions from 29% to 31.9% through its own efforts, and up to 43.2% with international support.
In March 2023,  Indonesia's ministry of energy and mineral resources (MEMR) finalized a legal and regulatory framework for carbon capture, utilization, and storage (CCUS) in its oil and gas sector. This framework empowers oil and gas leaseholders to lead carbon storage efforts.
This commitment is further enhanced by the ministry of finance's introduction of a value-added tax (VAT) reduction on battery-powered EVs, aimed at accelerating their adoption and supporting the ecosystem. Cash subsidies worth IDR 7 trillion (USD 458.5 million) will also be allocated to incentivize battery-powered EV purchases.
Key decision makers in Indonesia's energy landscape
Indonesia's energy landscape involves multiple stakeholders responsible for policy formulation and implementation.
The MEMR is the central government authority responsible for the formulation and implementation of energy and mineral resources policies in Indonesia.
A separate MEMR-led team, named the National Energy Council (DEN), consists of members from other related ministries. The council advises the President on national energy policy and planning, coordinates energy-related activities, and provides recommendations on energy development.
Playing a central role in the energy sector, state-owned enterprise Electricity Regulatory Agency (PLN) manages power generation and distribution, and is primarily responsible for building Indonesia's EV infrastructure.
Other regulatory bodies, such as Badan Pengatur Hilir Minyak dan Gas Bumi (BPH Migas), oversees oil and gas activities including pricing and distribution. Badan Pengawas Tenaga Nuklir (BAPETEN) ensures the safe use of nuclear energy.
Indonesia's provincial governments also collaborate to contribute to energy planning at a regional level. This collective approach underscores Indonesia's commitment to effective energy governance.
Global partnerships driving Indonesia's energy transition
International partnerships serve as powerful catalysts for Indonesia's transition to cleaner energy sources. These collaborations not only align with Indonesia's sustainability goals but also reinforce its commitment to meet global climate targets.
Backed by the United States and Japan, the Just Energy Transition Partnership (JETP) has pledged USD 20 billion to expedite Indonesia's move away from coal. Launched at the G20 summit held in November 2022, the fund supports Indonesia's commitment to capping emissions at 290 million tons by 2030.
Australia has committed USD 50 million to support Indonesian small and medium enterprises as well as startups via clean energy and climate initiatives. This funding is part of a larger AUD 200 million (USD 128.8 million)  partnership between the two countries. The aim is to increase the volume of investments in Indonesian SMEs focused on clean technology. Areas of collaboration include carbon capture, critical minerals strategies, and green energy.
Strategic partnerships, such as the collaboration between the Indonesia Investment Authority (INA) and Chinese battery giant CATL, underline the country's commitment to drive EV industry growth. The INA-CATL collaboration aims to establish a fund to foster investments in EV-related sectors and shape Indonesia's electric mobility landscape.
Indonesia's energy dilemma
While Indonesia is headed in the right direction with its push for greener energy solutions, the journey is complicated by a web of complexities and contradictions that has emerged. For example, the nation's plan to retire coal plants by 2055 contradicts its approval of new coal plants that will be operational until 2065, igniting criticism over the coherence of its clean energy strategy. This puzzling move, juxtaposed against a USD 20 billion energy transition deal with advanced economies, raises questions about the country's commitment to sustainable change.
Intrigue deepens when environmental concerns are taken into consideration. A government-backed biomass power project, entailing deforestation, has triggered skepticism about the viability of eco-friendly endeavors. Meanwhile, Indonesia's bid to become a global EV production hub is on the verge of a geopolitical showdown. Luhut Binsar Pandjaitan, Indonesia's coordinating minister for maritime affairs and investment, is pushing for a trade deal with the US to unlock EV tax benefits. Yet, the tangle of Chinese investments and differing standards adds layers of complexity to this pursuit, showcasing the intricate interplay of international dynamics that influence Indonesia's path toward a cleaner future.