In late 2019, after WeWork's IPO debacle, that sent shockwaves throughout global startup ecosystems, Indian startup ecosystem was abuzz with talks around positive unit economics and focus on profitability. As tech companies continued to burn investors' money without any solid plans to make a profit, VC funds asked their portfolio companies to find robust revenue models instead of chasing vanity metrics like gross merchandise value (GMV), app downloads, and customer acquisition.
The trend was expected to continue in 2020 as well, but as the world reeled with the COVID-19 pandemic that plummeted the growth of many startups, founders are looking to chase hyper growth once again.
A report by InnoVen Capital, an Asian venture debt firm, said 77% founders of Indian startups prioritized growth over profitability in 2021.
The report titled "India Startup Outlook Report 2021," said that while most companies had rationalized costs during the initial stages of the spread of novel coronavirus, the focus is back on growth as demand recovers. It said, 42% of startups aim to turn EBITDA profitable in two years while 29% aim to reach there in two to four years.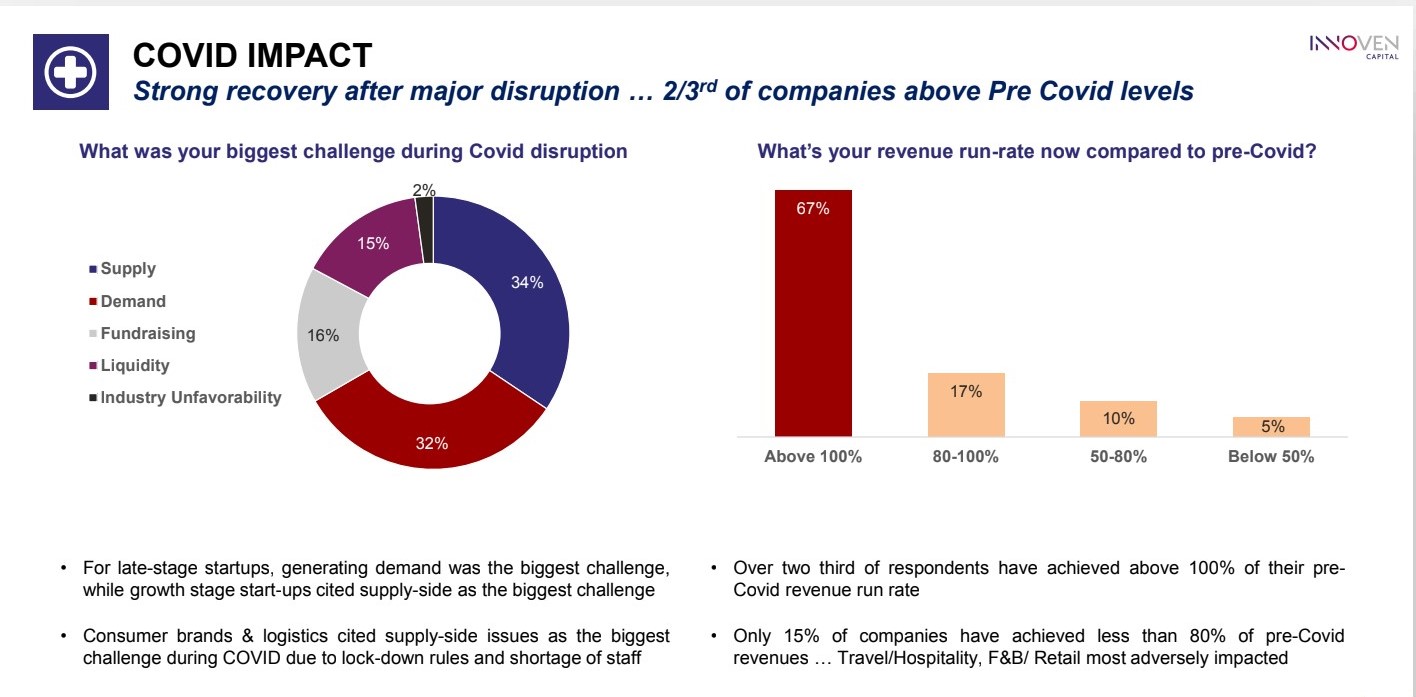 However, out of 100 startup founders whom InnoVen surveyed for this report, improving unit economics and hiring best talent were the topmost priority, particularly for startups in retail, direct-to-consumer (D2C) brands, and e-commerce.
"2020 was an eventful year for the venture eco-system. The COVID-19 outbreak led to a perfect storm, with demand destruction, supply chain disruption, and funding market dislocation. However, the resiliency of entrepreneurs meant that startups navigated this crisis rather well and many companies have come out stronger," said Ashish Sharma, CEO, InnoVen Capital India.
According to the report, except a handful of sectors like edtech and gaming experienced immediate tailwinds, leaving most of the other sectors exposed to the negative impact of COVID-19. However, it said the industry has seen a strong recovery in the second half of 2020. "
"Two-thirds of surveyed founders mentioned that they are above Pre-Covid revenue run-rate in December 2020.  E-commerce, logistics (express), B2B platforms, enterprise software, D2C brands saw the strongest recovery," it said.
Most of the founders expect the fundraising environment to improve in 2021. The report said that 54% of founders had a positive fundraising experience, while 24% claimed otherwise. 23% of the founders did not attempt to raise funds.