India's online health sector is poised to grow to become a USD 16 billion opportunity by the financial year 2025, up from the current USD 1.2 billion, said a new report by Bengaluru-based consulting firm RedSeer.
Riding on the back of increased investments in the space, and rising willingness of suppliers to partner with online health platforms, the e-health sector in the South Asian nation is growing at a 68% compound annual growth rate (CAGR).
"The promising growth in the Indian eHealth sector is driven by positive receptiveness towards eHealth by both consumers and providers, along with supportive government regulations and investments," the report noted.
According to the data collated by RedSeer, the total investment in the South Asian nation's rapidly growing e-health segment shot up seven-fold over the last three years.
Driven by government regulations and increased popularity amongst healthcare stakeholders (consumers, providers, and suppliers), the total investment in the eHealth sector reached USD 450 million in 2019, nearly triple the investment this sector attracted in 2018, the report stated.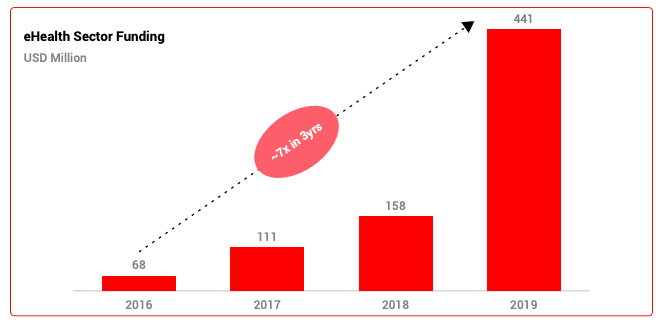 The e-health space entails segments like e-diagnostics, e-pharma, e-consultation, and e-prescription. By FY 25, e-diagnostics and e-consultation categories are expected to grow at over 70% CAGR and will contribute about 15% to the sector's total gross merchandise value (GMV), the report noted. Meanwhile, e-pharma prescription medicines will also grow at 60% to 75% CAGR and will continue to be the top-most e-health category, contributing about 70% of the GMV.
The sector's growth is directly linked with the rapidly growing user base. The report said the e-health sector's total user base in India is likely to reach anywhere between 41 million to 68 million online shopping households by FY 25.
Out of the 580 million people who have internet access, India has 135 million online shoppers, who translate into 90 million online shopping households. The RedSeer survey found that 65% of such households are willing to try e-health services, "thus providing the 60 million base of e-health ready addressable households." Currently, only 4.3 million households use e-health services.
The government regulations including National Digital Health Blueprint (2019), which aims to integrate digital services for all stakeholders of the healthcare industry by creating electronic personal health records based on international standards, and Ayushman Bharat (2018), which offers health insurance cover of over USD 7000 (INR 500,000) per annum to over 500 million Indians, among others, have helped the sector grow.
However, in December 2019, the Indian government had ordered online health companies online to halt drug sales till the time the regulations for the sector are issued.
According to industry body FICCI (Federation of Indian Chambers of Commerce & Industry), the delay in the notification of e-pharmacy draft rules is causing confusion and anxiety for all the stakeholders involved in the digital health ecosystem. At present, FICCI said in a statement last month, there are more than 50 start-ups operating in e-pharmacy space in the country, which provide quality and affordable medicines to about five million patients per month.
The current predicament hasn't deterred the online pharmacy startups or its investors, who hope that the situation will be ironed out soon. Earlier this week, DealStreetAsia reported that India online pharmacy startup 1MG raised about USD 10 million (INR 71 crore) in funding from the Bill & Melinda Gates Foundation. FICCI said the e-pharmacy sector has attracted over USD 560 million (INR 4000 crore-plus) in foreign direct investment from some of the top global investors, and another USD 280 million (INR 2000 crore) is expected to come in the next two to three years.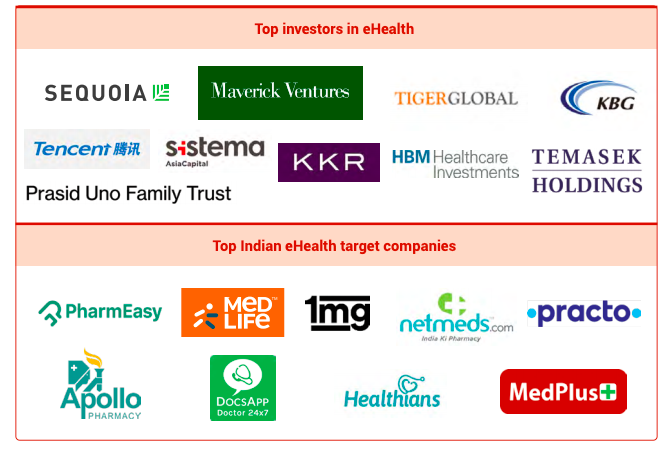 Moreover, Indian expenditure on healthcare in FY 19, which stood at 4.6% of GDP, was well below the global average of 6%. The RedSeer report noted that India lags behind other BRICS nations such as Brazil (9.1%), South Africa (8.1%), Russia (5.3%), and China (5.0%) in terms of the GDP spend on healthcare. However, the Indian government plans to increase its healthcare spending from the current 1.6% to 2.5% of the GDP until FY 25.
RedSeer projects that with growing GDP per capita, overall healthcare spending (public and private) in the world's second-most populous country will reach 7.1% of GDP by FY 25.
"There is a significant opportunity for improving the healthcare services across the country, especially in Bharat (India, beyond metros and tier1 cities), where penetration of quality and affordable outpatient and inpatient care services is limited," it said.
According to Anil Kumar, founder and CEO, RedSeer, e-health platforms have a strong potential in changing the experience of the Indian consumer across the entire spectrum of outpatient services, across doctor consultation, diagnostics, and pharmacy.
"Over the next five years, we project the e-health market to exponentially grow to a USD 16 billion market touching 57 million households," Kumar said, "driven by positive reception from both consumers and providers along with supportive government regulations and investments."