With the increasing number of products that are being sold online, from smartphones to clothes and accessories, to grocery and food, the demand for logistics services has reached an all-time high. This rise in demand has forced Indian logistics startups to increase their capacity on all fronts including speedy delivery and the density of pin codes that they can cover.
In 2019, all the major last-mile delivery startups raised money to rev up their infrastructure capabilities as they look to grab the growing demand from the USD 30 billion-plus e-commerce market, as well as tap new opportunities including e-groceries and online B2B retail in the country.
In fact, the investment in such startups this year has more than doubled to USD 1.04 billion across 29 deals as compared to 2018 when logistics firms raised USD 438 million in about 30 funding rounds, according to Venture Intelligence. This also indicates a significant increase in deal size in the industry, which means investors remain bullish on the Indian logistics sector.
In December alone, two last-mile logistics companies raised money to ramp up their services. While Gurugram-based Ecom Express raised USD 36 million led by British development financial institution (DFI) CDC, Walmart-owned Flipkart led an investment of USD 60 million in Bengaluru-based hyperlocal delivery startup Shadowfax.
Some of the other top deals in the space this year include Delhivery which raised USD 413 million from Fosun Group, SoftBank Corp, and US-based PE firm Carlyle Group; Blackbuck's USD 150 million funding from Light Street Capital, Wellington Management, Accel USA, Sequoia Capital India, IFC, and Goldman Sachs; and Rivigo's USD 70 million investment from KB Investment, Warburg Pincus, and SAIF Partners.
Over the last few years, last-mile delivery startups have grown rapidly on the back of B2C e-commerce. There are about 110 million online shoppers currently, as per the research firm Forrester, and another 150 million potential customers from tier 2 cities and beyond are expected to join the party over the next few years. Morgan Stanley predicts the B2C e-commerce market will reach USD 200 billion by 2026-27 in the world's second-most populous country.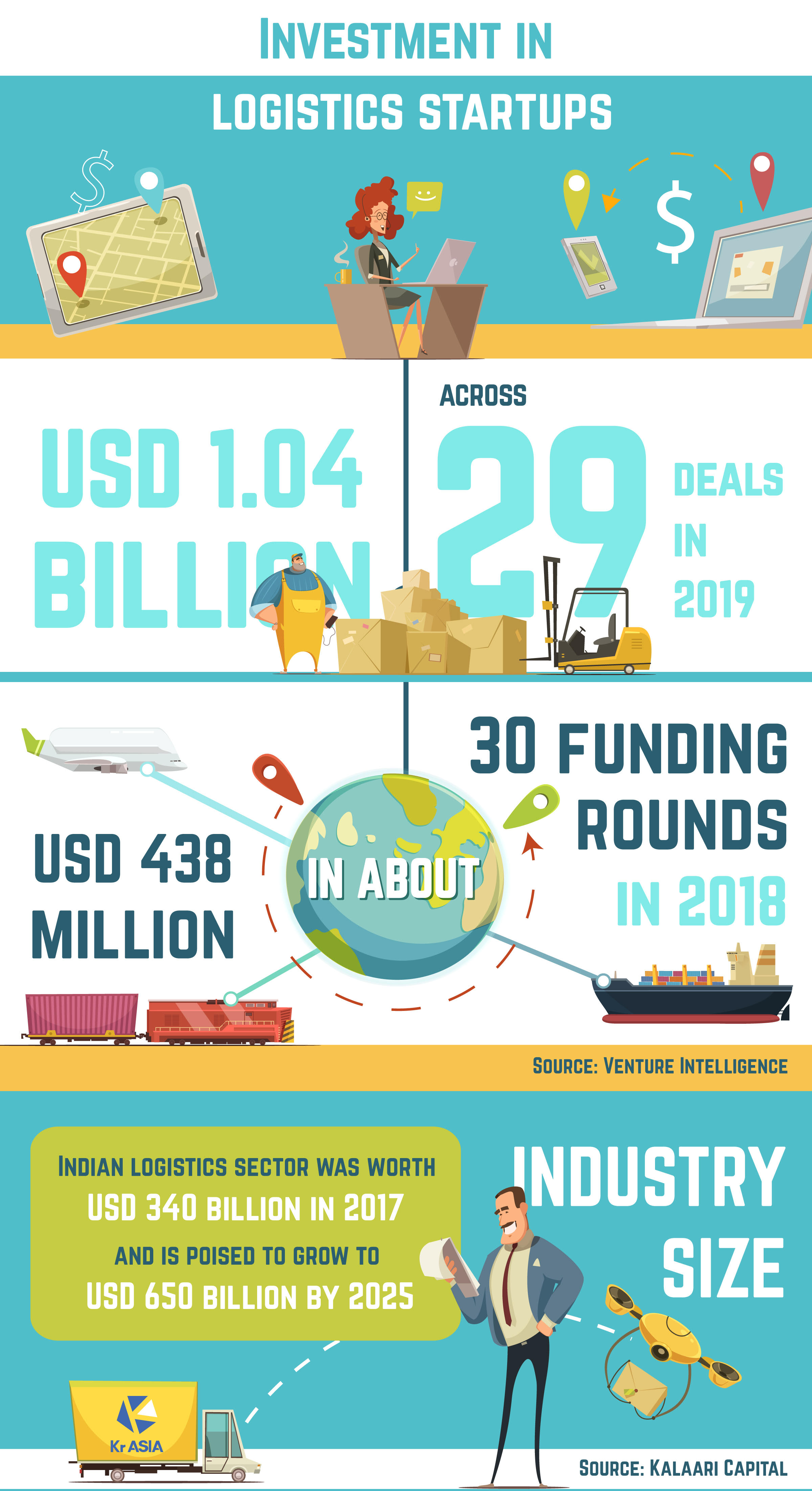 Moreover, the logistics startups are now eying two emerging opportunities: the USD 1.05-billion e-grocery and USD 1.7 billion B2B e-commerce markets. One of the major reasons Flipkart invested in Shadowfax is to utilize the latter's delivery fleet to power its relatively new endeavor of getting into grocery delivery. While the online grocery market is expected to cross USD 10.5 billion by 2023, B2B e-commerce is projected to cross USD 60 billion by 2025.
According to Forrester analyst Satish Meena, logistics startups are investing in expanding infrastructure including warehousing and delivery fleets in order to tap rising demand and accelerate their growth.
However, the biggest challenge for these startups is Flipkart and Amazon's in-house delivery arms. As logistic firms compete with e-commerce firms' delivery arms for the business, they have to quote competitive prices. Since the delivery cost is high at present, the margins are pretty low.
"As and when they (logistics startups) build more warehouses and fleets, they will be able to increase the margins on these deliveries. Only then they will be in a position to show profits," Meena told KrASIA.
There is a silver lining, however. As Amazon and Flipkart delve deeper into e-grocery, they will need to have a distributed warehouse system that would be located closer to customers as centrally-located warehouses in major cities won't help. Meena believes they would want to build this in-house and work with delivery companies.
"Once the e-commerce and e-grocery markets grow, there are going to be enough opportunities for multiple companies to grow. Last-mile delivery companies will then be at a better place to make money since they are not in the discounting game, unlike e-retailers," said Meena.
According to a report by Kalaari Capital, the market size of the Indian logistics sector touched USD 340 billion in 2017 and is poised to further grow to USD 650 billion by 2025.