Lifestyle omnichannel retail startup Nykaa filed its draft prospectus for an initial public offering with the Indian market regulator SEBI, becoming the sixth consumer internet startup this year to do so, after Zomato, CarTrade, Paytm, MobiKwik, and PolicyBazaar. If the plans go through, Nykaa will also become the first Indian women-led unicorn to debut in public markets.
The issue will comprise a fresh issue of equity shares worth up to INR 5.25 billion (USD 70.7 million) and existing investors selling 43.1 million shares, the company said in papers filed on Monday night.
While the company did not disclose the total capital it is planning to raise through the IPO, local media reports put the total issue size at INR 40 billion.
"Primarily, it will be an offer for sale by initial investors, and about 10-15% of the offered size is a fresh issue," said a report by local media Economic Times, citing a source.
The backers who will be selling stakes in Nykaa through an offer for sale include TPG, Lighthouse India, JM Financials, and husband-wife duo, Falguni Nayar and Sanjay Nayar, who together own almost 50% stake in the company. Falguni Nayar, Nykaa's founder, and her family will continue to own a majority stake in the company.
With the listing, nine-year-old Nykaa—one of the very few profitable e-commerce companies—is reportedly eying a valuation of USD 4 billion.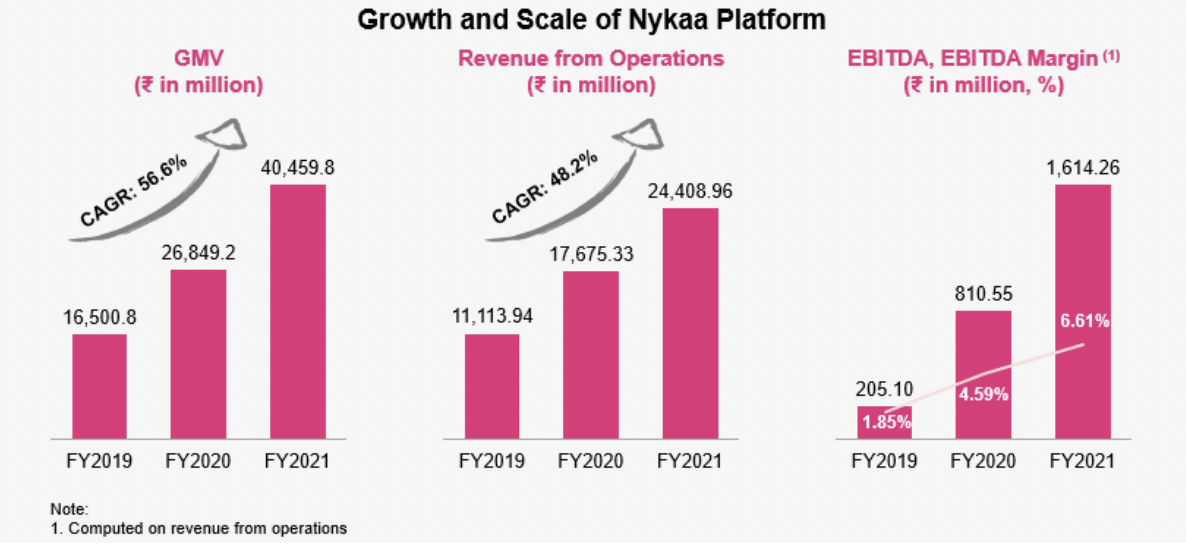 The category creator
Set up in 2012 by Falguni, a former investment banker, Nykaa began its journey as an online beauty marketplace and evolved into a full-fledged omnichannel lifestyle retailer over the last few years. After becoming a leading marketplace in the beauty and personal care segment, the company entered the fashion segment, selling apparel and accessories, through a separate arm, Nykaa Fashion, in 2018.
Being one of the first entrants in the online beauty and personal care space, Nykaa has carved out the category that has long been ignored by bigger horizontal players like Amazon and Flipkart, which focus more on smartphones, consumer electronics, and fashion. The company has raised over USD 340 million in venture capital so far and counts Fidelity, Steadview Capital, and Indian family office Sharrp Ventures as backers.
As of March 31, the company has registered 43.7 million downloads for its mobile applications, including Nykaa and Nykaa Fashion, which contributed to 86.7% of its total online gross merchandise value (GMV) for FY 2021. In the offline space, the company has 73 physical stores across 38 Indian cities in three different store formats. Overall, the company houses about 2 million SKUs from 3,826 national and international brands across its business verticals.
Nykaa also has 13 in-house brands, which it manufactures through third-party vendors. The list includes makeup and beauty accessories brand Nykaa Cosmetics, skincare products brand Nykaa Naturals, premium beauty product range Kay Beauty,   apparel product line Twenty Dresses, lingerie line Nykd by Nykaa, and jewelry brand Pipa Bella, which it acquired earlier in April.
In FY 2021, Nykaa's total GMV stood at INR 40 billion, up 50.7% over a year-ago period. Of this, beauty and personal care products contributed INR 33.8 billion worth of GMV. The company's revenue from operations has ballooned over the past year, which saw a rapid mass digital adoption happening in the country due to the COVID-19 pandemic—from INR 17.6 billion in FY 2020, it grew to INR 24.4 billion in FY 2021. Interestingly, 64% of its sales came from tier 2 and tier 3 for the financial year ended in March, the company noted.
Meanwhile, the company's profits leaped to INR 619.4 million in FY 2021, from a loss of INR 163.4 million in FY 2020 and INR 245.3 million in FY 2019.
Future roadmap
The company plans to use INR 2 billion from the net proceeds toward enhancing the visibility and awareness of its brands and INR 350 million to set up new retail stores for Nykaa Fashion over the next three years.
Nykaa will utilize another INR 350 million to build new warehouses for its subsidiaries by FY 2024. Most importantly, it will deploy INR 1.3 billion from the net proceeds for repayment or prepayment of outstanding borrowings, which stood at INR 1.87 billion as of March 31.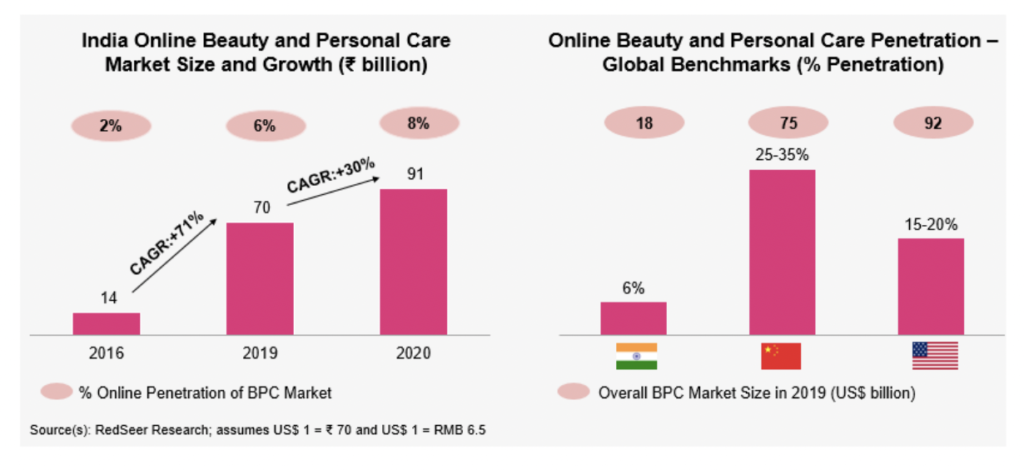 In the Indian beauty and personal care market as well as in the fashion segment, Nykaa competes with organized multi-brand and exclusive retailers, unorganized merchants, horizontal online platforms like Amazon, Flipkart, Paytm Mall, among others, and vertical online platforms including Myntra, Purplle, and MyGlamm.
According to RedSeer, the Indian beauty and personal care market is estimated to grow to approximately INR 2.0 trillion (USD 28 billion) by 2025 from INR 1.1 trillion (USD 16 billion) in 2020. Meanwhile, the fashion market is expected to reach INR 8.7 trillion (USD 124 billion) over the next four years from INR 3.8 trillion (USD 54 billion) last year.
"We have a large market opportunity aggregating INR 10.6 trillion (USD 152 billion) in the growing beauty, personal care, and fashion industry by the calendar year 2025 in India," the company noted.