Indian family offices are expected to invest USD 30 billion in local startups by 2025, a new report by 256 Network and Praxis Global Alliance India said. This will make up for 30% of the USD 100 billion capital Indian startups are likely to raise over the next four years.
Family offices are private wealth management services that invest in assets to preserve and grow money for the rich. A family office can be a single-family office that is established in-house by ultra-rich families, or a multi-family office, set up by professional wealth managers who serve various rich clients.
According to the report titled "Turning Ideas to Gold," there are about 140 family offices catering to Indian ultra-high net worth individuals (UHNIs) or those with a net worth of more than USD 30 million.
The total wealth in India has increased four-fold between 2000 and 2019, reaching USD 12.6 trillion in 2019, placing India fifth globally in terms of the number of UHNIs.
As the private wealth in the world's second-most-populous country grows, the number of UHNIs is expected to cross 10,000 by 2024, up almost 100% from 5,996 in 2019. The total wealth held by the UHNIs will also grow to over USD 700 billion by then, as compared to USD 440 billion in 2019.
India's some of the most prominent and active in-house family offices include PremjiInvest, the family office of Aziz Premji, chairman of the country's IT giant Wipro, Catamaran Ventures, the family office of N.R. Narayana Murthy, co-founder of IT behemoth Infosys, RNT Associates, the family office of Ratan Tata, former Chairman of Indian conglomerate Tata Group, and Sharrp Ventures, the family office of Harsh Mariwala, chairman of consumer goods company Marico, among others.
Over the last five years, family offices in the South Asian nation have been warming up to the idea of investing in the venture market as the country's startup ecosystem grew rapidly. Between 2014 and 2020, almost USD 70 billion of venture capital has been pumped into local startups by Indian and global VCs. Family offices, on their part, have been participating in 50 plus startup deals yearly since 2015, primarily through their investments in VC funds.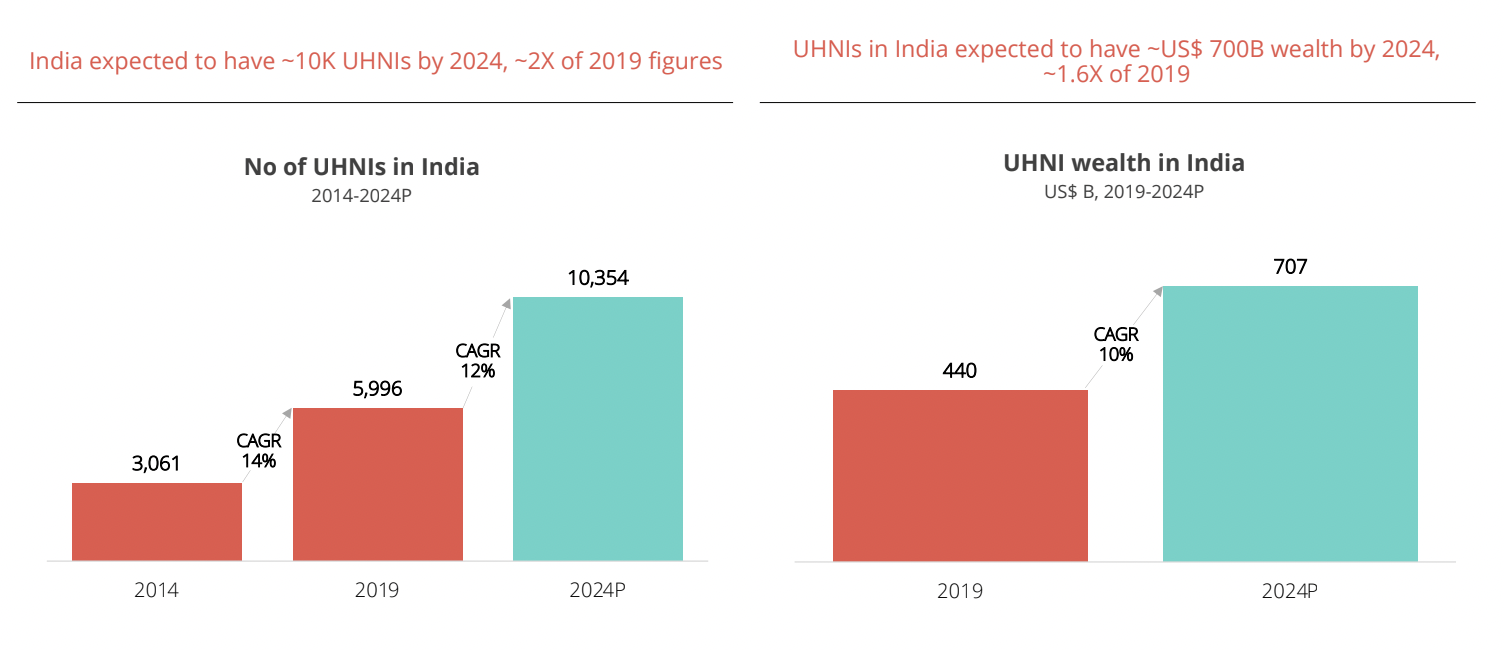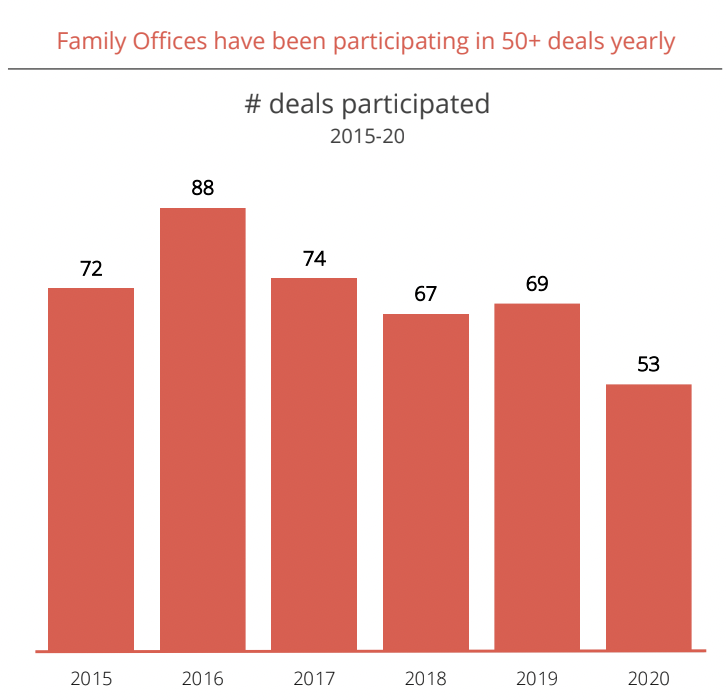 Currently, India is home to over 55,000 startups, of which 57 are unicorns. The report projects India to add 95 new tech unicorns by 2025. There are over 250 startups with a USD 100 million-plus valuation that have the potential to go public in India, the report said.
Furthermore, the Indian private tech market is close to matching the size of the country's public tech market. "While the total market cap of public tech companies as a percentage of India's GDP is 12.6%, the valuation of private tech companies is 10.2% of GDP," the report added.
For UHNIs, "venture capital holds huge promise as an asset class—generating superior financial returns even during a crisis," the report observed. "Family offices have just started realizing this potential, as VC-PE as an asset class makes about 20% of their portfolio allocation but usually contributes to 30% of their portfolio returns."
However, 66% of rich Indian families prefer to "keep their portfolios wedded to conventional asset classes like stocks, real estate, and gold," and adopt a wait-and-watch approach when it comes to investing in venture capital firms and startups, said Dhruv Sehra, founder of 256 Network.
"Indian capital has not been participating in this opportunity as enthusiastically as its global counterparts. Only a small fraction invested into Indian startups since 2014 came from domestic investors," said T. V. Mohandas Pai, chairman of asset management company Aarin Capital. "India does not lack capital—it lacks the institutional attitude to cultivate and incentivize domestic capital. Those investing will benefit from both capital appreciation and the prestige of investing in the growth of the nation itself."
According to Kris Gopalakrishnan, co-founder of information technology service giant Infosys and promoter of Pratithi Family Office, investments in tech startups have indeed emerged as a lucrative alternate asset class for wealthy families as compared to traditional investments like equity, debt, commodities, and real estate.
"However, it is difficult to get exposure to high growth portfolios which use technology to solve real challenges and build large companies in a relatively short period of time. Backing such companies requires deep expertise, strong networks, patience, and sufficient capital," he said. "(VC) funds run by professionals provide that opportunity to Indian family offices and UHNIs."