The next half-a-billion aspiring online users are going to drive the growth of education technology companies in India, by creating a 100 million strong edtech user base by 2022, according to a new report by consulting firm RedSeer and global investment firm Omidyar Network.
It is to be noted that researchers at Omidyar Network India in 2017 had said half a billion new users would come online for the first time by 2022. They called it the next half billion (NHB), a demography that is characterized by a mobile-first approach to the internet and consists primarily of the aspirer segment with about 528 million people. This demography, it said, earns an annual household income of USD 2200 to USD 3700 and their occupations range from domestic help, gig-economy workers, and electricians, to shop owners, factory workers, and retail vegetable vendors. RedSeer, on its part, predicts by 2022, there will be 500 million active internet users.
In the K-12 segment, NHB would drive the growth of the edtech sector by creating an opportunity of USD 400 million over the next two years. Overall, the online education market for grades 1-12 is projected to grow six-fold to reach USD 1.7 billion by 2022 from USD 265 million in 2019. This essentially means NHB would account for about 24% market by 2022, from less than 5% today.
The NHB demography represents over 50% of India's 271 million student population in grade 1–12, yet they represent only about 30% in the edtech user population. By 2022, they will represent nearly half (46%) of the market by volume, the report notes.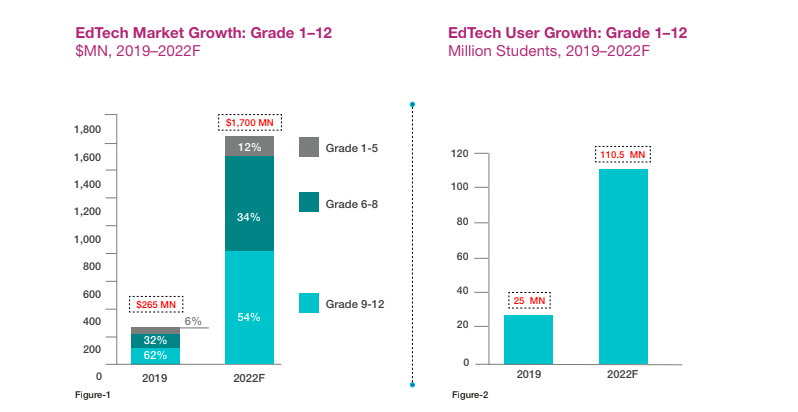 RedSeer and Omidyar Network predict the edtech user base for the K-12 segment would grow to 110 million by 2022, from 25 million last year. By 2023, the report said, over four in five families in India will adopt edtech, by virtue of having access to the internet, transacting online (products or basic services), and having a child in grades 1–12.
High profile startups that operate in the K-12 segment include Byju's, Vedantu, Doubtnut, Toppr, and Whitehat Jr, among others. Some of these firms are offering content in regional languages so as to reach the users beyond metro and tier 1 cities.
The post-K12 segment, which consists of four sub-segments—higher education, technical skills, online test preparation for government jobs, and online test preparation for other professions—will expand almost four-fold to touch USD 1.76 billion market size from USD 470 million last year, according to the report.
"There is a large space for the growth of edtech, especially with a focus on the NHB," it said. "The number of job seekers and their need to improve employability is higher in this segment as compared to the numbers in middle- and high-income households."

With the soon-to-be combined K-12 and post-K12 opportunity, worth USD 3.5 billion, India's edtech space provides "meaningful opportunities for incumbent players as well as space for multiple new startups," the report noted.
For the post-K12 edtech segment, higher education accounted for USD 335 million or over 70% of the market in 2019. Despite having the lowest adoption due to high per capita cost, higher education is the most lucrative in the post-K12 segment, which primarily consists of online distant-learning courses, specifically management offerings.
The report projects that around 41 million students will be enrolled in higher education by 2022, which will expand this market to USD 1.05 billion, or about 60% of the overall post-K12 market by 2022. Growing demand for technical skill makes it the second-largest post-K12 segment after MBA programs. Currently valued at USD 153 million, much of the growth for this sub-segment comes from IT or tech workers.
Meanwhile, the online test-preparation (for non-government jobs) market is geared primarily towards graduate admission test preparation and is worth about USD 55 million, the report said. Approximately 1.6 million students use online education platforms for test preparation, and the majority of them utilize online offerings to prepare for graduate admission entrance tests.