Indian edtech decacorn Byju's has acquired online test preparation platform Gradeup to bolster its presence in the competitive examination segment. Financial details of the deal were not disclosed.
This is the company's eighth acquisition this year, and second in the exam prep space overall. Earlier this April, Byju's bought the country's leading brick-and-mortar coaching chain, Aakash Educational Services, for almost USD 1 billion.
Gradeup will be rebranded as 'Byju's Exam Prep' and will cater to students preparing for over 150 exams across two dozen categories, including government jobs, banks, and Indian administrative services, Byju's said in a statement on Tuesday.
"With Gradeup on board, we will be able to further scale and expand our test-prep offerings in postgraduate level exams," said Byju Raveendran, founder and CEO of Byju's. "We aim to bring our complementary strengths and expertise together to create engaging and personalized learning experiences."
Byju's—India's most valuable startup at USD 16.5 billion and the world's most valuable edtech firm—primarily caters to the K-12 space, offering courses for students across grades 1 to 12. It has over 100 million registered users and 6.5 million paid subscribers from 1,700 plus cities and towns in this category. The company also operates in the test preparation category, providing classes and learning material for engineering and management exams.
Earlier this year, Byju's ventured into overseas markets by making its live online learning platform available in the US, UK, Australia, Brazil, Indonesia, and Mexico. The company is backed by marquee investors like Chan-Zuckerberg Initiative, Naspers, General Atlantic, Tencent, Sequoia Capital, Lightspeed Ventures, Tiger Global, and Qatar Investment Authority.
Since dominating the K-12 segment, the decade-old company has been ramping up its presence in the exam preparation space, where Unacademy is the de-facto category leader. Since its inception in 2015, the SoftBank-backed startup has gobbled up six rivals.
Byju's, which integrated the services of Aakash with its own platform in May 2021, expects Gradeup to scale up its operations in the test preparation segment further.
Founded in 2015 by Shobhit Bhatnagar, Sanjeev Kumar, and Vibhu Bhushan, Gradeup offers test prep courses across sectors like teaching, banks, railways, defense, central and state governments, and GATE, among others, through a combination of live classes, study material, practice tests, and assessments. To date, it has had over 25 million students prepare for various exams through its platform.
"By combining live classes, assessments, and quality study material, we have built a highly specialized offering for students preparing for competitive exams," said Shobhit Bhatnagar, co-founder and CEO of Gradeup. "Together with Byju's, we will accelerate our growth and expand our reach across the country. Furthermore, we will leverage their strengths in content to deepen our current product offerings and broaden our coverage of exams."
It seems the battle lines are being drawn in the rapidly growing Indian edtech space as two top players—Byju's and Unacademy—are out in the market, gobbling down one company after another to stay ahead in the game. After all, both players are a little too well-capitalized. Over 75% or USD 1.44 billion of the USD 1.9 billion that Indian edtech firms raised between January and August 3 went to Byju's and Unacademy.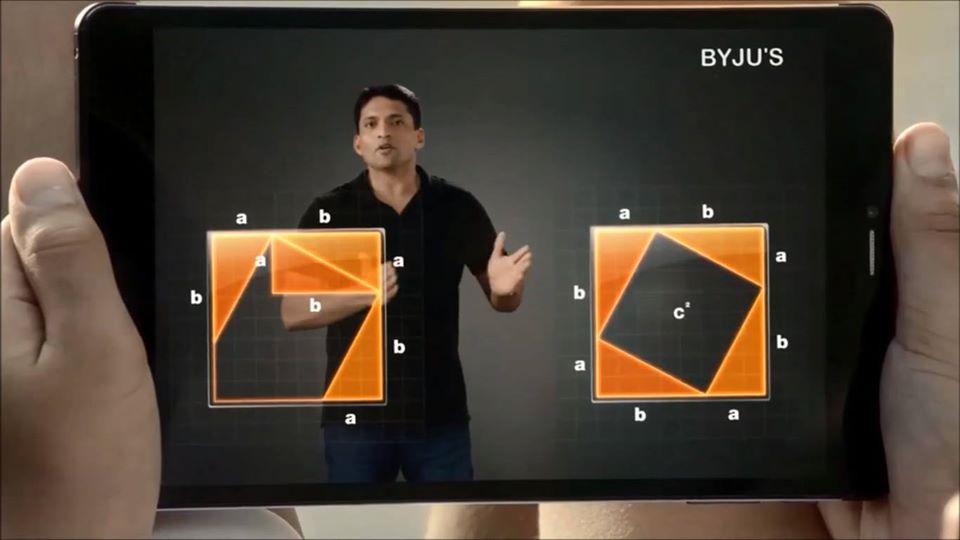 Byju's M&A journey
The success story of edtech behemoth Byju's began with the acquisition of Specadel Technologies in early 2015.
Specadel Technologies was a mobile learning platform that partnered with content providers to reach learners across ages. At the time, Byju's was a three-and-a-half-year-old offline chain of tuition centers for students in 8th to 12th grade, as well as students preparing for competitive exams. It had recently begun offering tablet-based video courses. To scale its reach further, Byju's was looking to roll out a mobile app, and Specadel fit perfectly into that agenda. Specadel's acquisition provided sound footing to Byju's vision of launching edtech products.
Following the Specadel merger, Byju's was able to land a USD 25 million check from Sequoia in July 2015—the much-needed Series B round at a time when edtech wasn't on the radar of top-tier VCs. Then, just a month later, it entered the online education space by launching an app with its own proprietary content. The move also marked Byju's full-fledged entry into the K-12 segment.
Byju's hasn't looked back since then. Between 2016 and 2019, it bought a total of six companies, of which none stood out much. The deals with TutorVista, Erudite, and Osmo were mainly driven by its ambition to venture into the US market, while others contributed to its content and technology. Only one of them, Infiken Internet Labs, which provided computer and data-related services, was shut down.
All these acquisitions were small-scale and didn't help the company as much as it expected. Specifically, the acquisitions it made to enter the US market fell short of expectations, as its direct foray into the country remained a dream.
Only after the pandemic hit, and Byju's was flooded with billions of dollars from VCs, did it make a slew of eye-popping acquisitions. With a war chest of almost USD 1.8 billion fueled by investors since 2020, Byju's has shelled out USD 300 million for coding tutoring startup WhiteHat Jr., close to USD 1 billion for offline coaching chain Aakash Institutes, USD 600 million for higher education startup Great Learning, USD 150 million to acquire direct competitor Toppr, and USD 500 million for US-based digital-book reading platform Epic.
The company's smaller acquisitions include doubt clearing app Scholr, virtual science laboratory assistant LabInApp, on-demand tutoring platform Hashlearn, and artificial reality startup Whodat, which it bought last month to create immersive content. Byju's has now added mock test prep firm GradeUp to its ever-growing list.
Looking at these acquisitions, it is clear that most of the money has gone into four things. Bolstering its presence in the test prep space by taking over Aakash and GradeUp; clearing out its rivals like Toppr; adding new offerings—coding, higher education courses, doubt clearing, on-demand tutoring, and virtual lab assistance; and grabbing hold of the US market through Epic.