Indian e-tailers are expected to scoop up more than USD 6.5 billion in sales during the country's festive sales season which will be unveiled this weekend, according to a research note by market researcher Forrester.
The 6.5 billion dollars GMV represents a 34% year-over-year growth. However, this is less of an indicator of high consumer confidence than a combination of factors ranging from an accelerated shift from offline to online shopping due to hygiene concerns, pent-up spending over the past months during quarantine, as well as cash-strained locals earmarking budget for bargains and promotions in festive sales.
About 75%, or 4.8 billion dollars, of the total sales of 6.5 billion will occur during Oct. 15 and Oct. 21, when Amazon and Flipkart will be holding their flagship Great Indian Festival Sale and Big Billion Days sales events, respectively, to appeal to customers.
As the first major online shopping fest in a year that saw the nation's economy battered and the unemployment rate dip, the nation's e-commerce players are going all out for a bigger piece of the pie of festive sales in hopes of making it up for their lost businesses during a small window of seasonality. Flipkart is working together with local banks and loan companies to provide credit options to its consumers, while Amazon has set up 10 new fulfillment centers in preparation for the sales.
Demand in consumer electronics, home appliances, smartphones, and home furnishing is expected to boost up more e-commerce sales, the report noted.
The smartphone will remain the largest category this year, as Indian consumers usually hold off upgrading their phones until festive seasons. Though the smartphone will only contribute 34% of the total sales compared to last year's 36%.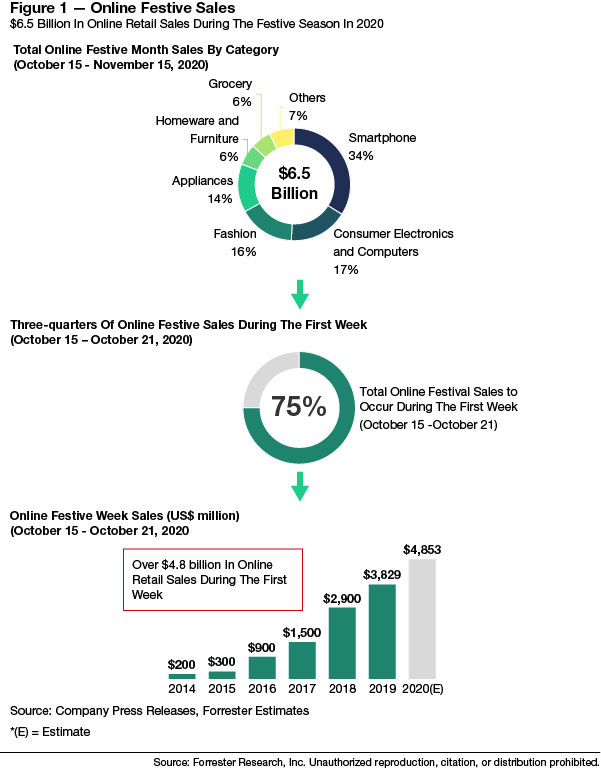 Electronics and home appliances will also be doing well, especially when homebound Indian consumers are scrambling to revamp their kitchens.
A Flipkart spokesperson told Quartz in an interview that "kitchen appliances…have witnessed a rise in demand, with a special focus on certain niche segments like automated or app-controlled products."
Flipkart will be the leader in smartphone and fashion categories, the two segments combined enjoy around 50% of total online sales in India, per the Forrester report.
Earlier, RedSeer, an Indian local consultancy predicted in its report that the Indian e-commerce sector will gross around USD 7 billion in GMV.